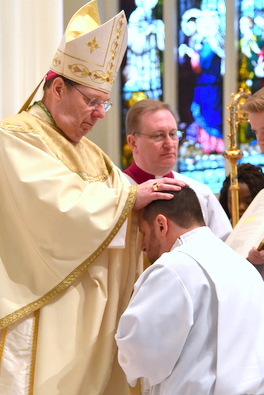 "It was powerful, very powerful."
Deacon Anthony Cipolle struggled to find the words to describe what it was like to be ordained to the transitional diaconate, a milestone in a seminarian's journey to the priesthood.
"Amazing, just amazing," he says. "I'm speechless really."
While he lay prostrate on the marble floor of the Cathedral of the Immaculate Conception in Portland and the Litany of Saints was sung, he says he could sense the presence of the Holy Spirit. That feeling intensified when Bishop Robert Deeley laid hands on him and prayed the prayer of ordination.
"When he laid hands on me, I could feel the power. I could feel the energy. It was amazing. They say it is an ontological change. It's like a mystery, but I could feel it. I really could," he says. "I could tell the difference in that moment."
Cipolle, age 52, was ordained a transitional deacon on Sunday, January 8, the Solemnity of the Epiphany of the Lord. The bishop said it is fitting to hold the rite during the Christmas season because a vocation is a gift.
"It is a gift of God, and it is a gift accepted by the one who receives it. It becomes, then, his gift to the Church as he lives the gift he has received in his service in ministry," Bishop Deeley said.
Deacons commit themselves to lives of service. Their ministries include preaching the Gospel, assisting at the altar, baptisms, blessing marriages, and leading funeral services outside of Mass. Transitional deacons also commit themselves to remain celibate as a sign of their dedication to Christ.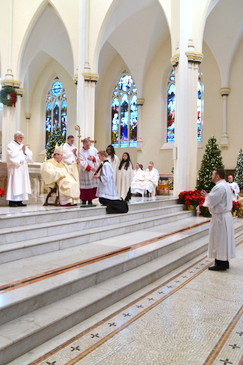 "Jesus gave us ministries and ministers who would help to interpret His words and apply them to our lives. Today, in this ordination, we call Anthony from the community. His ministry will be to take that Word of God and help the community to live it. His ministry will encourage the community to pray and know God's love and to live it out in their dealings with each other," the bishop said.
Although Deacon Cipolle says he is now confident of his call to ministry, that was not always the case. In fact, for most of his adult life, Deacon Cipolle says he did not have much of an awareness of the presence of Christ.
He grew up in Arlington, Mass., where his parents give him a strong faith foundation. His family regularly attended Mass, and every Tuesday, his mother and aunt visited Saint Anthony Shrine in downtown Boston. After making his first Communion, however, Deacon Cipolle says his faith formation got sidetracked amid the changes that resulted from Vatican II.
He says his focus during high school was on academics and making money. An excellent student, he considered a military career or college but was lured away by the opportunity to manage the delicatessen where he was working, preferring instant profit to the prospect of tuition debt.
Marriage and the birth of a son pushed away any remaining thoughts of furthering his education.
Cipolle had a strong business acumen. He became a successful car salesman, earning top honors in his region. Seeking career advancement, he moved to Chicago, Ill., where he had family ties. He became a new car sales manager, got into the real estate field, and started a profitable plumbing business.
Cipolle's marriage, however, would eventually end in divorce and, later, annulment. His ex-wife and son moved back to Massachusetts. Missing his son, Cipolle decided to sell the plumbing company and head east as well.
Being on his own, with money from the sale to spend, led to a jet-setting lifestyle.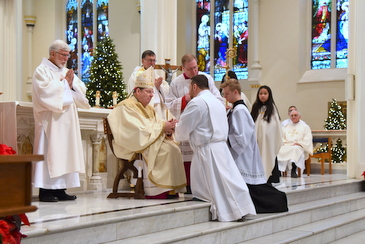 "I lived like a rock star for a few years," he says.
When his money ran out, Cipolle returned to the auto industry, which is where he met a man who would gently steer him in another direction.
Father John Kilmartin, F.D.P., pastor of a parish in East Boston, had come in for car repairs. He and Cipolle ended up becoming friends and started spending time together. When Father Kilmartin experienced medical complications from diabetes, Cipolle began accompanying him to appointments. After Cipolle made some suggestions on how to improve parish business practices, Father Kilmartin offered him a job as facilities manager.
Despite the time he was spending at the parish, Deacon Anthony says faith still wasn't part of his life.
"I could have cared less about Jesus. My philosophy was, 'I'm a nice guy. Everything is going to work out in the end,'" he recalls.
He says Father Kilmartin never pressured him; instead, he guided by example.
"He took me for who I was. It was kind of like unconditional love," Deacon Cipolle says. "He was Christ witnessed to me, right there, in the way he lived, not judging me."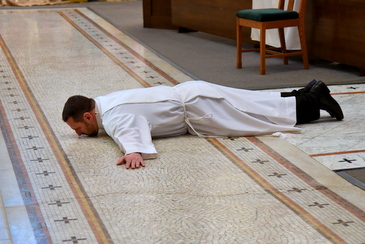 Cipolle and Father Kilmartin watched television together on Saturday evenings, including Billy Graham's Crusades. Deacon Cipolle says it led him to ponder the evangelist's "Four steps to peace with God," but also to the conclusion that he wasn't worthy. How could he qualify for forgiveness if he couldn't even remember all his sins?
One day, while praying the "Our Father," he says it dawned on him that he was asking to be forgiven, only as he was willing to forgive others.
"I'm on my knees saying, 'I have to forgive everyone, even myself,' because this is the newness I wanted. I wanted a new start from God," he says.
He recalls a bright light coming over him and then vanishing.
"It left me in peace, total peace," he says. "Everything changed. I had peace. I knew that God loved me and was with me and nothing else mattered."
He started to attend Mass and to go to confession. Seeking clarity as to what God wanted from him, he decided to take a vow of silence. Before he even began, he says he heard a voice in his head telling him: "Read the Bible."
He began with the four Gospels and, at the suggestion of Father Kilmartin, got a spiritual director. Feeling called to do more, he became certified as a catechist.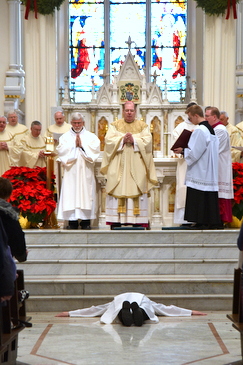 Cipolle then began auditing classes in the Masters of Arts in Ministry Program offered for laypeople at Saint John's Seminary in Brighton, Mass.
"I think that's when I really became Catholic. That's when I really identified with Catholicism and the poetry of the catechism. It's beautiful," he says.
He started taking night classes through the Woods College of Advancing Studies at Boston College. His plans, however, threatened to unravel when Father Kilmartin passed away.
"So, I lose my job. I lose my best friend, and he was helping to pay for my schooling," Deacon Cipolle says.
He met with Father James Woods, S.J., the dean for whom the program is named, to let him know he would need to cut back. Instead, Father Woods insisted he increase his course load.
"I said, 'Father, you're not listening to me. I've got to cut back,'" Deacon Cipolle recalls. "And he said, 'No, you're not listening to me. I want you to go to day school. Did I say anything about money?'"
Father Woods had established numerous scholarship and endowment funds, and Deacon Cipolle says, somehow, there always seemed to be one for which he qualified. He earned his bachelor's degree in philosophy in 2012. A connection between Father Woods and Bishop Richard Malone, then bishop of the Diocese of Portland, brought Cipolle to Maine, where, after discernment by both Cipolle and the diocese, he was accepted as a seminarian.
"Nine years ago, when I started, I couldn't wait, and now, as we get closer, even up to last year, I'm like 'wow, this has come fast,'" Deacon Cipolle says.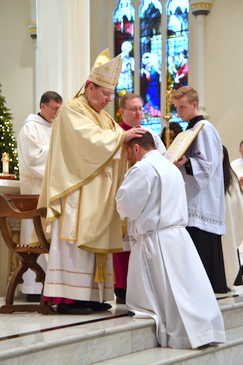 "He has worked so hard and has wanted to be a priest for so long, you can't imagine. I'm so happy for him," says Louise Cipolle, his mother, who attended the ordination Mass. "I am so proud, and I can't believe that it actually happened."
"It was a very, incredibly proud moment to see him ordained. He has been working very hard over the past nine years or so, working his way towards this. It's great to see him finally get to this day," says Mark Cipolle, Deacon Cipolle's son. "It's a very generous thing to give himself to the Church. There is nothing more of a high honor than to do God's work."
Deacon Cipolle says he is grateful to the many people, including his family, who helped him to reach this point.
"This journey to the priesthood, the journey to any ministry, is a community effort. It's not just me," he says.
During his ordination, he paid tribute to one of those people, Father Kilmartin, by wearing a pair of socks that once belonged to him.
Now confident in his call to the priesthood, Deacon Cipolle says he is looking forward to serving in a parish as a deacon, while continuing his studies at Pope Saint John XXIII National Seminary.
"The priesthood means loving and trusting God with all my heart, with all my being," he says. "It's just overwhelming that this is where I'm supposed to be. I know this is where I'm supposed to be."