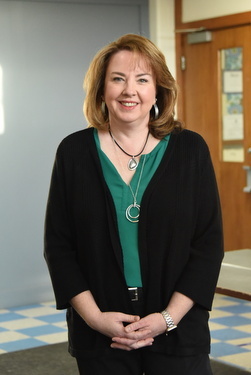 Caring, considerate, kind, and patient.
Those are among the words that students at St. Michael School in Augusta use to describe Jennifer Hoffman, the school's language arts teacher and vice principal.
"Mrs. Hoffman is kind and supportive, and she is always helping us," says Davyn Swindells, a seventh grader.
"She is always happy, and she is sweet and encouraging with everything we do," says Chloe Cameron, a sixth grader.
For the many ways she has served the St. Michael School community, Hoffman was recently named the Maine Catholic Schools Teacher of the Year, an award she describes as an incredible honor.
"I know our diocese is full of wonderful and dedicated teachers, so to be picked for this is a huge honor. I know how blessed I am to work in this school, to work with this principal, with this staff, with these students, and for the diocese. It doesn't get past me how blessed and lucky I am," she says.
Hoffman is in her 13th year at St. Michael School, and before that, she taught at St. Augustine School, one of the schools that merged to form St. Michael. She started off substitute teaching at St. Augustine, as well as other schools, shortly after earning her college degree and was then hired full-time by St. Augustine in 1996. She says she saw a difference right from the start.
"It was just so wonderful to be in a Catholic school and to be able to talk with students about Jesus and talk about God and to pray with them. I had never experienced praying with my students before," she says. "To be able to be examples of our faith and to be role models for them, I think is really important."
She says a Catholic education gives students the opportunity to think about Jesus and to discover how He wants them to live their lives.
"To be able to examine their consciences and to pray about that and to think about that is so important for our children who are growing up in this time with so many other influences bombarding them," she says.
Hoffman traces her own faith back to her childhood. She describes her mother as a very faith-filled woman and says her family regularly attended Mass at St. Francis Xavier Church in Winthrop.
"I made all my sacraments there, was married there. I went to Sunday school every Sunday morning, so it's just always been such an important and crucial part of my life," she says.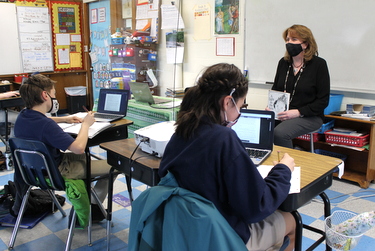 What also goes back to her childhood is her desire to become a teacher.
"It's really been all I've ever wanted to do," she says. "Even in my elementary years, I thought I would want to grow up to be a teacher, and in high school, I volunteered at the kindergarten and the elementary school next door."
She says her love for teaching comes from a love for children.
"Being with them, seeing that spark when something catches on, those light bulb moments – it's just always something I've felt drawn to," she says.
Hoffman has taught every elementary and middle school grade except fourth but insists she can't pick a favorite.
"I have loved every grade I've taught," she says.
While switching to middle school resulted in some early fears, she says language arts, which includes English, grammar, and literature, turned out to be a great fit.
"I'm a huge reader. I just love books, love literature. I love helping students make connections through literature and through their writing, helping them with learning how to express themselves," she says. "I just love to see students make those reading connections and grow to love it themselves."
Middle school language arts also gives her the opportunity to teach the same students for three years, from sixth through eighth grade, which she enjoys.
"I'm really able to develop those bonds and really get to know the students. I feel like I can really help them and be a better teacher in that way."
She says being able to make those connections, not only with students but with their families, is among the many benefits of working in a Catholic school.
"We have wonderful students and families who really make my job so much easier, and I also work with an amazing staff," she says. "Being a small school, you really get to know the staff. You really get to know the students."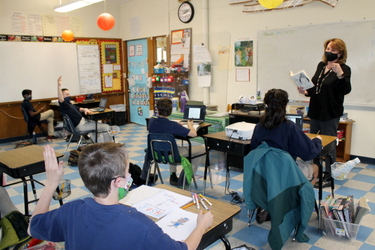 As a teacher, Hoffman says she tries to be consistent, patient, and as upbeat as possible.
"I try to be enthusiastic about what I'm doing, and hopefully, a little bit of that rubs off," she says. "I hope students think I'm somebody they can turn to if they need to, someone they can talk with and share with if they need to."
Her success is evident both in test scores – the school's seventh and eighth graders consistently score in the 99th percentile in language arts on NWEA assessment tests - and in the praise she receives from her students.
"She cares about all the students, and her classroom is really relaxed and helpful," says Walker Dumas, an eighth grader.
"Mrs. Hoffman is really awesome at her job because she really explains things well," says Marin Welch, a sixth grader.
"She is always seeming to come up with great books and helping us to read and really understand things and is always willing to help us and is always there," says Abby Morrill, an eighth grader.
Her presence isn't just felt and appreciated by her students. In nominating Hoffman for the Teacher of the Year Award, Principal Kevin Cullen noted most especially the way she guided the school when he had to take time off for cancer treatment. He says she seamlessly took on many of his responsibilities along with her own.
"Someone needed to step up, and for us at St. Michael School, it was Mrs. Jennifer Hoffman," Cullen says. "This was going to require our best full-time teacher to also be the full-time principal."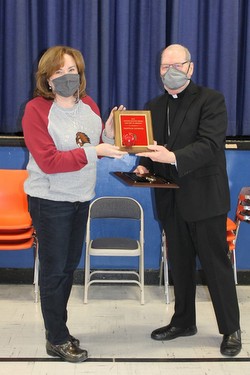 "It was a busy time, but it wasn't a single-handed effort. I had a lot of help," Hoffman says. "Father [John Skehan] was a great resource and stopped over several times a week to check in with me. That was a huge help."
Cullen says Hoffman brings humanity, kindness, and love to every lesson she teaches.
"Our motto is F.D.R.: Faith, Dignity, and Respect. This is embodied in everything she does. She lives her Catholic faith in every class. She gives dignity to the teaching profession and to St. Michael School, and she shows respect to every person in the building," he says. "She is the walking embodiment of what a Catholic school teacher needs to be in the 21st century."
"I feel like I'm just someone who is always trying to learn and always trying to better myself and to keep progressing and to keep learning," Hoffman says. "I'm not one who is satisfied with the way things are. I just want to always keep moving forward."
Hoffman was presented with the Teacher of the Year Award by Bishop Robert Deeley and Superintendent of Maine Catholic Schools Marianne Pelletier at a school assembly held during Catholic Schools Week in February.
"You are outstanding at what you do," the bishop told her. "I'm so grateful for Mrs. Hoffman and all of our Catholic school teachers."
The award comes with a $500 gift for her and another $500 for her classroom, money she says she will likely spend on books for the students, beanbag chairs for a reading area, and a new globe and map.