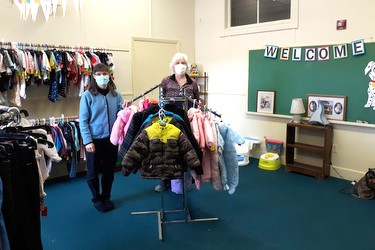 "It's a beautiful thing."
That is how Yvonne DeMillo, a volunteer, describes the latest parish social ministry endeavor of St. Rose of Lima Parish in Jay. A thrift store, located on the second and third floors of the parish hall, opened this fall, providing a new place to shop for those struggling financially, as well as those who are just in search of a bargain.
"I like the fact that we're able to help people in the community get items at reasonable prices," says DeMillo. "It's good for the community."
Max Becher, director of parish social ministry for St. Rose, as well as St. Joseph Parish in Farmington, says the thrift store fills a great need, not only for residents in the town of Jay but for those living in the neighboring communities of Livermore and Livermore Falls.
"We are literally right at the apex of those three towns with a lot of low-income neighborhoods within walking distance, so I think it's going to serve both the lower-income populations that live nearby and your middle-income families who just want to shop and stretch their dollars a little further," he says.
Becher says the western Maine towns have been hard hit economically. In the past year alone, there have been three rounds of layoffs at the Pixelle Specialty Solutions paper mill in Jay, resulting in the loss of more than 170 jobs. Add to that the effects of the coronavirus pandemic, and Becher says it hasn't been an easy time for families.
"People are suffering. The pandemic has dealt a blow. The resulting shutdowns dealt their own blow. We're just trying to open our arms to help the people the best way we can," he says. "It's just people stepping up to respond to the great need in the community."
"We're doing the corporal works of mercy, so this is clothing the naked," says Stephanie Crowe, parish social ministry coordinator for the parishes. "We're providing low-cost, good clothing to our community, which is a great benefit."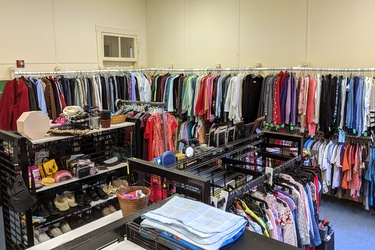 Although the clothing is intended for sale, Becher says it will also be available at no cost to those in need if emergency assistance.
"Over the past two years, we've taken a number of what we would call emergency calls from people who are in crisis. They need food, clothing, rent assistance, fuel assistance," he says. "So, the first resource is the donations themselves."
The second resource is the proceeds from thrift store sales, which the parish plans to use to support its outreach to the community.
"By taking payments for items, we allow patrons the opportunity to support parish social ministry which will expand our capacity for doing good in the community," says Father Paul Dumais, pastor.
"The hope is that, in two years, parish social ministry is actually self-funded, that it funds its own building, its own staff, and the money used for emergency assistance," says Becher. "We're on a mission to use those buildings for the mission."
The parish envisions creating a parish social ministry center, something it is already well on its way to doing. Crowe's office is located there, as is the office of a staff member for Catholic Charities Maine's SEARCH program, which serves area seniors. The Tri-Town Ministerial Food Cupboard is also housed in the building, and prior to the pandemic, the parish had opened a warming center there. In addition, each Friday, the parish provides a takeout meal there, and there is a refrigerator in the entryway with items such as fresh produce available to anyone who need it, an extension of the parish's blessing box program.
"It's a great opportunity for collaboration with the food pantry. If they have excess food, they donate it to us and make it available in the refrigerator. It gets a lot of visits on Friday afternoons when people come for the take-out meals. The parish also occasionally uses funds to purchase food for the refrigerator specifically," says Becher.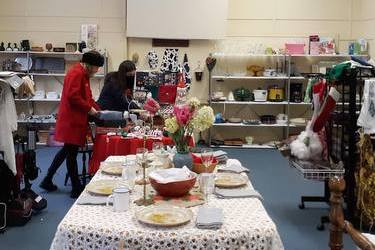 When deciding to open the thrift store, the parish looked to the success of the St. Sebastian Thrift Shop in Madison and the St. Peter Thrift Store in Bingham, both part of Christ the King Parish. Crowe says one assurance they received from the operators of those stores was not to worry about getting enough donations, something that proved to be true.
"The generosity has been incredible. We've had such a generous response," says Crowe.
"It's unbelievable. I didn't think we would ever get this many bags of items: clothing and home goods and dishes," says DeMillo.
The store also sells toys, tools, and a limited amount of furniture. It does not, however, accept electronics, CDs, or books.
Sorting through the donations is the work of volunteers like DeMillo and Jennifer Taylor from Wilton, both of whom asked to work in the baby room, because they both have grandchildren.
"If something is broken or missing parts and pieces or is stained beyond repair, that goes in the trash. The other items get hung on hangars, matched up according to size, and we give it a price tag," explains Taylor. "There have been a lot of people who have donated really nice clothing, name brands like L.L. Bean and Baby Gap and OshKosh, Carter's, things that are really good, quality clothing. They are in great shape because, if you think about it, kids outgrow their clothing before they wear it out."
"Some of the items still have the tags on them," adds DeMillo. "I love going through the donations and picking out my favorite items and putting them on the shelves to sell. I tell people all the time that if somebody is going to have a baby, they need to come into the room and pick out some baby clothes because there is an abundance of it."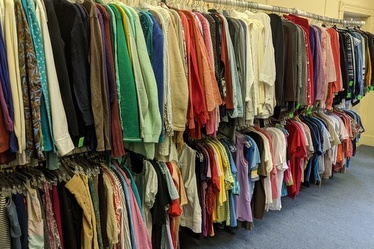 Taylor and DeMillo are among 20 volunteers who assist at the store, which is open on Saturdays from 10 a.m. to 2 p.m. Each volunteer is assigned one day a month, although DeMillo says she sometimes finds herself gravitating there more often because "it's kind of fun."
DeMillo and Taylor say they don't overly worry about the COVID-19 pandemic because of the precautions being taken. They include limiting the number of customers at one time, promoting social distancing, requiring facemasks, putting up plastic between the cashier and the customer, and having hand sanitizing stations.
"We're trying to be on top of it," says Taylor.
Both Taylor and DeMillo say they give of their time because they believe in the work of the parish and want to do their part to serve their community.
"I am involved with the church. I just like doing things like this," says DeMillo, who also serves on the Finance Committee and organizes the raffle at the church fair. "I love St. Rose. I've always been a parishioner at St. Rose. It is my home."
"I know there are a lot of needy people all over Maine, but it seems that there are quite a few concentrated in the Franklin County-Androscoggin area, so this is definitely a way that we could be a help to the community," says Taylor. "It's been a lot of fun, and it's really rewarding. I look forward to being involved for many years to come."