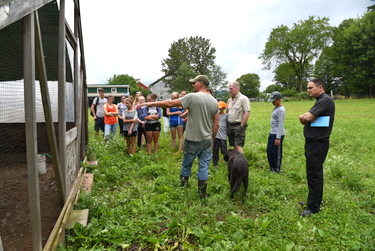 "This is where cows are milked."
Dan Perron, co-owner of the Sumner Valley Farm in Sumner, explains to a group of teenagers what it's like to live and work on a farm.
"There are a lot of benefits to having a dairy cow on a small farm, even if it's for your own use," he tells them.
The teenagers are participating in a weeklong day camp offered through St. Rose of Lima Parish in Jay and St. Joseph Parish in Farmington. While many summer camps provide opportunities for outdoor recreation, this camp is centered on mercy.
"Bishop Deeley had organized some opportunities during the Year of Mercy to highlight the corporal works of mercy, and one of them that caught my attention firstly was the corporal work of mercy to feed the hungry. So, that was kind of the personal inspiration to explore the corporal works of mercy with young people in the parish," explains Father Paul Dumais, pastor.
Father Dumais says he thought of a camp because they are such a tradition in Maine and because families often seek summer camps for their children.
"There is something experiential about summer camps, and I think there is something experiential about learning about the dignity and the need for the corporal works of mercy. It also indirectly conveys to young people that Catholic social teaching is not merely formal ideas about what we think, but they're truths that guide us in action. Simply to talk about Catholic social teaching would betray Catholic social teaching," he says.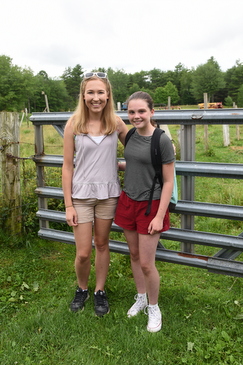 The camp aimed to teach youths the principles of Catholic social teaching within the context of food security, nutrition, and hunger. While those are weightier topics than might be explored at most summer camps, the 14 teenagers participating welcomed the opportunity.
"I was told that we were going to learn about how food is important in our world and in our society and how to help other people, those in need," says Clare Fournier, age 17, who recently moved to Farmington from Toronto, Ontario. "One of the first things that you can do to be able to live like a Catholic in your everyday life is just help people who are in need."
"I wanted to learn more about where food comes from," says Hannah Coates, age 13, from Jay. "It's really important to learn about food security, because we're fortunate enough to be able to buy our food, but other people can't afford it."
The camp, which was funded through a $4,500 grant from the Catholic Campaign for Human Development (CCHD), took the teens on a journey from farm to grocery store to kitchen to table. It included stops at two Farmington farms -- Rustic Root Farm, which grows vegetables, and the Pike Farm, which primarily grows corn and strawberries.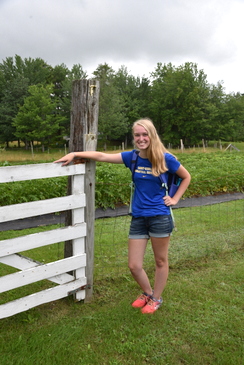 "I learned what that silk on corn is for, those annoying string things. It pollinates the individual kernels," says Rachel Pike, age 18, whose grandfather owns the farm. "That was my cool fact of the day. I also learned a bit more about the history of the farm. He lost a lot of land in the big flood of '87."
At the Sumner Valley Farm, which has dairy cows, chickens, and other livestock, the teens were shown how chickens are killed and prepared for sale. While attending the demonstration was optional, most decided to go.
"Where do you think your chickens come from? Where do you think your meat comes from? I think it's a good thing that people see what happens," says Evelyn Castonguay, age 17, from Jay.
"We got to see chickens slaughtered, and how they keep their chickens, and how they keep their gardens, and why they plant certain fruits and vegetables, and how to keep the market balanced between natural and how the market wants it," says Patrick Carter, age 16, from St. Michael Parish, Augusta.
Pauline Perron, co-owner of the farm, says everyone used to understand what went into farming because so many people farmed. Now, that knowledge is being lost.
"I don't think anybody really knows where their food comes from anymore. They think milk comes from a factory or eggs come from a factory," she says. "It's a lost art, and I think it's important that we keep it, because that's how you eat. It you don't know what these things are, you won't be able to survive. If you don't have farmers, what are you going to eat?"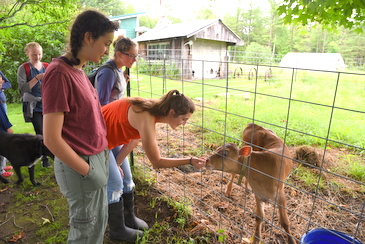 The youths also visited the Hope Harvest Garden, a community garden in Farmington; the Better Living Center, a health food store; the Hannaford supermarket; Soup for You, a restaurant; and the local food pantry.
"One of the places that really hit home for a lot of people in the camp was the trip to the food pantry," says Hallie Pike, age 16, from Jay. "We were able to go there and talk to the two people who run it and help them. It was a day's work for them, and we did it in an hour."
The camp also included presentations from Catholic Charities Parish Social Ministry, St. Mary's Nutrition Center in Lewiston, and the United Way.
Janet Brackett, a parishioner, added a global perspective, speaking about St. Rose's sister parish in Haiti and the struggles in the island nation.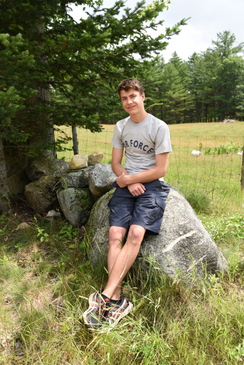 "There is a lot of hunger in the countryside. Even those people who can grow vegetables, they don't eat a lot of meat. They may eat chickens. Mostly, their protein comes from beans and rice," she says.
One of the most anticipated elements of the camp were the cooking lessons, offered by Laura Quynn, of the Franklin Community Health Network.
"She was such an amazing person," says Hallie. "It was a cooking class, but she taught us how to eat healthy on a budget. That was a lot of fun."
"We learned a few cool, new recipes," says Rachel.
The teens describe the camp as enlightening.
"It's just an all-around, exciting experience for me," says Rachel. "I think this will help me a lot in my faith, in that I will be able to do more charity work and give back to more people in the area."
"I really loved how we were able to see how hunger is in our area, not looking at it at a huge level, like the United States or the world or even Maine, but looking at just our county, looking at Franklin County and seeing that there is a lot of hunger just in that county," says Hallie. "The camp was amazing."