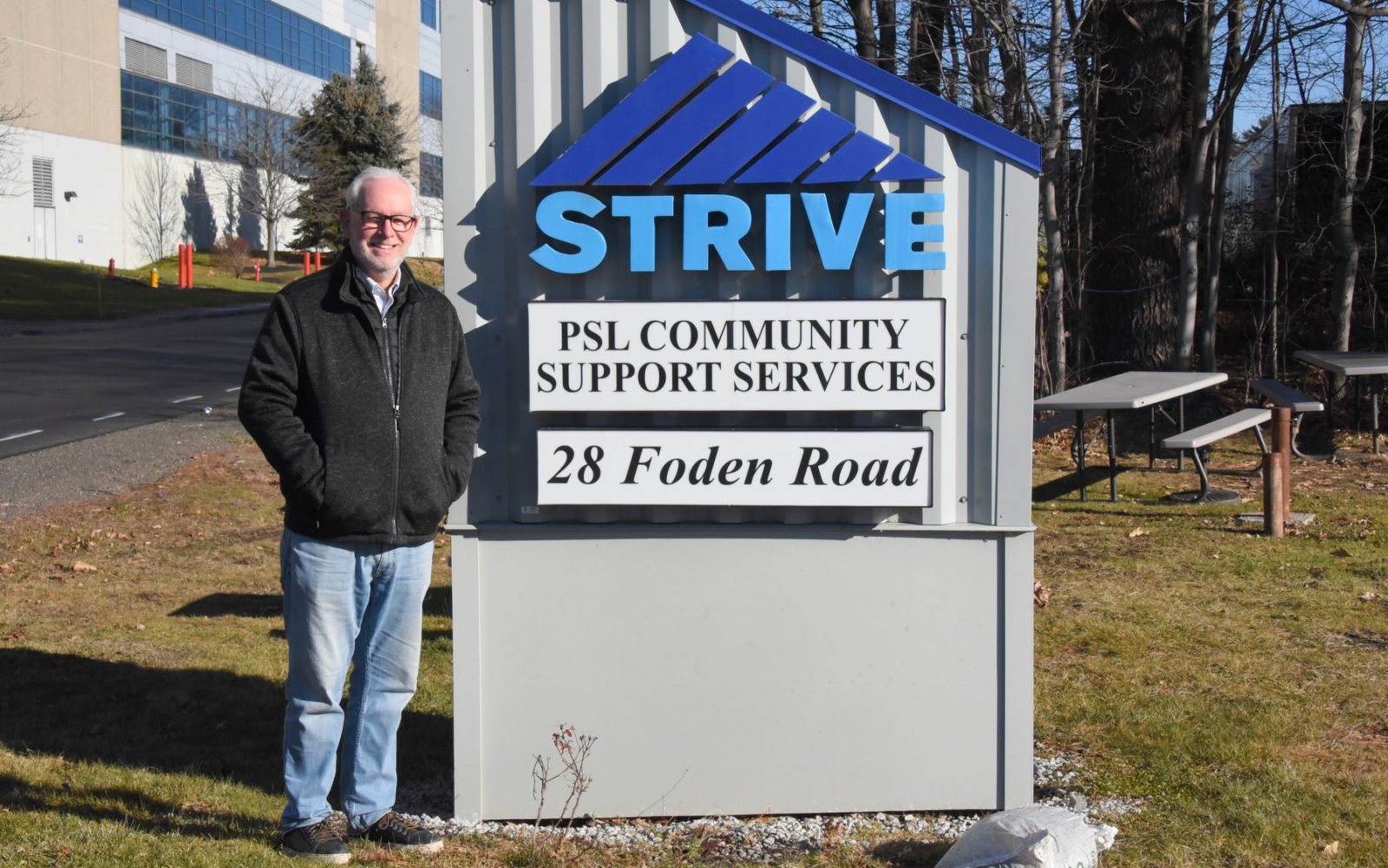 When David Hilleary moved to Maine after retiring from a successful career in banking and business, he was looking for a way to get to know his community and to contribute to it. That's when he heard a presentation at Holy Cross Church in South Portland about the Ignatian Volunteer Corps (IVC).
"It was almost like an epiphany. It was an aha moment that this is what I had been looking for," he says.
IVC is a national program that provides people over the age of 50 with ways to serve those in need in their communities, while, at the same time, giving them an opportunity to grow in their Christian faith.
"It was started 26 years ago by two Jesuits priests. It was really created to embody St. Ignatius of Loyola, who was the founder of the Society of Jesus. He advised followers on how to live, and I love this quote: 'The laborers in the Lord's vineyard should have one foot on the ground and the other raised to proceed on their journey.' I have a small photo on my desk that just says, 'Living with one foot raised,'" says Kathy Crosson, the director of IVC Portland.
It was through Kathy's initiative that an IVC region was established in Maine in 2019. She served as an Ignatian Volunteer Corps member in Washington, D.C., after retiring from the U.S. Department of Health and Human Services and then became a member of IVC's national board of directors. When she moved to Maine, she wanted to bring the program here, believing there was a need, which a feasibility study confirmed.
"We have an elderly population. We have a new, emerging immigrant population. We have an opioid epidemic in this state. We have many homeless in a relatively small geographic area of the [Portland] peninsula, and I think all of those point to an area that could benefit from skilled, experienced volunteers," she says.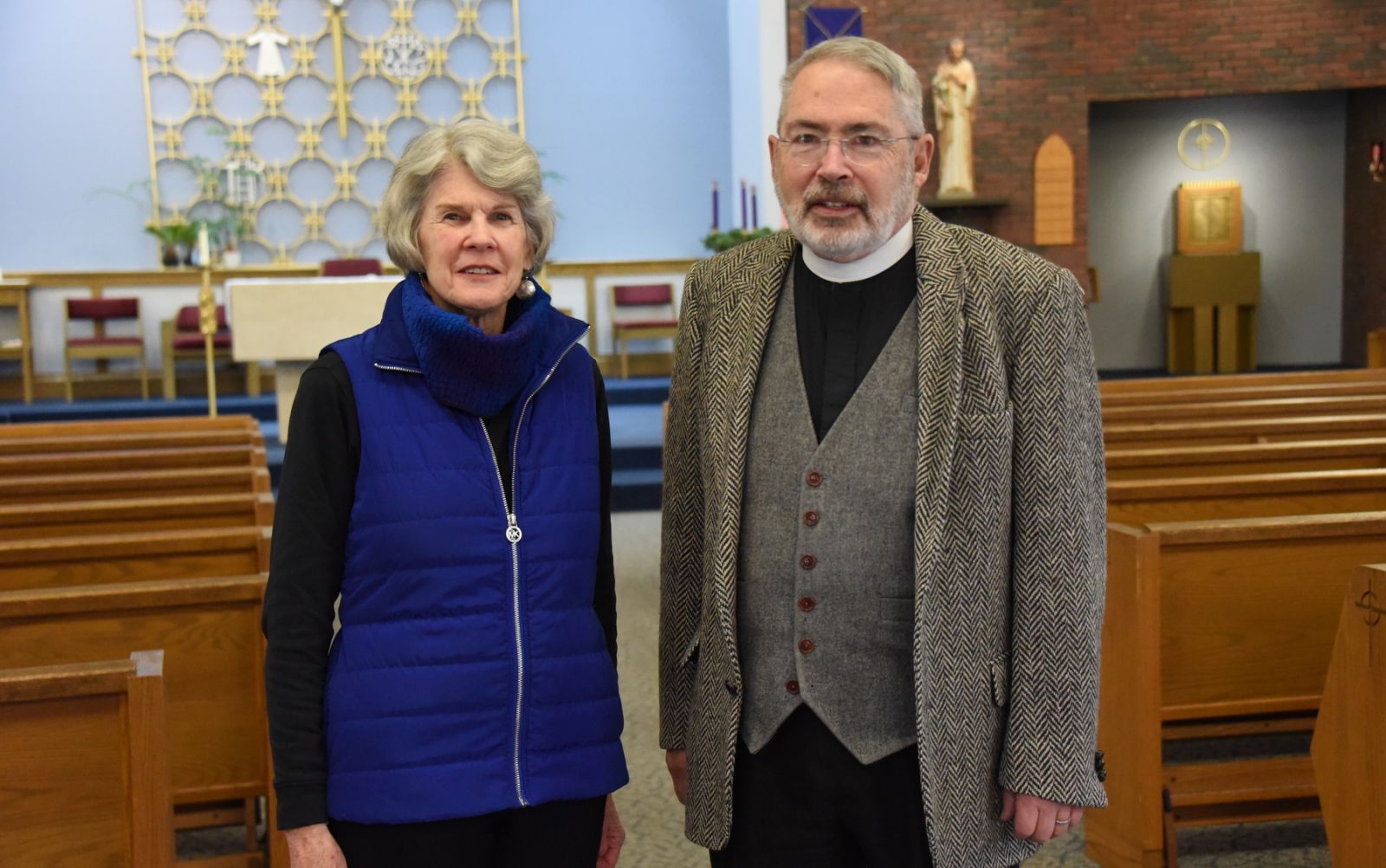 Father Paul Sullivan, SJ, pastor of Our Lady of Hope Parish in Portland and a member of IVC Portland's Regional Advisory Council, says there is also a familiarity with Ignatian spirituality here due to the presence of Maine's Jesuit community, Cheverus High School, and groups of alumni from Jesuit colleges and universities. Plus, he says in Maine, even small groups can make a difference.
"There is what I call the multiplier effect: a small effort can put out a lot of ripples," he says.
As the director of IVC Portland, Kathy helps to create those ripples by recruiting service corps members and community partners and then pairing them together.
"Her goal is to create matches that best use a volunteer's gifts and talents to fill a need," explains Father Sullivan. "It's not just the giving of time but the skills that go with it. It's kind of like a senior executive placement corps. These are people who bring quite a lot of life and professional experience with them."
David is one of those people. He was paired with PSL Services/STRIVE, a South Portland-based nonprofit that helps people with emotional and intellectual disabilities become active members of the community. David says one of his sons has some intellectual disabilities, so the program caught his eye.
"I liked how they envisioned using my skills. It just seemed like a very good fit for me," he says.
David originally spent one day working with clients and another day writing grants. Although the pandemic got in the way of the former, he was highly successful at the latter.
"In the year and a half I did that, we raised over $150,000 that got matched, so that was extremely satisfying. I'm also able to see how that money is being put to good use. They have a new program called STRIVE WorldWIDE, which is an online, education program that they kicked off, and it wasn't yet self-sustaining, so they really needed to have this money," he explains.
In November, David took on an additional role, holding training sessions on money management.
"I go over there and meet with the people and get to see the clients, so that's been very nice," he says.
Grant writing has also been the focus for Barbara Hoppin, a retired educator whose positions included principal of schools on Peaks and Cliff Island. Barbara volunteers at St. Brigid School in Portland, while her husband, Chris, who served in the military and has a background in public relations and communications, is helping with marketing at Catholic Charities Maine.
"We both chose something that tied in with what we had done for our careers. Writing grants, that is something that I did as an educator, and Chris, certainly, writing is his forte," Barbara says.
The Hoppins say they were drawn to IVC Portland because their daughter had a rewarding experience in the Jesuit Volunteers Corps, a program designed for young adults, and their son was a Vincentian volunteer. Barbara and Chris also have a long history of parish and community involvement, including bringing holy Communion to people in the hospital and in nursing homes prior to the pandemic.
"Service has always been a part of our lives. It's a routine that we've always done, and it was great when we learned about the IVC because it was a little different opportunity at this stage of our lives," says Chris.
"I think it's important to share with other people and to contribute to your community," says Barbara. "You also get back from it the joy of being with other people and getting to know other people."
A desire to get to know people was also what attracted Maryann Murray, who serves at Portland Adult Education and Friends of Portland Adult Education, which is the fundraising arm.
"They looked at my resumé. They saw all the development stuff, and they said, great, she'll help us bring in money," she says.
Maryann has an extensive background in writing, marketing, business, and communications. She served as director of Corporate and Foundation Relations at Tufts University School of Dental Medicine in Boston, Mass., before retiring two years ago and moving to Maine. She says she was looking for a service opportunity when her husband saw an article about IVC.
"I filled out the application, and Kathy got in touch with me. Even that was a great experience, getting to meet her and learning about the program," she says.
Maryann describes serving at Portland Adult Ed as humbling. She says she is proud of the way they are helping adult learners, many of whom are refugees and immigrants working to improve their English language or job skills.
"They are not looking for anybody to give them anything. They're working hard. They're going to school, and those are the stories I love hearing about," she says. "This place has allowed me to give back in a very meaningful way, both as far as using my skills and the skills that I've acquired and developed through my career but, also, in the people that I've met, both the ones that I am helping and the people in the IVC team that I'm volunteering with."
Once a month, the Ignatian Service Corps members get together, currently virtually, to share and reflect on the spirituality of the work they are doing. They, along with service corps members around the country, are also reading Pope Francis' book Let Us Dream, The Path to a Better Future.
"Led by Sister Ann Boyle, the group reflects on specific chapters from the pope's book, Scripture, and readings about the life of St. Ignatius," says Kathy.
"I really appreciate the spiritual part of it," says Barbara. "Kathy brought in a speaker about finding God, and there were some great readings. Things like that where you can enhance your own spiritual life are really important."
"It just really made the whole volunteer experience more valuable and more meaningful," says Maryann. "Rather than, OK, I go here and put in my eight hours or whatever and I'm done, I get to talk about and share it with the rest of the group. So, it is the community as well as the spirituality."
IVC members also have the opportunity to meet monthly with a spiritual reflector to help them explore how and where they see God in their ministry.
"For some, it's a reinforcement of something they have already experienced. For others, it's really a new opening to another spiritual aspect," says Father Sullivan, who serves as a spiritual reflector for David. "It helps with what Ignatius said, finding God in all things. How, in my service to this agency, am I finding God or is God finding me?
"Father Paul and I meet once a month for an hour, and he's my same age, and it's one-on-one, and I get to talk about not only my volunteer experience but anything I want to talk to him about. I haven't had that before, so that is very nice," David says.
While David says the spiritual aspect of IVC struck a chord with him from the start, Maryann says it made her cautious.
"I was a little hesitant about what that might mean and whether I belonged there," she says. "I kind of got involved despite of it, but then, it turned out to be my favorite part."
Those involved in IVC Portland give Kathy high praise for her dedication to the program.
"She is a dynamo," says Father Sullivan. "She is an amazing woman with all kinds of energy and vision."
Kathy says launching the program has been challenging, especially with the pandemic, but very exciting, too.
"People have been open and receptive, and the social service agencies have just been thrilled with the work of the volunteers," she says. "It's been wonderful