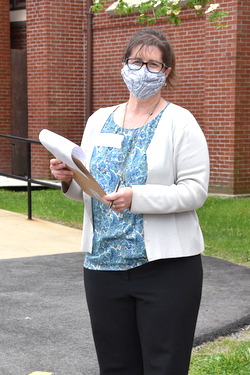 "I'm sending you a little virtual hug!"
Carolyn Mitchell, a pastoral associate at the Portland Peninsula & Island Parishes, cheerfully greets parishioners outside the door of the Cathedral of the Immaculate Conception in Portland.
"Welcome ladies!" she exclaims as two women approach the door.
It is June 1, and for the first time since mid-March, when COVID-19 restrictions took effect, parishioners are being allowed to attend Mass inside churches. There was little doubt that, at the cathedral and across the diocese, those who came were happy to be back.
"It is a great joy," says Claire Fitts, a Cathedral parishioner. "This is the first time in ages that we've been able to be in church and see Jesus ourselves and receive Him."
"Today was pretty special," agrees Jim Ciampi, a member of St. Peter Parish in Portland. "To be able to walk in and genuflect and sit there before the altar, to me, there is nothing that can replace that. To be able to do that today was a beautiful thing."
"I was very happy to go," says Peter Gribbin, also a St. Peter parishioner. "I am used to starting my day with Mass, and I miss it."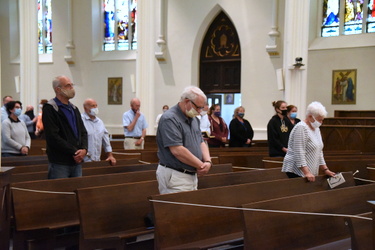 "As soon as the opening song started playing, I teared up. It was overwhelming to think about the past two months," says Julie Ann Smyth, a member of Good Shepherd Parish in Biddeford. "To return to the pew and to be with others who share your love of your faith, it was just so special. I was taken aback, and I wanted to be extremely mindful of this opportunity, because we don't know -- will we need to go back into being at home? I just wanted to relish every moment."
With the easing of state restrictions, Bishop Robert Deeley gave the go ahead for churches to resume indoor public Masses in June. Gatherings, however, must be limited to 50 people, including the celebrant and lay liturgical ministers. In many cases, that has meant online registration or phone calls to parish offices to reserve spots.
"As a golfer, I never thought that people would need to make 'tee times' to attend Mass, but it went rather smoothly," says Father Phil Tracy, pastor of the Parish of the Holy Eucharist in Falmouth.
In addition to limiting attendance, parishes must also make sure parishioners are spaced at least six feet apart. That has meant roping off pews, and some churches have put down tape to let people know where to sit. Masks or face coverings are also now a wardrobe essential.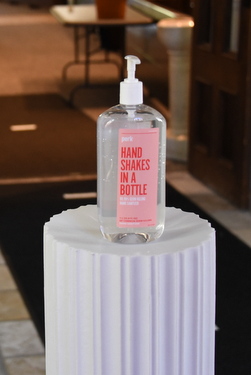 "I have been yearning to see the faces of my parishioners. Looks like I am only going to be given that chance bit by bit. With their masks, I will only get to see their eyes and hear their muffled voices. I will take whatever I can," says Father James Plourde, pastor of Our Lady of the Valley Parish in Saint Agatha, Notre Dame du Mont Carmel Parish in Madawaska, and St. Peter Chanel Parish in Van Buren.
Parishioners are seeing other changes as well. Holy water fonts remain empty. Baskets near entrances have replaced offertory collections, with parishioners urged to donate online. Those receiving Communion proceed single file and may find tape on the floor to guide them or be asked to wait for an usher's OK. In some churches, hand sanitizer is strategically positioned. "Handshakes in a bottle" reads those in the cathedral's entryway
"We've worked pretty hard at having a system in place, both a physical system and a social system, and it seems like it's working really well," says Carolyn.
Those first to attend Mass agree, showing a willingness to accept and adapt if it means being able to again celebrate something they hold so dear.
"I thought it went really smoothly, and it felt pretty much like a normal Mass," says Charlie Fitts, Claire's husband. "I thought it was great."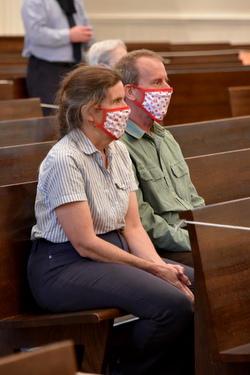 "It was a little weird talking and breathing through a mask. It's muffled, but no, it didn't bother me at all. I was just so happy to be there," says Claire.
"I could not be more impressed with the detail and the planning that they put into this," says Julie Ann. "I was not uncomfortable for a moment."
"My husband and I really appreciate the caution that the Church is taking to protect us from the virus. We really think that is important," says Ruth Richards, who has resumed going to daily Mass at Holy Family Church in Greenville.
"It's just nice going to Mass," adds Jim, Ruth's husband. "It didn't seem right not to go."
Although they watched live-streamed Masses, these parishioners say nothing can compare to being in the presence of the Lord in the Blessed Sacrament and being able to receive Him.
"It's wonderful to be able to receive the Eucharist again. Life isn't right without it," says Ruth.
"Receiving the holy Eucharist just feeds me," says Rose Marie Guay, from Our Lady of Perpetual Help Parish in Windham. "I have private prayer at home, and it carries me through the day, but this is special, because I feel like Jesus is physically present in me and helping me to do His will."
Along with being separated from Christ in the Blessed Sacrament, these parishioners say what they also found difficult was being apart from one another.
"I've really missed being with other people, worshipping together," says Carolyn. "It's just not the same being at home, even if we have these great live-stream opportunities."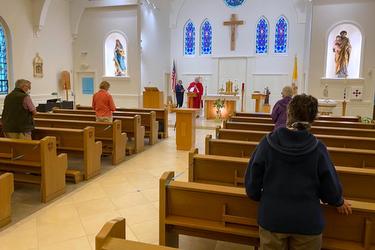 "It was nice being with people we haven't seen in two months, even if we didn't have a long visit," says Charlie.
"As a faith community, we need ritual, and we need the space in which we practice it in. Without that connection, we can't be reminded that we are not alone. We get to see neighbors, friends, fellow workers, identifying together as Catholics in a familiar place with familiar rituals," says Father Plourde.
Although working out ways to welcome back congregants and keep them safe has not been easy, the priests of the diocese says it is uplifting to have people back in the pews again.
"We have missed seeing parishioners and celebrating the sacraments with and for them. We are a community of faith, and when we are not able to gather, we certainly feel that void," says Father Greg Dube, rector of the cathedral and pastor of the other Portland Peninsula & Island Parishes.
"I love nonverbals. I missed nonverbals -- just a smile, the lift of the eyebrows, body posture," says Father Brad Morin, parochial vicar of Good Shepherd Parish.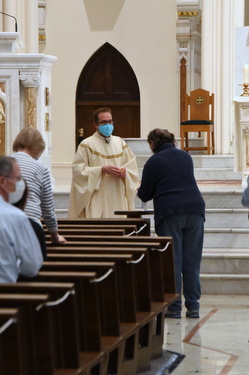 "I loved having a congregation and hearing the people's part instead of listening to it in my head," says Father Tracy. "I was edified to see how much the people were hungering for the Eucharist."
"It was great making eye contact with people rather than staring into camera lenses," says Father Louis Phillips, pastor of Our Lady of Perpetual Help Parish, St. Anthony of Padua Parish in Westbrook, and St. Anne Parish in Gorham. "It was great hearing the people's responses for a change."
"One of the most meaningful moments of the Mass is after the altar has been prepared, and then, we begin the actual Liturgy of the Eucharist, where we pray, 'Pray brothers and sisters that my sacrifice and yours …' That's where the dialogue is so important to hear, because ultimately, the people are praying for the priest, that he stays in the moment for the Eucharistic Prayer. To hear the voices coming back, even though it was fewer people than a full church, it still sounded loud to me," says Father Morin.
While some parishioners are comfortable returning to Mass, others need more time. The bishop has left in place the dispensation from the obligation to attend Sunday Mass, while advising those in high-risk groups to consider remaining home and watching live-streamed Masses, which parishes continue to offer.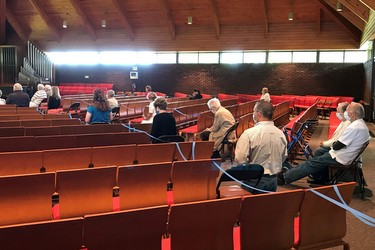 While not being able to gather for Mass hasn't been easy, Father Dave Raymond, pastor of the Parish of the Precious Blood in Caribou, says it has perhaps helped us realize how much we take for granted.
"I find that we have all learned to appreciate even deeper that the Church is a community of believers who are called to celebrate the Paschal Mystery," he says. "We must remember how millions of Catholics in the world do not have weekly Masses because of lack of a priest, political turmoil, and war. I think that, in times like this, we offer this sacrifice in solidarity with brothers and sisters throughout the world."