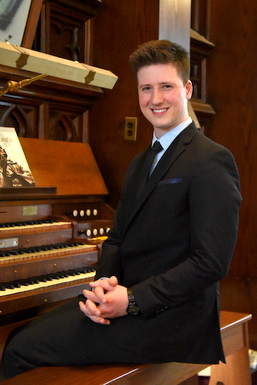 Ever since he was a child learning to play John Denver tunes from his dad, Paul Griffin, age 25, has had a love for music.
"Music is something that I never really stop doing. It's always on my mind," he says.
Although he enjoys all genres, even pondering becoming a punk rocker when he was in high school, he has long felt especially drawn to the works of the great composers such as Bach and Mozart.
"When I was 11, I picked up the Bach Inventions. I just liked them. I think I had a musical mind since I was young," he says.
It has led Paul to aspire to become a sacred musician, as well as a teacher of music. Paul points out that many of Bach's works were originally intended for church congregations since Bach was a church organist in Germany.
"Sacred music is an opportunity for me to enter a career where I can serve the community in which I live. It's a way for me to really give to everyday people, myself included," he says. "I play for a higher cause. I play for the history of humanity. This is a tradition that that goes back thousands of years, and I just want to carry on what people like Bach and Scarlatti started and be the organist / teacher."
Paul has put in countless hours of practice time to make his dream come true, and this year, it was given a jolt forward when he was accepted into the graduate degree program at The Catholic University of America's Benjamin T. Rome School of Music, Drama, and Art, a preeminent center for the study of sacred music in the United States. In addition, following a live audition, Paul was one of two students chosen to be a graduate assistant for music & liturgy.
"I didn't realize how big it was until I got here," he says. "I'm still in shock about it because I'm just Paul. I'm just a kid from northern Maine who plays the organ."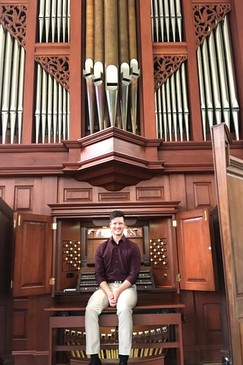 In the position, he will direct The Catholic University of America Basilica Choir, coordinate the music and play the organ for daily and Sunday Masses, including Sunday afternoons in the Crypt Church of the Basilica of the National Shrine of the Immaculate Conception, and recruit, audition, and train student cantors, choir members, and instrumentalists.
"I can't believe it. I'm still star struck," he says. "This week alone I've played at 12 Masses."
Paul's training started informally when he was growing up in Greenville. He learned how to play folk music on the guitar from his father, then discovered an affinity for the keyboard when his older brother started piano lessons.
"I would kind of goof around. Eventually, I took this book and I figured out how to read music, and my parents said, 'Alright, we'll put you in lessons,'" Paul recalls.
He still stays in contact with his first piano teacher in Greenville. When his family moved to Houlton when Paul was in the seventh grade, his new teacher, Kaye Trickey, added musical theory to his education.
"These musical theory courses are what shows you how music works, what makes it work, why it works," he says. "She gave me lessons on the Bach Inventions. Then, I started with Beethoven sonatas and then Mozart sonatas. So, I was finally getting the classical training that you need to be a professional keyboardist."
It was also Trickey who suggested that he consider learning to play the organ. He was around age 15 at the time.
Paul says music began taking up more and more of his free time.
"I would do my studies, and then, I would go to something musical. I literally spent all day pining over music books and stuff like that," he says.
Paul says a pivotal moment for him was attending a Pipe Organ Encounter at Southern New Hampshire University in Manchester, N.H. The encounter brought together young people from around the country to study organ with distinguished professors and organists. Paul was assigned to Ray Cornils, who long served as Portland's municipal organist.
"There was a lesson with him when I was just frustrated, and I was having a bad day, and he looked at me, and he said, 'You know, you really care about this.' Then it kind of hit me that I really did."
Cornils suggested that Paul contact Kevin Birch, the director of music at St. John Church in Bangor, about organ lessons. Birch, who has performed in several countries and around the United States, studied at the New England Conservatory in Boston and the Sweelinck Conservatory in Amsterdam and holds a Doctor of Musical Arts degree from the University of Iowa.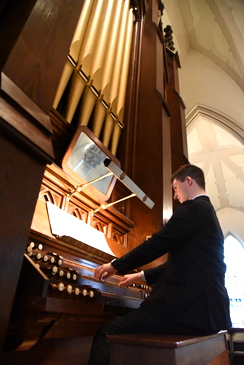 Birch agreed to mentor Paul, and every other week, his parents would drive him from Houlton to Bangor for his lessons, a four-hour roundtrip.
"I remember my first lesson, he gave me some music, and I remember looking at it and thinking this is so hard, because I had never had lessons as high caliber. My training had begun at this point," Paul says. "He told me at one of my lessons, 'If you're going to be a professional musician, you must take this very seriously.' I said, 'Yes.' Then, I continued to stumble and fall. He was such a good teacher. There is no one else I would rather study organ with. Even if I came in not where I should be, he would take the hour and just go over it with me again, and again, and again, and again."
Paul was accepted at the University of Maine in Orono where he majored in music education. After two years, suffering from an illness, feeling burned out, and struggling with his studies, he left. Music, however, stayed with him.
"I worked at Tim Hortons for a while, but when I was at Tim Hortons, I was doing the overnights, so I had a lot of downtime, and I would sit in back and work on my scores, because it just never stopped. That's how I knew I had to go back and finish."
He returned and, as he puts it, finished strong. During his senior year, he taught at Orono High School, another turning point.
"I would see these kids every day, and I would teach them music. I would direct the bands. I would teach the history of rock n' roll. Other than being an organist, it was the only job where I woke up and I didn't hate leaving the house. It became another passion," he says. "I had always loved teaching, but I didn't realize the impact that it could have. There was one student who came up to me and said, 'Mr. Griffin, I'm going to school for music education.' That was wonderful! And there were so many others who said I'm going into band or this and that. No amount of money or fame could ever replace that.
Paul was given another wonderful opportunity as well. St. Paul the Apostle Parish, which includes St. John Church, offered him an internship. It meant working with Birch, playing the organ at Masses, and directing choirs.
"It has been such a joy to work with Paul over these several years," says Birch. "We were truly blessed to experience his contributions as organist, choral conductor, and cantor and wish him all the best as he continues his studies in sacred music."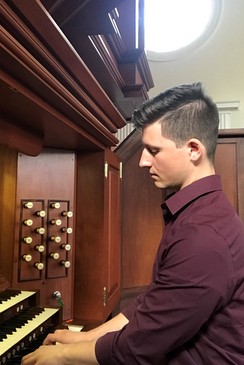 "I take it as seriously as I would take my concerts because it is serious business when you play for a congregation of 600 people," he says. "Music is one of the greatest prayers we have. Our hymns and our music, they're prayers. That's what they are. There is nothing more beautiful than feeling completely with the congregation you're playing for."
He explains how he leads the congregation in some of those prayers.
"For the 'Holy, Holy,' traditionally, that is a big one, so this is an open diapason, which makes it much louder. Then, for the 'Lamb of God,' it's the pinnacle of the Mass, however, it doesn't have to be in your face, so I use a quieter setting," he says. "The congregation, they may not consciously notice, but they know that they can feel it."
Paul says he prepares for a Mass by memorizing all the music for it.
"I have a duty to be ready for the Mass. The most important things I do are play for the Mass and teach people music," he says. "The Mass wouldn't be the same without the music. It would not be the same. I take it very seriously."
He says he is careful to choose hymns that connect liturgically.
"I always ask myself, 'Is this music for me or is it for God?' That's how I determine it," he says. "Is it for my own benefit or is it for the benefit of the congregation and what we're doing here?"
With his degree from the University of Maine and the knowledge gained through the internship, Paul decided to pursue a graduate degree in sacred music. In order to prepare for his auditions, he says he would come to the church at three or four in the morning to practice, then go to Orono High School to teach, only to return in the evening to practice some more. Even when he steps away from the organ, he takes his music with him.
"For instance, when I got running, I listen to music that I'm practicing. Like, this morning, I'm working on a Bach toccata in C major, and that is what I listen to over and over again for the half hour while I'm running. Sometimes, I run to the tempo. Music has always been very innate. I just feel it constantly."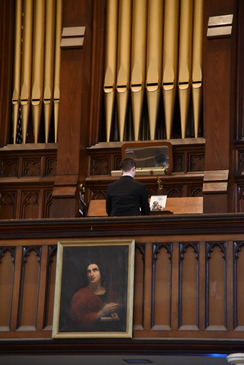 Paul auditioned for and was accepted by both Boston University and The Catholic University of America (CUA). His audition for the latter was held at the Basilica of the National Shrine of the Immaculate Conception in Washington, D.C.
"I'm up there, and I'm saying, 'I can't do this. I cannot do this.' They're fantastic organists. They're the highest quality because this is 'the' basilica," he recalls.
His doubts, however, proved to be unfounded.
"I don't know why they took me. I still don't," he says. "It will be very exciting."
Paul would like to become a sacred musician who leads the music ministry at a cathedral or basilica or perhaps be connected to a college campus where the job will include teaching.
"I've always considered it my duty, as someone who plays sacred music or is a sacred musician, to educate the next generation and pass on the torch," he says.
Someday, he says he would also like to try his hand at composing film scores
Regardless of where his career takes him, he says serving others through his music will always be a part of it.
"This is my calling. I just want to give to whomever I'm living near," he says. "Sacred music is more than just a passion. It's a duty, and it's a calling. I serve the Church. That is what I do. The Church has been a center of music forever."
And thanks to the dedication of aspiring sacred musicians like Paul, that tradition will be carried on for years to come.