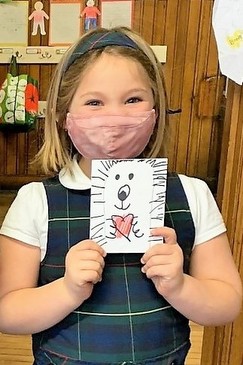 When the pandemic hit in spring 2020 and schools switched to remote learning, Emma Garrity of Gorham, like many parents, worried about the impact it was having on her daughter Paige.
"She just really didn't respond well to it, and eventually, it got to the point where she stopped doing the things that she was really proud of doing," says Garrity.
When it seemed likely that remote learning, either fully or on a hybrid basis, would continue into the next school year, Garrity and her husband decided they needed to explore other options. That's when a neighbor told them about St. Brigid School in Portland, which, like all Catholic schools in Maine, were planning to have in-person learning. Garrity decided to give the principal, William Burke, a call.
"When I talked to Mr. Burke, he was just so lovely," says Garrity. "I can't say enough about how wonderful he was on the phone."
Garrity admits there were some reservations about sending Paige, who was entering first grade, to a Catholic school, not knowing what it would be like and wanting to be sure she had a positive experience. Now, Garrity says she is thrilled to share how it turned out.
"Our experience with everyone has far exceeded any expectations I may have had," she says. "Paige is thriving. She is always smiling when I pick her up, and she has lots of positive experiences to share."
Other parents who enrolled their children in Catholic schools for the first time have similar reactions.
"It's gone wonderfully. We've been so happy," says Ashley Shamos, who has two daughters at St. Brigid School -- Ruby, who just finished third grade, and Celia, who was a preschooler. "It's just a welcoming environment, and the kids have loved it."
"Gabby did have a fabulous experience," says Gretchen Livingston, whose 11-year-old daughter Gabriella just completed fifth grade at St. Michael School in Augusta. "She felt like she truly belonged from the first day she set foot in the building."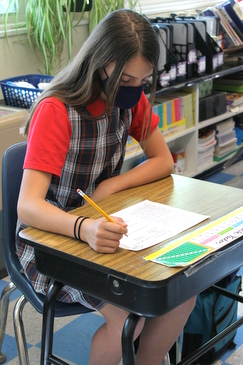 "When I first arrived at St. Michael School, I knew that I was going to have a good experience because everyone was so kind, loving, and supportive," agrees Gabriella.
The promise of in-person education led to increased enrollment at many of the diocese's Catholic schools in the 2020-2021 school year. What parents and students discovered once they got there, has kept those numbers climbing. At St. Brigid, for example, enrollment is up 25%. At All Saints Catholic School in Bangor, it's up 18%, and at St. James School in Biddeford, it's up 13%.
"I am going to have to hire teachers to split grades, which will really be great for kids," says Nancy Naimey, principal of St. James.
Kelley and John Litwinetz are among the parents who enrolled their children at St. James last year and will be keeping them there next year. Their 10-year-old twins, Henry and Jacob, will be heading into the fifth grade.
"I think they are in a very safe and comfortable place, and their needs are being met in a way that I don't know if they would be met in the same way if we went back to public school next year," says Kelley.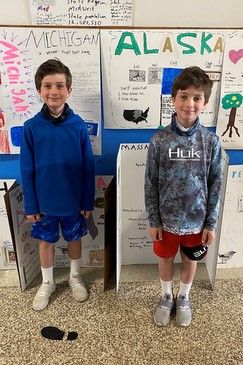 At first, John and Kelley say they were concerned about having their sons transition to a new school, but they say their concerns soon eased.
"They were welcomed and accepted. The teachers and the administrators made sure that they slid right in," says John. "After the first week or two, it was like they had been going there since kindergarten. They made a couple of great friends, and it's worked out really well."
Cynthia Fabbricatore of Augusta says it took even less time for her son Rocco, a sixth grader, to feel at home at St. Michael School.
"That first day, when I picked him up, he got in the car, and I had never seen the kind of joy from him coming out of a school building since he was maybe in second grade. He was so excited," she says. "He was just going on and on and on and telling me about all the teachers and the class and the kids, and he knew children there, so he was a new student without being a brand-new student."
Fabbricatore says Rocco came home full of energy, which didn't wane throughout the year.
"He has grown personally, and spiritually, and academically, and we are thrilled," she says. "This school is giving him just what he needed."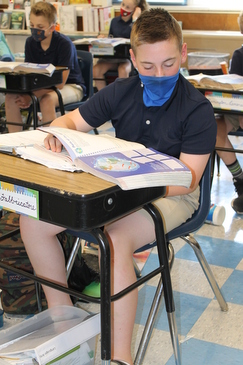 That includes what she describes as a rigorous curriculum.
"He needed to be challenged," she says. "He said, 'Mom, I'm learning stuff. I'm learning something finally.' He made a point to say that, which was incredible for someone at that age to make that comment. We couldn't be more pleased."
Shamos says she found the same to be true for Ruby at St. Brigid School.
"We feel like she has been challenged this year in ways she wasn't being challenged in the public school, in a good way. It may be a little tougher, but we like that," she says.
Shamos says Celia has also thrived.
"Our pre-K kid, she has just taken off," Shamos says. "The things that she learned and has been able to do this year have been really impressive."
John and Kelley Litwinetz say their boys always excelled in math, so they had concerns about whether St. James School, being smaller, would be able to be meet their needs, but they say it hasn't been a problem.
"We've been very pleasantly surprised that they've been able to be on an accelerated track with math," says John. "They've been given the opportunity to excel at that, and any question about whether or not there would be enough resources for kids who wanted to excel, those resources were there."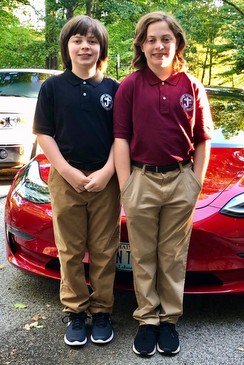 "I just think the bar and the expectations are higher, but the biggest thing is that they tell them the expectations, and every child is held to the same measure," says Judy McCall, whose sons Shepard and Coleman, sixth and eighth graders, switched to St. James School last year. "They learn accountability from home and that drives them into being more responsible, accountable adults, and in school, they should be fostered in the same thing. I see this much more at St. James, so we're thrilled they were able to go there.
"They were instantly happier," says Judy's husband, Butch. "Our sixth grader, the first week we got to St. James, he talked with enthusiasm about school in such a way that he had never done before We immediately saw a much more enthusiastic, positive attitude from him."
Danielle Bolster of Carmel says she has also seen a change in her sixth-grade son, Carter, since he started attending All Saints Catholic School.
"He kind of became a little bit more responsible and driven to get his work done without us constantly asking him to do it," she says. "He really loves his teachers and wants to do well for them."
Bolster originally only switched Carter, her oldest son, to All Saints because he had expressed the most concern about remote learning, but in January, his younger brothers, Nolan, a third grader, and Abel, a kindergartener, joined him.
"We saw how well our oldest was doing, so then, we switched the other two," she says.
Along with the supportive teachers and staff, Bolster says one of the things that struck her about the school was the way students in Carter's class held each other accountable.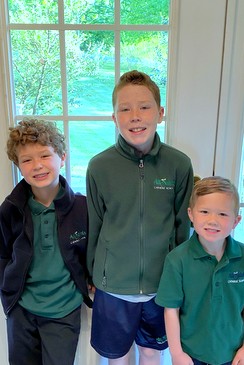 "They'll text each other and FaceTime and say, 'Hey, do you want to study? Do you want to do homework together?' So, I think that it was really helpful for him because he's seeing his classmates really put in a lot of time and effort. He ended up getting high honors last trimester."
The same support found in the classroom is encouraged in all aspects of school life. Gabriella is on the field hockey team at St. Michael School and says she appreciates the help she's gotten both from the coaches and the older players.
"I appreciate the respect that my teachers and coaches show me. I love that I was able to play both field hockey and basketball. I am grateful that the older students have been great role models for me," she says.
"The eighth graders really took her under their wing and showed her the way again and again. It was a genuine, welcoming environment. You belong here. You belong on this team. We're going to help you in every aspect of your schooling," her mother adds.
Sports was an additional benefit for other students as well. Rocco, for instance, was on St. Michael's golf, baseball, and basketball teams.
"He loves that about school. He loves being on a team," says his mother.
She says Rocco was given another gift when one of his teachers learned that he played the piano and asked him to play during some of the school Masses.
"I've never seen my son so excited coming home from school, saying, 'Mom, I'm going to be playing at Mass.' He was so blown away by that," she says.
Fabbricatore says Rocco had never been to a Mass before because his family goes to a Baptist church, but she says he was bubbling over with joy after attending.
"He goes, "I love it! Mass was amazing, and you're never going to guess what happened.' I said, 'What Roc?' He said, "I was blessed by Father John [Skehan].' He was teared up. He was emotional," his mother says.
Other parents say they, too, appreciate that faith is now part of their children's schooling.
"They had done faith formation at the church, and that was good, but I don't think they were retaining as much from just going to faith formation. Just their knowledge and understanding in that regard has been very, very impressive," John Litwinetz says of Henry's and Jacob's St. James School experience.
"I agree with that. Just the way religious education is integrated into their day-to-day, week-to-week lives at school, and the character development, and the moral development, that kind of thing is huge. I don't think we would have seen that in a different setting," adds Kelley.
"I really want her to have an experience with God," says Garrity, referring to her daughter, Paige. "I don't feel like it needs to be my experience, or it needs to be anybody else's experience, but I want that to be a part of her life, and I feel like it is now. She just naturally says it. She just talks about God sometimes and I love that."
The schools also teach children how to live out their faith by giving to others.
"The things that the girls have learned, and the way the St. Brigid School feels like a community, and the way they reach out to their community, has just been huge and a great experience for our kids," says Shamos.
"I'm a social worker, so I'm really aware of the privilege that my family and my children have. Paige was an only child until she was five, so I don't think she really understood how much privilege she had, so I like the idea of her giving back, just the idea of teaching that others have less than us and that we have a responsibility to give back to the community," says Garrity.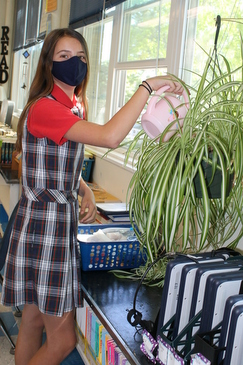 "She feels that every day she is inspired to be a better person, a good person," says Livingston about Gabriella. "Not that she wasn't before, but that message comes across loud and clear every day."
The pandemic, of course, meant some limitations and adjustments, but all these parents say they believe the schools handled the situation well. They were especially impressed when it came to communication. Despite not being able to visit, they say they never felt disconnected.
"They've done a beautiful job. The communication has been fabulous," says Livingston.
"It's just makes it so easy as a parent to be in that kind of setting where you're not trying to hunt people down and get information. It's just fantastic," says Fabbricatore.
"I feel like the responses from the teachers if you do have any issues or questions have been immediate, and that's not always the case at other schools," says Butch McCall.
While a Catholic school may not have been in the picture for these parents and students prior to the pandemic, they say it will be in the future. They are all enrolling their children for the next school year.
"We've had such a positive experience this year, and I think that will hopefully continue for next year and beyond," says Kelley Litwinetz.
"I really can't say enough nice things. It's really just been a very, very positive experience," says Garrity.
"It's definitely been a great place for them, so we'll keep them there," says Shamos. "Why change a good thing?"