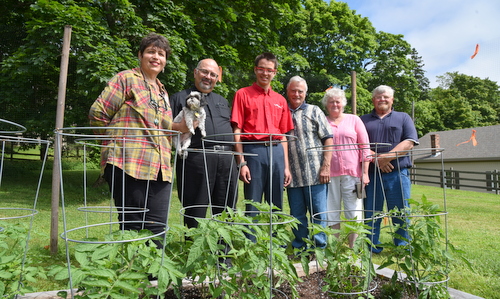 Cabbage, cauliflower, eggplant, squash. Those are just a few of the vegetables being grown in a new community garden at Holy Name of Jesus Church in Machias.
"We've got green beans. We've got tomatoes. We've got broccoli, peppers, cucumbers, zucchini," says Father Paul Marquis, pastor of St. Peter the Fisherman Parish, which includes Holy Name.
All the vegetables grown in the garden are being donated to the Machias Food Pantry, located at the nearby Centre Street Congregational Church. Father Marquis says the idea came to him when he attended a community meal there and heard about efforts to have local gardeners donate their excess produce to the pantry.
"Since we have this big space back there, I said that maybe someday it would be nice to plant a community garden. That was back in October / November," he recalls.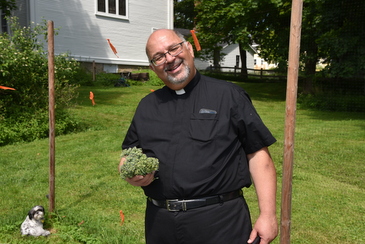 He didn't think much about it until Deacon Al Burleigh, an outreach specialist with Catholic Charities Maine Parish Social Ministry, visited the parish and urged him to apply for a Matthew 25 Award. The awards are given out to support parish social ministry projects.
"At first, I said, 'Well, I don't think I'm going to have anything this year.' And that night, it just kept swimming around in my brain," says Father Paul.
After consulting with some parishioners, the parish applied for a grant and was awarded $3,100 to get the garden started, with much of the money going towards a water supply, since there was none in the back of the church.
"The water came in from the street out there, so it ended in the front of the basement on the house, so I ran it through the basement. Then, this rec room doesn't have a basement; it's just a crawl space, so I ran it through. I had to crawl through," explains John Mallar, a parishioner, who works as a plumber.
Father Marquis says many parishioners stepped forward to help.
"We've got a lot of different people, some doing more, some doing less, but everybody doing something," he says.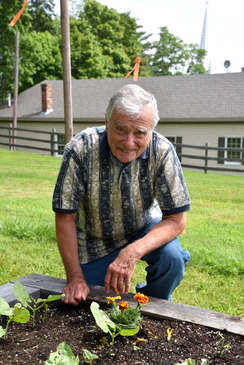 Parishioners Jack August and Durand Circone built the raised beds and put up fencing. Others have planted, weeded, and kept a watchful eye.
"I grow tomatoes from seed, and I donated a bunch of tomato plants, and I hope to donate some onions in the fall because I have a large onion patch," says Bill Dauphin, a parishioner from Machias. "I always try to find something to keep myself occupied and to give back to other people."
"They did a lot of the planting because I'm not much of a gardener myself, but I did soak the beans," says Father Marquis. "You put them in water to give them a head start."
Fortunately, parishioner Pam Durrett is a master gardener, so she's been able to lend her expertise.
"I went and got the soil, brought it over," she says. "I brought in some seedlings, helped people plant. We had some new people who hadn't planted before, so I showed them distance for planting and depth."
Pam says she stuck to core crops when choosing what to plant.
"I think it's basic crops that most everybody would enjoy at the food pantry, rather than planting something unique that, maybe, not everybody would like," she says. "A lot of times people grow more exotic stuff like kale, but everybody doesn't necessarily want that. For the food pantry, I think, staples are good."
The garden got a late start due to a wet spring, and as a result, wasn't as large as parishioners had hoped. Still, by mid-July, they were pleased to see the first broccoli ready for picking.
"A lot of people have said that they're glad to see that we're doing something like this. It shows our desire to serve the community," says Father Paul. "It's kind of like what Matthew 25 says: feed the hungry, clothe the naked, give shelter to the homeless. Well, this is one way of contributing to that. It's making it possible for us to feed the hungry."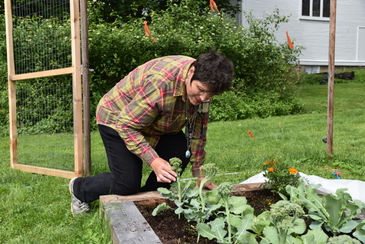 Parishioners say they know there is a great need in the area. According to the Maine Department of Labor, Washington County has the second highest unemployment rate in the state.
"There is quite a bit of poverty in Washington County. There is no industry. There is not a lot of year-round work. There is a lot of seasonal work," explains Father Paul.
"It's a poor area. We have a big elderly contingent here that needs help and outreach," adds Holly Beal, a parishioner.
The volunteers say it is good to see the different congregations in town come together to serve those in need.
"What I kind of like is that we seem to be bringing more churches in, the other denominations, I like that idea, more ecumenical," says Bill.
The garden has also gotten a hand from businesses in the area. Coastal Maine, Inc., donated the soil. Guptill's Lawn & Garden donated the material for the beds, and Ellsworth Building Supply has given the parish discounts on other gardening supplies. In addition, the library next door hosts a 4-H gardening program, and Father Paul says, thanks to the librarian, one day some tomato plants suddenly appeared.
"We hadn't gone out and planted yet, and we said, 'Where did the tomatoes come from?' He had gone and planted them," says Father Paul.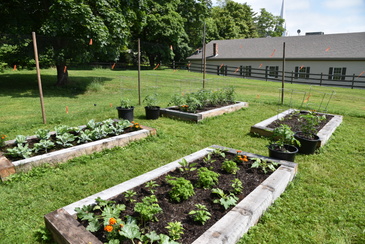 As the tomatoes, peppers, and cabbage have continued to grow, so has something else within the parish: a sense of community. These parishioners say they love their church, and they want to see it thrive.
"I go to church here. These are my people. I want to be a part of it," says Bill.
"I like to give my time to the church because I like to see things stay in an upgraded condition," says John. "I do have knowledge and a basket full of tools, and I'm perfectly happy keeping things in good order here."
"It's been my goal here at St. Peter the Fisherman to make a bigger community of people who know each other," says Holly. "We're trying to bring everybody together, to work together, to make things better for everyone. That's what I've always wanted. I don't like to come to church and it be cold. I want it to be happy, healthy, and friendly."
While the garden was limited in size this year, the volunteer gardeners are already looking ahead with optimism.
"We're hoping to add some beds next year," says Pam. "Gardening is always about next year, always planning bigger and better."