What's in a Name II?
Francis: Repair, Rebuild and Restore my House
In an earlier issue, I attempted to answer the question, "What's in a name?" as it relates to our new Holy Father, Pope Francis. As we know, Cardinal Jorge Mario Bergoglio of Buenos Aires assumed the name "Francis" in honor of St. Francis of Assisi.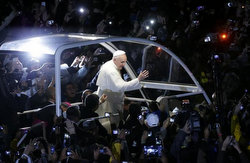 One aspect of this saintly name that I omitted from that article (for the sake of brevity) refers to the now legendary story of Francis being called and commissioned by the Lord to rebuild His Church.
As has been recounted numerous times, Francis had retreated to reflect on his life and was praying before a crucifix in the crumbling chapel of San Damiano in Assisi, Italy. From that cross, the Crucified Lord spoke to Francis, saying, "Francis, repair my house, which, as you can see has fallen into ruins." Initially, Francis took the Lord's words literally, devoting himself to the task of restoring that and several other chapels. All the while, he and his spiritual brothers embraced a life of prayer, simplicity and humility. They preached and practiced a radical renunciation of worldly ways, repentance of one's sins, and reverence for all of God's creatures and creation.
With time, Francis came to the profound realization that his brick-and-mortar renovation projects were merely a symbol for the body-and-soul renewal that was taking place among God's people—the living stones of the Church.
Having chosen his new name because he was asked by a brother cardinal to remember the poor, Pope Francis has done that: washing the feet of prison inmates … listening to the stories of recovering addicts … embracing the handicapped and elderly … visiting the slums of Rio … preaching a message of "encounter" and inclusion. With each act of compassion, Pope Francis widens the Church's door of faith (the "porta fidei") that Pope Benedict opened as the Year of Faith began. He reminds us that as God's children, we are totally dependent upon the Lord for all we are and all we have. Whenever we suffer in body, mind and spirit … wherever we are persecuted and excluded … and even when we fall and sin, Pope Francis gives us hope, assuring us that we, too, are the poor of a God who always hears the cry of those who are neglected, rejected and excluded in any way.
Perhaps the Lord inspired Pope Francis to choose this name so that in his own way, he could help repair, rebuild and restore the Lord's Church in this day and age … bringing healing and justice to the victims of abuse … cleaning up a scandal-ridden financial institution … challenging the cultures of materialism, consumerism, isolationism, and clericalism … worshipping and then going out to build a "culture of encounter," bringing the light of faith (the "lumen fidei") to every person we meet … and offering a gentle and genuine invitation to everyone who still identifies herself or himself as Catholic but hasn't been in a church for some time.
In some ways, I discovered that the pope's message has taken on flesh at the Catholic Church of the Nativity in Timonium, Maryland. In a book entitled, "Rebuilt: the Story of a Catholic Parish" (copyright 2013, Ave Maria Press), co-authors Father Michael White, pastor, and Tom Corcoran, pastoral associate, tell the story of ministering in this parish. Over several years, and admitting to some strategic missteps along the way, this once stagnant, even dying, parish has been "rebuilt" into a vibrant community of faith. The parish's vision focuses primarily on searching out and welcoming the lost sheep -- especially the youth and young adults who have children in tow. With the Eucharist at the heart of the entire weekend, they provide well-received hospitality, much-desired solidarity, and many needed services. They preach God's Word of Truth and salvation so that it is relevant for the everyday lives of their parishioners … they celebrate through music that inspires (surprise: one style does not fit all) … and they send out parishioners to be ministers who fulfill their baptismal call to missionary discipleship. How does the story end?
When I finish the book, perhaps I will let you know. But every parish can and should incarnate these lessons in their own way so that like Nativity Parish, our parishes can be renewed in the spirit of these men of yesterday and today whom we call "Francis."
Rev. Msgr. Andrew Dubois
Moderator of the Curia