The Road to Healing
The Catholic Church in the United States completed the observance of Child Abuse Prevention Month in April. The Diocese of Portland brought awareness to the issue through bulletin inserts, news releases, a special Mass and information on our Website. While some would say this is not sufficient, others complain that they have heard enough...that seven years of apologizing, implementing more stringent protection policies, and removing offenders from ministry should be adequate. Unfortunately, the nature of this issue does not lend itself to short-term solutions.
For anyone who has been affected by sexual abuse, there is no question that the ramifications can last for years if not a lifetime. And if we are to be a truly caring and understanding community, we must never forget the suffering borne by survivors. The knowledge that painful memories live on and that forgiveness may be elusive preclude us from putting everything in the past.
The Catholic Church not only must make amends, but also must be vigilant that it will never again be vulnerable to those who would harm our precious children. According to the U.S. Department of Health and Human Services, there were 905,000 reported child abuse victims across the country in 2006 alone. In surveys of adults, one out of five women and one out of ten men reported that they were sexually molested before they were 18 years old. For these reasons, the Church must continue to work toward best practices and strive to be a model for the greater community.
We have taken important and effective steps toward abuse prevention and outreach to survivors.
Among them:
Establishing an office to investigate all claims of abuse
Reporting all allegations to civil authorities and encouraging survivors to make their own reports
Permanently removing from ministry anyone who has abused a minor
Publicly announcing the names and history of all clergy who have abused minors
Establishing a code of conduct for clergy and all Church personnel
Implementing a safe environment program, which includes prevention training for Church employees, volunteers, parents and children. Also background checks are mandated for all Church employees, as well as volunteers who work with children
For survivors, offering to pay for healing counsel with licensed therapists and
Arranging pastoral visits with the bishop.
These directives and more are detailed in the Charter for the Protection of Children and Young People (known as the Dallas Charter) adopted by U.S. bishops in 2002.
We have made significant strides. 95% of all active individuals working and volunteering in the diocese (including 100% of all clergy) have been trained in the Protecting God's Children Program (PGC). That training is constantly ongoing due to the turnover rate in volunteers and employees.
In order to ensure accountability, an annual independent audit is conducted which examines how well the diocese is complying with the Dallas Charter. We have been fully compliant with five out of six audits, including each of the last three.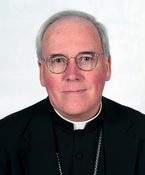 Indeed, we are in a much better place; but as long as there are survivors in pain, victims who have not spoken of their abuse, Catholics who have yet to open their hearts to survivors, or people who judge and reject the Church based on the few who committed these horrible acts, we must continue the journey to find the path of healing and to re-build the trust and confidence once enjoyed by the Church.
Most Rev. Richard J. Malone
11th Bishop of Portland