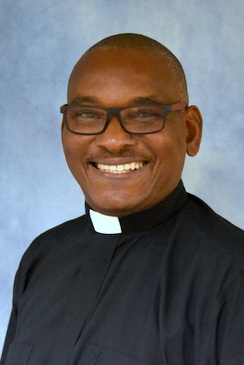 Throughout its history, the Diocese of Portland has benefited from the pastoral ministry of priests from other countries. In the early days of the diocese, those priests primarily came from European countries, such as France and Belgium. Most recently, the diocese has welcomed priests from India and from several African nations. Currently, 24 missionary priests are serving in the diocese, including two who arrived this winter – Father Anthony Korir, a member of the Society of African Missions, and Father Gaudence Lyaruu, a member of the Institute of the Apostles of Jesus.
"It is my vocation. It is what I was called to do," says Father Lyaruu. "It is a challenge, but with a lot of faith and humility, we just forge ahead with whatever challenges us."
Father Korir and Father Lyaruu were both raised in Catholic families – Father Korir in Kenya and Father Lyaruu in Tanzania
Father Lyaruu says among the early influences in his life were his grandfather, who considered the priesthood, and two uncles, who became priests. At age 103, one of his uncles is the oldest priest in Tanzania.
"That is kind of the scenario that I grew up in, seeing all these relatives," he says. "Moreso, I always loved the lives of the saints. I wanted to be like St. Francis Xavier – go and preach. I also loved traveling and being with people, learning their language, etc. That was something that was fascinating to me. That was pushing me to be a missionary."
When he was in the sixth grade, Father Lyaauu remembers telling a catechist that he wanted to be a priest but, fearing his grades weren't good enough, he instead entered a teacher's college. It wasn't long, however, before he started writing out applications for the seminary. He chose the Apostles of Jesus, a missionary institute founded in Uganda, because it was the first response he received.
His seminary studies took him from Tanzania to Kenya and then to Uganda. He says he struggled a bit there because the lessons were in English. Father Lyaruu's native languages are Chagga and Swahili.
"It was a little bit difficult, but I was making it work," he says.
He was ordained to the priesthood on June 29, 1996, and since that time has served at parishes in Kenya, South Africa, and Tanzania. His assignments took him to the Kalahari Desert, to metropolitan areas such as Johannesburg in South Africa, and to rural villages.
"In the village, you have something like 16 prayer houses, and you celebrated three to four Masses. You drive a lot from one station to another," he says.
He says each ministry was meaningful.
"Every mission that I went to, it was meaningful, with maybe different challenges. Like, when I went to South Africa, I had to learn a new language, which I didn't speak. I learned Setswana," he says.
He says while the difficulties encountered can lead to doubts, they are always short-lived.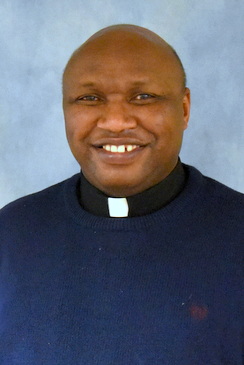 "Tomorrow comes, and you find that, no, there is no other place that I could be other than the priesthood. We meet challenges, but the ministry, the people, they make us go on. For me, people make me go on, because I have faith in God. I have faith in the people we are ministering to, and you touch the hearts of people," he says. "You go there, mingle with them, and you share a life with them. Then, when you leave, you don't want to leave. That is kind of our calling, especially for missionaries."
Father Lyaruu's first assignment in the Diocese of Portland is as a chaplain at Maine Medical Center and Northern Light Mercy Hospital, both in Portland.
Father Korir, on the other hand, is serving as a parochial vicar at the Parish of the Precious Blood in Caribou. While it's quite different from the village in Kenya where he was raised, he says they share at least one thing in common.
"Potatoes, we plant. Corn, we plant. Beans, we plant," he says. "If you tell me they are planting potatoes there, it's no problem. I'm used to it."
The village where Father Korir was raised was predominantly Protestant. He says a missionary priest only traveled to the area about once every three months to celebrate Mass, so it was in a Small Christian Community that his faith developed
"My whole family participated in the Small Christian Communities. It is something very common," he says. "Families of 5 or 10, they meet together every week, pray together, share the word, and give themselves something that could be done in the week. Each one gives himself a challenge to do to help to grow in faith."
He says thoughts about the priesthood first came to him while awaiting the arrival of a priest who was coming to celebrate Mass.
"He was late by three hours, and I thought, 'Why don't I become one?'" he says. "I was open to anything that happened, but the tendency to become a priest was there first."
He attended a Catholic-sponsored public school, but says, at first, none of the teachers was Catholic. He remembers the elation he felt when the first one arrived.
"That was a joy because we could now practice our faith. We could be taught what the faith is," he says.
He decided to enter a minor seminary during his high school years, where he felt more and more drawn to the priesthood.
"It was gradual. It was growing," he says. "As you grow, you come to discover that, OK, I can do this."
Father Korir says he considered entering two congregations – The Society of African Missions, which he had come to know at the minor seminary, and the St. Patrick's Missionary Society from Ireland, which were the missionaries who served his home parish. He chose the former because their letter arrived first.
His seminary studies took him to the capital city of Nairobi, to the Republic of Benin, and to Nigeria.
"I entered the seminary with an open mind. God, I'm here. If God says this is where I'm supposed to be, I will agree," he says.
He was ordained on July 15, 2006, at his home parish of St. John Bosco in Kaptagat. The Mass was held outdoors, with people gathered all around him.
"I was the first one in my parish to be ordained a priest," he says. "Many people came. They were very excited. It was something new."
Father Korir's first assignment was at Our Lady of Peace Parish in Togo. He says it was a challenge because of the language barrier. He spoke Kalenjin, Swahili, and English but not French or Kabyé, the local language. He recalls taking lessons among the local children.
"It was tough, but that was the only way to go about it," he says. "I wanted to learn the local language because that is the only way you can relate to people."
He served in Togo for more than seven years, then returned to Kenya to serve as vocations director, also becoming the administrator of St. Joseph Parish in Nairobi. He was then sent to New Jersey to work in the American province's development office, where he was responsible for raising money for the missionary order. He had served there for six years when he learned that his next assignment would be in Maine.
While he says he will miss the work he was doing and the connections he made, he is excited to return to pastoral ministry.
"Every new challenge, you accept it, and then, you take it and do it with your whole heart," he says. "I am ready to experience anything."