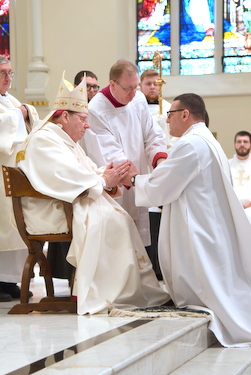 "Let us pray that God, the all-powerful Father, will pour out abundantly the gifts of heaven on this, his servant." - Bishop Robert P. Deeley
A decade or so ago, Anthony Cipolle would have never imagined that one day his life would be centered around serving Christ and His Church, but on November 19, he knelt before Bishop Robert Deeley at the Cathedral of the Immaculate Conception in Portland to be ordained to the priesthood for the Diocese of Portland.
"It's awesome. It's just awesome. I'm just high as a kite right now. I'm flying. It's just amazing," he says.
During the ordination Mass, the bishop laid hands on Cipolle in silence, invoking the Holy Spirit to come down upon him. The bishop then prayed the consecratory prayer, asking the Lord "to grant us this helper that we need to exercise the priesthood that comes from the apostles."
Father Cipolle was then vested with the stole and chasuble, symbols of the priesthood and of the responsibility to serve in imitation of Christ.
"The priest is the one who brings Jesus to others. He is the icon of Christ. If he is to be the person he is called to be, he must unite himself with Jesus in love. By so doing, he will come to know that his work, his ministry, his service, is not his own," the bishop said in his homily.
"'By virtue of their consecration, priests are configured to Jesus, the Good Shepherd, and are called to imitate and to live out his own pastoral charity,'" the bishop said, quoting Pope Saint John Paul II. "If the priest, therefore, is to be effective in doing the work of the Lord, it will be because he knows the Lord Jesus."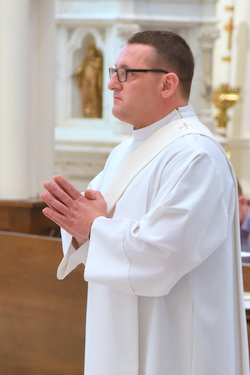 Although he now feels that closeness to Christ, Father Cipolle says that was not the case for most of his adult life.
"My philosophy was, I don't have enough information to decide whether there is or isn't a God. There probably is, but He's out there, and I'm down here," he says.
Raised in a Catholic household in Arlington, Mass., Father Cipolle drifted away from his faith during his teen and young adult years. He says his priority instead was making money. Although an excellent student, he dropped out before graduation, believing getting a job would be more lucrative. He discovered he had a keen sense for business.
He got married while still a teenager and had a son, although the marriage would later end in divorce and annulment. Cipolle says his wife wanted to settle down and have more children. Financially successful, he wanted to travel and not be tied down.
"It was life in the fast lane, the lure of fancy cars, nice clothes," he says.
It was while working as a car salesman in Boston that Cipolle's life took an unexpected turn. He became friends with a man who came in for car repairs, Father John Kilmartin, F.D.P.
"You know how you bond with some people quickly? He was easy to talk to," Father Cipolle says.
The two began spending time together at the church and rectory. Cipolle showed Father Kilmartin ways to save money on some of the church's day-to-day operations and was hired as facilities manager. He also took Father Kilmartin, who suffered from medical issues related to diabetes, to doctors' appointments and went with him on some of his pastoral visits to the sick.
"He was Christ witnessed to me, right there, in the way he lived. He prepared my heart for conversion," says Father Cipolle. "You know the Curé of Ars, St. John Vianney? When he got his first assignment in Ars, and he was walking to Ars, he comes across a little boy, and he says to him, 'Do you know how to get to Ars?' And the boy says, 'Yes.' And he says, 'Well, if you show me how to get to Ars, I'll show you how to get to heaven.' That's kind of like what John did for me."
On Saturday evenings, Cipolle and Father Kilmartin watched Billy Graham's Crusades together.
"There was something about Billy Graham and about John," Father Cipolle says. "He knew where he was going, and he knew where he came from. He knew who he was, and here I am, a lost puppy."
Father Cipolle says it led him to ponder the evangelist's "Four steps to peace with God," which included admitting you're a sinner and seeking forgiveness.
"I got to the 'admit you're a sinner part,' and I couldn't remember all my sins. I said, 'How can I ask God to forgive me if I can't even remember them all?'"
He began to pray the Lord's Prayer.
"I got to the part where it says, 'Forgive us our trespasses, as we forgive those who trespass against us,' and I said, 'Wait a minute. I'm asking God to forgive me the way I forgive other people. I'm asking God to judge me the way I judge other people.'"
He realized he needed to make a change, not only by forgiving others but, also, by learning to forgive himself. He says, at that moment, a bright light came over him.
"The brightest, whitest light that you can imagine and, then, whiter, brighter. It came, and then, it left the way it came, and it left me in peace. It left me in total peace," he says. "I knew God was God. I knew that He loved me and that He would always be with me."
One day, he heard a TV evangelist pose the question: "What are you supposed to be doing for God?" Cipolle says he decided to take a vow of silence while he tried to figure out an answer. He says he was still planning it out, when, on Ash Wednesday, he heard a voice in his head telling him to read Scripture. He spent Lent doing just that.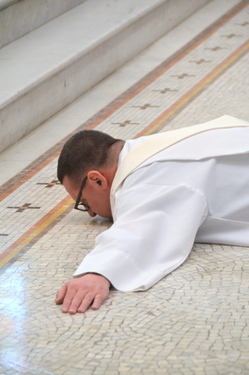 "The Word came alive again. The Word comes alive when you read Scripture. When you pray Scripture, He's present," Father Cipolle says.
At Father Kilmartin's suggestion, Father Cipolle got a spiritual director. He also became certified as a catechist and began teaching religious education, still retaining his job as facilities manager.
It was while cleaning one day that Father Cipolle says he felt a powerful energy come into the church.
"This energy was shaking the air in the church. I thought, 'I'm going to die. Everything is going to crumble. I just find God and now I'm going to die in a church.'"
He says he doesn't know how he got there, but he found himself on his knees in front of a statue of the Sacred Heart of Jesus.
"I couldn't look at the statue until, after some period of time, I kind of did a peek through a crack in my fingers, and the statue, Jesus' cloak became real cloth. It moved," he says. "After some period of time, I looked again, and it went back to marble, and the energy lifted."
He says the church had paintings of angels along its nave, and when he looked at them, their eyes appeared as if they were on fire. Then, they, too, returned to normal.
Shaken and trying to understand what happened, he went outside and reached for his cigarettes, a two pack a day habit he had tried unsuccessfully to quit numerous times. This time, he realized he didn't need them anymore. He threw them away and hasn't smoked since.
"I just felt the Holy Spirit so much and was so in tune with the Spirit," he says.
His faith was further enlivened through receiving the sacrament of confirmation, which he had not previously done.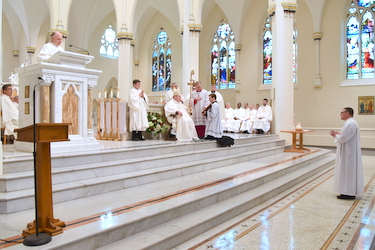 On fire with faith, he spotted a flyer on an exorcism convention and decided it was for him. He sought the necessary permission to attend from Bishop Robert Hennessey, an auxiliary bishop of the Archdiocese of Boston and friend of Father Kilmartin's. The bishop instead pointed him to the Masters of Arts in Ministry Program, offered for laypeople at St. John's Seminary in Brighton, Mass. Excited at the opportunity, Cipolle began auditing some classes. He remembers learning about the Catechism of the Catholic Church.
"The catechism is poetry," he says. "It brings everything together."
When the classes ended, Cipolle was still seeking something more. He met with his spiritual director who suggested that, perhaps, he was being called to the priesthood or diaconate. At the time, Father Cipolle says he found it hard to believe.
"I said, 'It can't be. Not me.' I hadn't even considered it."
Before he could pursue it, he needed to get both a high school and college degree. He earned his GED and, then, began taking night classes through the Woods College of Advancing Studies at Boston College.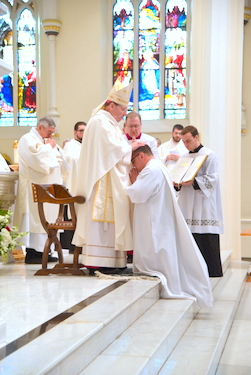 His life, however, soon became filled with uncertainty when Father Kilmartin suddenly passed away, leaving him without his mentor and without a job, as well as without the financial help Father Kilmartin had been providing. He met with Father John Woods, S.J., the dean for whom the ministry program is named, to let him know he would need to cut back on classes. Instead, Father Woods insisted he do the opposite.
"He said, 'Now, we have to keep you busy. We're going to put you in day school.' I said, 'Father, you are not listening to me.' And he said, 'No, you're not listening to me.'"
Father Cipolle says Father Woods always seemed to be able to find a scholarship for him, and in 2012, he earned his bachelor's degree in philosophy. Originally interested in entering seminary for the Archdiocese of Boston, it was a connection between Father Woods and Bishop Richard Malone, then bishop of the Diocese of Portland, that brought Cipolle to Maine, where he applied for and was accepted as a seminarian.
Father Cipolle says he knows he would never have made it to seminary and ordination if it were not for the many people that God put in his life to help him on his journey. He recalls in gratitude, for instance, the support of his brother, David. When Cipolle's mother broke her leg, leaving him with the responsibility of caring for his father, who suffered from dementia, David traveled from New Hampshire to Arlington twice a week to help.
"He would sleep on the floor next to my dad, so if my dad got up, he would wake him, so I could go to class," Father Cipolle recalls.
Then, there was a woman, Eleanor Cavaliere, who approached Cipolle after Father Kilmartin's funeral and handed him a card with a check in it, telling him that she wanted to help with some of his expenses, just as Father Kilmartin had been doing. She continued to do so for years.
"This journey to the priesthood, the journey to any ministry, is a community effort. It's not just me; it's all these people who helped," he says.
Although he thought he had a wonderful spiritual life, Father Cipolle says when he started his discernment at Pope Saint John XXIII National Seminary in Weston, Mass., he discovered he had more growing to do. He remembers, for instance, expressing frustration to his spiritual director at the seminary's push for him to experience new forms of prayer, believing he already knew the way that was best for him.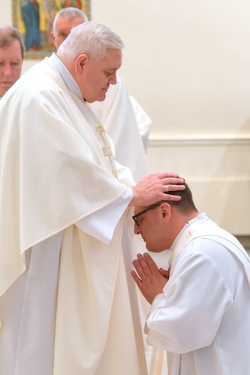 "He said, 'Anthony, that is only one way. Now, in seminary, you're learning many other ways. You're learning the Liturgy of the Hours. You're learning how to pray in community. You're learning Lectio Divina. You're learning all these other ways to go deeper, so that when you leave, you'll have this toolbox.' And he was right. Now, I need that toolbox, because I need those different ways to stay close to God and have a monastic heart in a busy world," he says.
Father Cipolle says he also benefited greatly from two semesters spent at the Institute for Priestly Formation at Creighton University in Nebraska.
"It helped me claim the identity that God had given me as a beloved son. The more we know about ourselves, the more we know God, because we are created in His image," he says.
While at Creighton, he did pastoral work in the village of Boys Town, which serves at-risk children.
"It showed me a world I didn't know. It showed me there are loving people who care, who give their lives to love these kids that nobody else wants," he says. "It showed me some of the other ways that I was going to be called on to be a priest."
Father Anthony says he has grown through all his pastoral assignments.
"You bond with the people. They share parts of their lives with you."
Many of those people came together at the Cathedral of the Immaculate Conception in Portland to celebrate his ordination.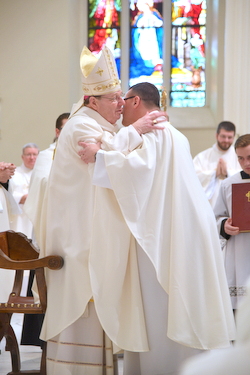 "It's the most beautiful thing I've ever seen, a beautiful ceremony. I'm speechless really," says Louise, his mother. "I'm just so happy that he is happy. I'm just so happy."
"It's an amazing feeling to see him ordained to the priesthood. He has been working at this for quite some time now, and he's an inspiration to me and to my family," says Mark, his son. "This is the proudest moment I've ever shared with my dad."
Two people who couldn't be physically present were Father Cipolle's father, who passed away last year, and of course, Father Kilmartin. In his stead, Father Cipolle asked Father Phillip Kehoe, F.D.P., one of Father Kilmartin's closest friends, to help vest him. Father Kehoe traveled from the Archdiocese of Liverpool in England to attend.
As he had done for his diaconate ordination, Father Anthony also wore a pair of socks that belonged to Father Kilmartin to honor and thank his friend.
As a priest, Father Cipolle says he is most looking forward to preaching and to celebrating the sacrament of reconciliation. He says he has received much forgiveness from God in his life and wants others to experience the same.
"You can't give something you don't have, and I've received a lot of mercy," he says. "Mercy is love beyond justice."
Bishop Deeley assigned Father Cipolle to serving as a parochial vicar at St. Paul the Apostle Parish in Bangor. He says he is excited that it includes a school.
"The children are precious. They're our future," he says.
Although Father Cipolle says he realizes there will be challenges ahead, he says he knows he is where God wants him to be.
"I'm really in awe about the whole thing," he says. "It's truly an amazing grace."