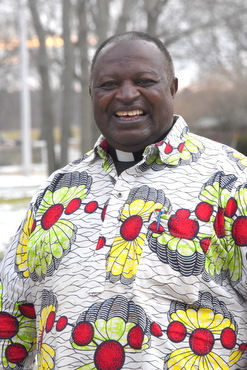 The Diocese of Portland is pleased to welcome a third priest from the Diocese of Kumbo in Cameroon. Father Roland Berngeh, who arrived in Maine in December, is now serving as a parochial vicar at the Parish of the Transfiguration of the Lord in Bar Harbor, St. Joseph Parish in Ellsworth, and Stella Maris Parish in Bucksport.
"I come to serve the Church here with all my heart, with all my mind, and with all my strength," he says. "I am very, very ready to work here."
Ordained to the priesthood in 1985, Father Berngeh is from Jakiri in northwest Cameroon. According to the Diocese of Kumbo, about 20% of the area's population is Catholic.
Baptized as an infant, Father Berngeh says his vocation goes back to his early childhood. He says priests, who traveled from village to village to serve the people, would often stay at his family's home, because his father was a cleaner and had done work for them. Father Bergneh says when he was around age 4, he became particularly intrigued by a missionary priest from England who stayed with them.
"I remember that I used to go in to see how Father was keeping, being a white man, and they would drag me out. My father said leave him, but I would go in and sit. I was fascinated," he says. "I saw he was a good man."
Father Berngeh says he began to imitate celebrating Mass, even tearing one of his mother's cloths to make a chasuble, something that got him in trouble.
"When I became a priest, she related the story, and the people were laughing," he says.
The family would accompany the priests to Mass, but despite that comfort level, Father Berngeh says superstitious stories he had heard about the Breviary, which the priest would use to pray while walking up the aisle of the church, made him afraid as a young boy. Father Berngeh says the stories warned of bad things happening to you if the priest touched you with what was known as the black book.
"When he was getting near, when I was sitting with my mother, I would go farther into the bench. Then, after he passed, I would come out," he says. "I didn't know it was a Breviary."
Still, he says, the call to the priesthood never left him.
"Once I got it, I got it," he says.
His fears would be alleviated when he later joined the parish youth group and saw a young missionary priest from the Netherlands playing soccer with the youths.
"The prayer book, that frightened me, but now, I noticed that this priest could be available to the young. This priest could mix with the young people and have meetings with them and celebrate with them. So, I went to secondary school to play soccer, so I would become priest and play soccer," he says. "I admired him so much."
He says that, at the time, he saw soccer and the priesthood as linked, but a vocations group he joined during secondary school gave him a better understanding of the true meaning of the priesthood.
"I knew now it was not about soccer; it was about preaching the word of God," he says.
After secondary school, he applied to go to Bishop Rogan College, a minor seminary in the Diocese of Buea. He recalls the happiness of his family members.
"My brother-in-law, one of them, he gave me his car and a driver to bring me down to Bishop Rogan College. It was a day's journey on rough roads. He was so happy," Father Berngeh says.
Because his parents had limited means, it was also his brother-in-law who covered the costs.
"It was my brother-in-law who helped me all the way through," he says.
After finishing minor seminary, he was asked to delay going to the major seminary to teach French for a year, something he says he was happy to do, even though it put him a year behind his classmates,
"As long as I knew that I would continue to the major seminary, that gave me a lot of joy to do that," he says.
Throughout his studies, Father Berngeh says he never doubted his vocation, for which he is thankful to God.
"All the things I did in seminary, I did happily," he says. "My vocation was really burning in my heart."
He was ordained on April 10, 1985, in his home diocese, which had just been erected by Pope John Paul II three years earlier. He says more than 4,000 people gathered inside and outside the church to celebrate with him.
"I thought the world could end. It was my most exciting moment, especially during the Mass, because I was ordained alone in the diocese, to see the crowd that was there for me, to pray for me, and to see me become a priest," he says. "Ordinations in my diocese are usually very, very heavily attended, especially at my time. I felt so good. I felt that God loved me and gave me exactly what I had yearned for. I was a very happy priest, and I am still a very happy priest."
After being ordained, Father Berngeh served in parishes for eight years, also taking on the responsibility of vocations director, a position he continued to hold when assigned the task of opening the first minor seminary in his diocese.
"It was really a big responsibility. I was frightened," he says. "I said, 'God help me.'"
Although he says he felt discouraged at the beginning, with God's help, the new seminary was a great success.
"My greatest joy is that the young people I formed in minor seminary joined me in the priesthood. I used to tell them, 'Someday, we will concelebrate together.' They would laugh and say, 'Father, no, no, no,' but now, they are living that experience. When I see them, I tell you, that is my greatest joy," he says.
He served as rector and principal at the minor seminary over a 13-year period, during which he also spent a couple of years at Loyola Marymount University in Los Angeles, Calif., earning a master's degree in educational counseling. He says his studies not only benefited him in his work with seminarians, but he also worked with a team to form counselors to serve at the diocese's parishes.
After leaving the minor seminary, Father Berngeh returned to parish work, including serving as rector of the Cathedral Church of St. Thérèse of the Child Jesus in Kumbo. He also served as vicar general and as a member of the Presbyteral Council, assisting the bishop.
"I have never wasted my priesthood," he says. "I tell people, even if I died now, I would not regret it. I would know, and I would thank God, that I did my utmost best in His vineyard."
Having carried so many responsibilities for so long, Father Berngeh sought a change, and when asked by the bishop where he would like to go, he chose a part of the vineyard more than 5,000 miles away, even though he knew little about it.
"I just knew that he had sent two priests to work there. So, I said, 'I can join them and work in Portland,'" Father Berngeh recalls. "He said OK, and I was so happy."
Father Berngeh now joins Father Anthanasius Wirsiy and Father Hyacinth Ndifon Fornkwa in serving here.
Although Cameroon has a tropical climate, Father Berngeh says the weather wasn't a deterrent. In fact, he was looking forward to seeing snow.
"It was here for the first time that I saw and touched snow. I sent back some pictures to let people know that is how it is here in Maine," he says. "It is not bad. The house is warm, and even when you go out, you have your coat."
What also has been warm, he says, is the welcome he received.
"The people seem very happy to have me with them, and I am happy to be with them," he says. "It's so wonderful."