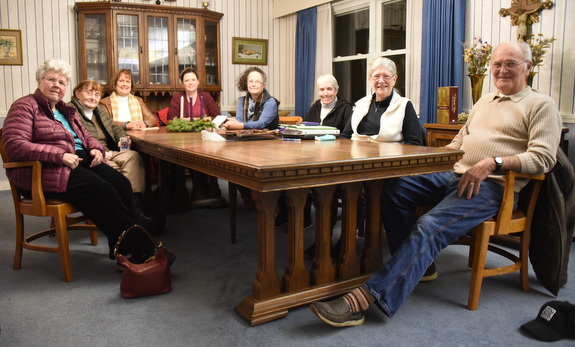 On the surface, it may seem that the towns of Farmington and Jay, Maine, and the village of Laurent, Haiti, are even farther apart than the 1,900 miles that separate them. However, if you ask members of the parishes in those western Maine towns, they will tell you that there is a closeness between the communities that makes the distance disappear.
"The moment you land there, you're surrounded by people who really aren't different from us. We don't speak the same language, and we don't have the same life experiences, but we all want the same things. We all need the same things," says Lenia Coates from Livermore Falls.
For the past 15 years, St. Joseph Parish in Farmington and St. Rose of Lima Parish in Jay have been paired with St. Laurent Parish in the Diocese of Les Cayes, Haiti. The parishes were connected through the Parish Twinning Program of the Americas (PTPA).
The ministry was introduced to the Franklin County parishes by Father Roger Chabot, who says he once traveled with a priest who had served in Haiti and was inspired by his stories. It led him to first bring the program to Sacred Heart Church in Yarmouth, where he was then assigned, and then to St. Joseph and soon after to St. Rose parishioners, when he began serving there.
"My experience in Yarmouth was that it really brought the people together to work on a particular cause," Father Chabot says. "We had gone to Haiti and were impressed by the need of the people and the goodness of the people we met."
The ministry was embraced by the western Maine parishes. Janet Brackett, who now chairs the parishes' Haiti ministry, joined as soon as she heard about it, even though she knew little about the Caribbean island nation.
"I've always had a sense of social justice. I grew up in the Deep South, and I think my sense of fairness was triggered, or actually my sense of unfairness was triggered, when I was fairly young. A lot of things didn't make sense to me," she says.
Parishioners took their first trip to visit their sister parish in March 2005. Annamaria Beal, from Avon, was among them.
"Once you've been there, it's just in your heart after that," she says. "They're lovely people."
Janet arranged a second trip for parishioners in 2008 and has gone at least once a year ever since.
"It was a wonderful experience, but the poverty, the crowds in Port au Prince, the traffic in Port au Prince, it's kind of chaos. It was just so much to take in," she says. "One of the things that made a huge impression on me was a huge market area on the outskirts of Port au Prince that is just acres, and acres, and acres of people, mostly women. They might put a little cloth down on the ground and have a pile of mangos, and a pile of tomatoes, and a pile of onions. They're all incredibly, artistically arranged, but this is their whole livelihood."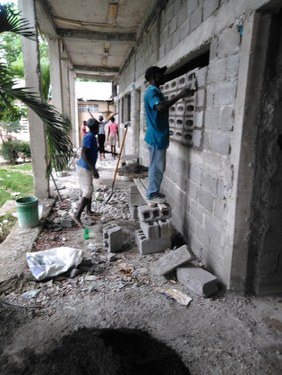 While struck by the reality that the market was how many survived, she says what also touched her was the warmth of the people.
"We spent a really enjoyable long weekend at the parish. The people were incredibly generous. They were excited to meet us," she says. "We talked about what their priorities were in terms of how they would like to see the community develop."
Two priorities identified were education and health care. St. Laurent Parish was building a secondary school and was seeking to add a health clinic.
The first commitment the St. Joseph's/St. Rose of Lima Haiti Ministry made was to supplement teachers' salaries.
"One of the things we've been interested in is keeping the staff, because wages are so low in Haiti, and there has been such inflation. We wanted to create a situation where there wasn't a lot of teacher turnover," says Lori Ellis of Strong.
St. Joseph and St. Rose parishioners then agreed to fund the building of the health clinic, so people wouldn't have to travel to the nearby city of Les Cayes to receive care.
"They don't feed you in the hospitals. Your family has to bring you food. If you need equipment like syringes and things like that, your family has to provide that in most cases. So, they wanted primary care in their own community," explains Janet.
Over a five-year period, parishioners contributed more than $50,000 to build St. Anthony's Clinic. They also pay the salaries of the staff, which currently includes a part-time physician, a nurse, and a custodian.
"We sent a certain amount of money every month, and Father Max (Mathieu) would save it up until he had enough money to buy materials and pay some workers," explains Janet. "We started sending them money in fall 2007, and the clinic opened on April Fool's Day 2013."
The money was raised through monthly collections and other fundraisers. At first, ministry members stood at the doors, accepting donations after Masses. It then evolved into a second collection, and when Father Paul Dumais became pastor, he suggested a regular envelope.
"It's amazing. These communities just are so incredibly generous," says Janet. "I'm very, very grateful for it."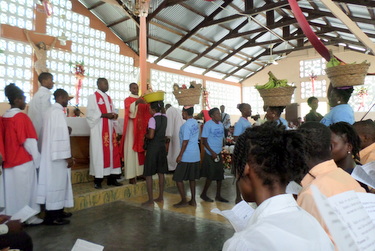 "It's our one little drop in the bucket. You can't fill the bucket all by yourself, but you can put a drop in there. When you can, you do. And that's what we're supposed to do," says Cheryl Welch of Farmington.
Glennice Cottle of Avon recalls when her husband, now deceased, didn't hesitate to donate money for a new water pump for the Haitian parish, even though they were facing their own financial struggles at the time.
"I said, 'John, can we afford to do that?' Because it was like $1,000. He said to me, 'No, maybe we can't afford it, but they need it.'"
The ministry has also raised money by selling Haitian crafts. Janet and Lori laugh because they say they are their own, best customers.
"We would see something in Haiti. We would buy it with committee funds. We would bring it back and mark it up. Then, we would buy it," says Janet. "Then, after a while, we would have so much stuff that we would donate it back to the committee to resell."
Committee members not only brought goods back from Haiti, they sent supplies there, starting with a drive to stock the clinic they helped build.
"We had crutches. We had doctor's office scales. We had exam tables," says Janet. "It was just amazing to see. There were boxes and boxes of over-the-counter medicines, and latex gloves, and blood pressure cuffs, all kinds of stuff."
The items were loaded in a U-Haul truck and driven to Nashville, Tenn., where PTPA took care of shipping them to Haiti and getting them to St. Laurent.
Similar drives were held each of the next five years, with parishioners donating medical and school supplies, children's clothes, toys, and other items. In 2015, the parishes provided 10 laptop computers to the secondary school, and the year before, they bought a "Lab-In-A-Suitcase" for the clinic.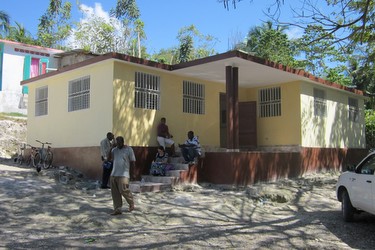 "I'm an engineer by trade, so I took the responsibility of setting up the solar-powered system, and explaining it to the people," says Paul Anderson, who traveled to Haiti with his wife, Anna, in 2014.
Although members of the Haiti ministry don't micromanage the work being done, they check on the progress when they visit Haiti and share photos and updates with parishioners when they return home.
"One-hundred percent of the money goes exactly where you want it to go. When you go down there, you can see the improvements that money brought about," says Paul.
"I think that's why the people in the parish continue to donate so much. They see concrete evidence," says Annamaria.
Appreciation dinners to thank and update parishioners are also held annually, with food such as Haitian griot (pork bits), cooked by Sandra Caton, on the menu.
Many members of the ministry team have traveled to Haiti, always paying their own way.
"The parish twinning program really emphasizes the personal relationship part of this and not just blindly sending money," says Janet.
She says, for her, it's a sense of going home.
"We go and be. We don't necessarily go and do. Father Max, the original pastor, was adamant that he did not want us to build anything, paint anything, clean anything. He just wanted us to be guests," she says. "Whatever work there is, he wanted people in the community to have jobs."
"It's hard for people to wrap their heads around that. We're not going to do anything for them. We're going to support them in what they're doing," says Cheryl. "The fact that we go to visit is doing a big thing, because we care."
"It has more meaning because you're not just addressing the corporal needs, you're addressing people's spiritual needs when you learn to be in a relationship with people," adds Janet. "They treat us like family when we're there."
While the ministry members say the hardship in Haiti is evident, they say so is a sense of hope.
"These are people who've been oppressed their whole lives, and they're still getting up every morning, and going to work, and doing their thing, and praising God," says Lenia.
"The people have such deprivation of material goods but still joy, and their worship, oh my goodness," says Cheryl. "You hear them singing in church, and it's incredible, loud, joyous, beautiful."
"I love the women. They're pragmatic. They're faithful. They have hope in the face of hopelessness. They are extremely hard workers," says Lori.
They are also very grateful for the support they have received, as evidenced by a letter written last fall by Father Jean Clausel Lima, the current pastor of St. Laurent Parish.
"I thank you all so much," he wrote. "God will reward you for this, and we will continue to pray for you and for Father Paul Dumais, together with all our friends in St. Joseph's and St. Rose of Lima parishes."
The Maine parishioners say they are thankful, too.
"The opportunity to be involved in the Haiti ministry has been a tremendous gift," says Janet. "I have gotten to know so many wonderful people in Haiti."
"By allowing us to help them, they're giving us a gift that makes us feel good," says Lori.
The relationship between the parishes is so strong that when one of the original ministry members, Tom Caton, died last year, St. Laurent Parish held a funeral Mass for him on the same day a Mass of Christian Burial was celebrated in Maine.
St. Joseph and St. Rose of Lima parishes are currently helping St. Laurent Parish build a primary school. They also continue to supplement teachers' salaries, pay the salaries of health clinic workers, and are considering a request to fund a new maternity clinic.
Father Chabot, now retired from active ministry, says he is pleased to see how the relationship has grown.
"I've been impressed by their work," he says. "It has made me really grateful for their work and their commitment."