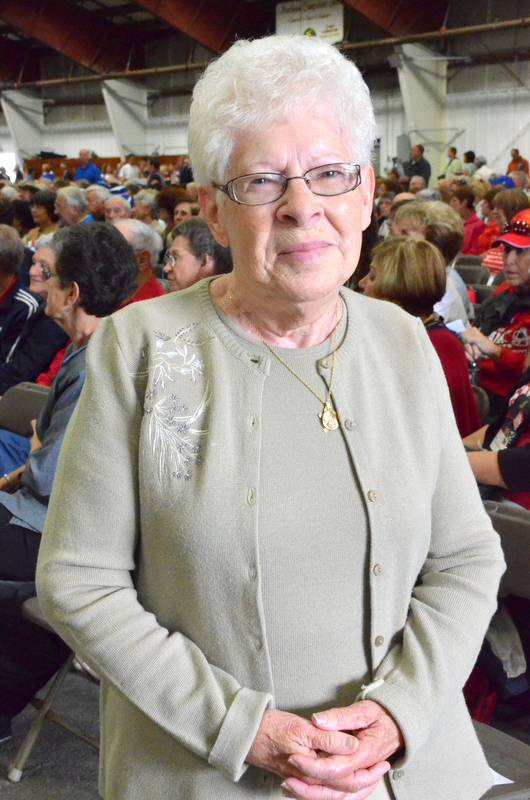 It's never too late to realize your dreams. That's the idea behind the Maine Health Care Association's Live Your Dream Awards, presented to residents living in long-term care facilities across the state. Dreams fulfilled by MHCA have included ice fishing, a Harley Davidson motorcycle ride, scenic flights, and soaring in a hot air balloon.
But 83-year-old Mildred Soucy, a Van Buren native who now resides at CrossWinds Residential Care Facility in Fort Kent, had something even more uplifting in mind.
"I was asked what was my wish, and my wish was to be a better Christian and to be able to help others with their religious lives," she says.
"Teach her so she can teach. Pray with her, so she can pray with others," wrote Patti Voisine, a CrossWinds worker, when submitting Soucy's dream request. "As she told me her dream, I realized how much she needed to have faith in her life. Just like her daily medications or food to live on, Mrs. Soucy needs to have God in her life."
Specifically, Soucy was hoping to have someone come to the facility on a regular basis or to attend a retreat, accompanied by a staff member. She was planning to attend an ACTS retreat this fall at the Christian Life Center in Frenchville but then decided instead to use the money to buy a crucifix and a picture of the Blessed Mother, which will be displayed at CrossWinds. She also received several religious pamphlets from the Christian Life Center, which she is distributing to fellow residents. And she was given many religious tapes and CDs, some of which feature rosary prayers or the Divine Mercy Chaplet.
"She gave me a lot of cassettes, which I can share with others. In fact, I gave away so many that I'm running out. I wish I had more," she says.
"I think it's really helped me to understand my faith more. And to pray more and to have a desire to pray more. It's taught me to be more patient with people. Sometimes it's hard when you live in a residence like I do, but I pray that the good Lord will give me patience," she says.
Soucy says she tries to bring God's presence to her fellow CrossWinds residents and to provide comfort when needed.
"I pray a lot. When people are sick and dying, I go pray with them. I am a prayer. That is my mission."
Voisine says the instant you meet her, you feel a spiritual connection.
"She just has…I don't know. I get the goose bumps just talking about her."