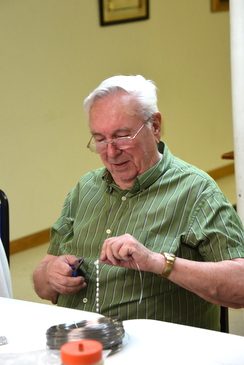 I start with the centerpiece and then go to the bottom and then around."
Roger Jean of Augusta explains his technique for making rosary beads, something he has been doing for more than a quarter century now.
"I really enjoy doing it. It's relaxing. It keeps me alert," he says.
Roger is one of the founders of the Rosary Makers of Mary Immaculate, a group that meets monthly at St. Monica Hall in Augusta. Since the group got its start in October 1992, members have made tens of thousands of rosaries, which they have given free of charge to parishioners, hospital patients, jail inmates, visiting missionary priests, and others who request them.
"I have a log book that only goes back eight years. During that eight years, we made and gave out 25,000 rosaries," says Bucky LaRochelle, who has been a member for three years and now organizes the group.
Members meet the third Tuesday of the month, but they do most of their work at home. For many, it's part of their daily routine.
"I have a little coffee table set up in front of my living room chair," says Bucky. "So, while I'm watching a movie, I'll make rosaries, and when the movie is over, I'll have 10 rosaries done. It's really great. I make them every night and sometimes during the day, depending what I'm doing around the house."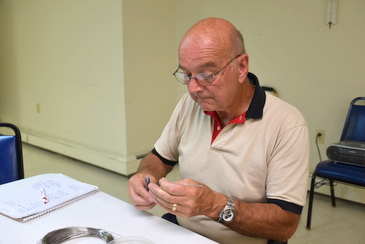 "I've been making four or five a day. If I'm sitting down, that's what I do," says Mona Berube, who has been making them for 39 years and was also a member of a rosary group that was a precursor to the current one. "When I'm making the rosaries, nine times out of 10, I'm praying the rosary. The rosary on TV, and that is what I'm doing."
The rosary makers either use string or wire to link the beads together. Bucky says he can make a set of rosary beads in about 15 minutes if he uses string, but wire ones take three times as long.
"You have to cut each piece in between each bead, so it's very time-consuming," he explains. "The hardest part, I think, for the wire is the fingers. How many people have a callous in the center of their hands? It's from holding the pliers."
The colors and designs of the rosaries are up to the individuals who are making them. During their monthly meetings, bags of beads cover a table.
"I'm hoping somebody will like the different color combinations that I come up with," says Angela Caron, a rosary maker known for her creativity.
Sometimes, the group fills special orders. That was recently the case when Yvonne Chace, director of the diocese's Office of Missions, asked them to make approximately 1,000 mission rosaries. Each decade of the rosaries is a different color, representing a region of the world. The rosaries were given to Catholic school students from Bangor to Sanford who joined in praying the World Mission Rosary on October 7, as part of the diocese's celebration of Extraordinary Missionary Month.
"I got my devotion to Mary from Catholic school, and now we're making rosaries to give that same gift to present-day children," says Roger, who attended the former St. Augustine School in Augusta.
Many in the group share Roger's devotion to the Blessed Mother and to praying the rosary, which they do together when they meet.
"I've always been devoted to the Blessed Virgin, even as a little girl," says Mona. "I have her picture right there on the table."
"I have a deep devotion to the rosary and to the scapular. I pray it every day. When I say my rosary, I'm making rosaries. It's a devotion to our Holy Mother," says Angela, who still uses a rosary book she received as a child. "I prop it up as I'm doing the rosary. Every bead gets put on, and every page gets read."
"I've always had an interest in the rosary. My grandmother was very devoted and my mother, so it was kind of instilled in us when we were young," says Sue Thomas, who cofounded the group.
Although Sue and Roger started the Rosary Makers of Mary Immaculate in 1992, the ministry's roots actually stretch back to 1978. That is when Brother Bob Duteil, a member of the Oblate Missionaries of Mary Immaculate, first brought parishioners together to make rosaries. That group disbanded, but when Roger wanted to learn how to make rosaries, he turned to Brother Duteil for instruction. That and a Cursillo retreat attended by Sue led to the new ministry.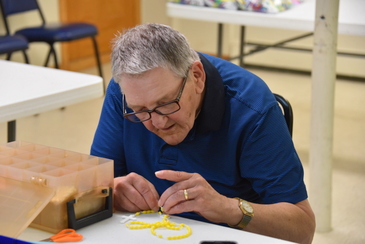 "It was something I always had an interest in, and after I made my Cursillo, it was a feeling of being called to do something," says Sue. "Roger, and I were talking, and we just kind of decided to do it, and we've been going ever since."
Group members hope the rosaries they are providing will make a difference in people's lives. Roger recalls the reaction he received after giving sets of rosary beads to a bishop visiting from Africa.
"When I gave him the rosaries, he started crying. He was hugging the rosaries," Roger says. "He said, 'You don't know how my people will wear these around their necks, and they will show the world that they are Catholic.'"
Mona says a missionary priest had a similar reaction when she gave him rosaries.
"When I brought him some, he said, 'I'm rich. I'm rich,' because he had so many rosaries," she recalls.
"You listen to priests who travel to Africa or India or Haiti or the Dominican Republic, and they describe to you how these children get this great, big smile on their face, when they get these," adds Bucky.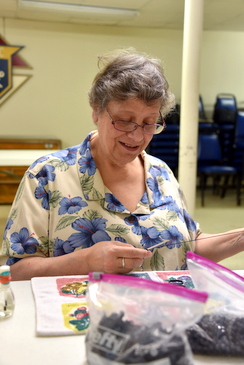 The Rosary Makers of Mary Immaculate say it's gratifying to know the rosaries they made are going to people around the world. Father Arokiasamy Santhiyagu, HGN, a parochial vicar of St. Michael Parish in Augusta, has taken hundreds back to his home country of India. An Oblate priest whom Roger knows has shipped them to South America, Cuba, and Haiti. Some rosaries have been provided to military chaplains thanks to another connection the group has. Mona regularly brings ones she makes to the veterans at the Togus VA Medical Center.
Members of the group say compensation for their work comes from knowing that it may bring people closer to Christ and His mother.
"I don't want a reward. I'm doing it for God," says Mona.
"I like to feel that someone who receives these rosaries is going to feel the same thing I do when I say the rosary. I feel that I have a connection with our Blessed Mother Mary. She's someone that I can talk to," says Diane Dicesare, a member for 12 years.
"I just hope that whoever gets the rosary will say the rosary," says Angela. "It's just a deep love that I have for it, and I'm hoping when somebody picks up the rosary, they can feel it."
"I'm hoping they can feel the love that He has for us," says Sue. "When we pray the rosary, for me, it just helps me to be able to take that time to reflect, and praise, and cry. They're not always happy thoughts. Sometimes, they're sad thoughts. For me, that's what it's all about. It's helping me to recognize that God is here for us."