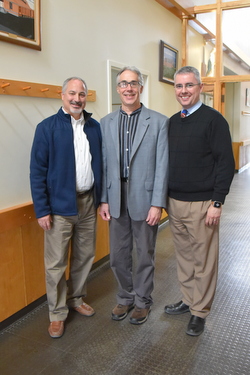 Since the permanent diaconate was restored in the Diocese of Portland, there has only been one deacon serving in northern Aroostook County, Deacon Don Clavette, ordained in 2004. Now that number has quadrupled. In September, Rodney Deschaine from Van Buren, Carl Gallagher from Caribou, and Luis Sanclemente from Wallagrass were among the 11 men ordained to the permanent diaconate by Bishop Robert Deeley.
"It's an indelible mark. It changes the individual forever," says Deacon Sanclemente. "It really is overwhelming."
The new deacons were all already active in their parishes but now will take on additional roles, which for permanent deacons include delivering homilies, serving at the altar, baptisms, blessing marriages, and presiding at funerals outside of Mass.
"It's a tripod. We're one of those legs that will help support the community and the priests," says Deacon Deschaine. "We, as people in a career - educator, banker, social worker - and with our family life, are those structures of stability."
The deacons say they all received a good foundation in the Catholic faith early in their lives. Deacon Deschaine, who was raised in a single parent household in Madawaska, says his mother always set the example for him and his siblings to follow.
"My mother's faith has always been out there, shining, the consistency of going to church and making sure we went to catechism," he says.
Priests and women religious, he recalls, were frequent visitors to his home.
"That had a great impact on me," he says.
For Deacon Sanclemente and Deacon Gallagher, it was their fathers who were most influential in their early faith lives.
"I was raised in a large, Irish Catholic family. My dad was Catholic. My mom was a convert. She was Episcopalian and converted to dad's religion when she got married to him, so it was really my father I credit for giving us the faith. He was the anchor there," says Deacon Gallagher.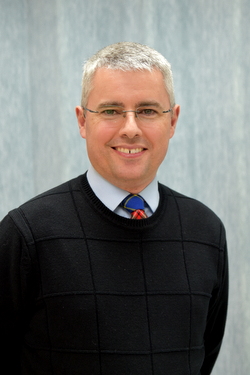 "My father was very big on living out a saintly life in the daily moments, not waiting for that big aha moment," says Deacon Sanclemente. "Everything really that we talked about, everything that was discussed, sooner or later, it came back to faith."
Deacon Sanclemente was born in La Coruna, Spain, but his father's job took the family to Canada, where he grew up. He attended Thomas More College, a Catholic college in Nashua, N.H., and that is where he met his wife, Julie. The two both studied for a year in Rome.
He says while living in Canada, he missed being around the extended family he had in Spain, so they chose to live near Julie's family in Fort Kent. When it came to raising his own children, he followed his father's example.
"That came very naturally, trying to duplicate what I knew, what I grew up with," he says.
He has long been active in his parish, including serving in the RCIA program, as sacristan, in the "That Man is You" group, and, with Julie, in marriage preparation.
He says it was a question from his then pastor, Father Wilfred Labbe, who put him on the track toward the diaconate, which he didn't know much about at the time.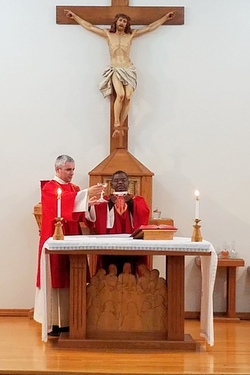 "I remember my first answer, 'Father,' kind of chuckling, 'How could you ask this? I'm married.'"
He learned that permanent deacons not only can be married but that family life is considered an asset to their ministry. He decided to give it some thought.
"The way I felt very comfortable approaching it was, 'O.k., let's discern where we're at now and what's the next step if that's a call. And if that makes sense, continue taking the next step and so on," he says.
When the diocese offered a Loyola Institute for Ministry Extension (LIMEX) master's program for laypeople, he says Father James Nadeau, then pastor of St. John Vianney Parish, encouraged him to consider it. The LIMEX program would lead him to the formation program for permanent deacons.
Deacon Deschaine says it was a bit of whirlwind when he started the LIMEX program. Feeling a call to the diaconate but still a bit hesitant, he had approached Father David Raymond, his second cousin, about it. Just a few days later, his studies would begin.
"I didn't even have time to blink. If I did have time to blink, I probably would not have moved forward. That's how the Lord knows," he says. "Everything fell into place. I was right there, and I started the walk."
For Deacon Deschaine, the path wasn't always so clear. As a youth, he says he developed a relationship with Jesus both through reading Scripture and a love of nature.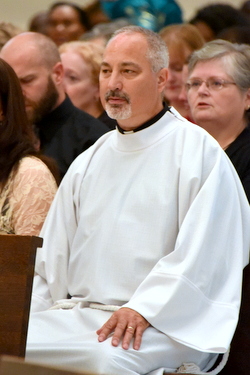 "I used to spend a lot of time in nature just observing and sitting still in complete wonderment and awe of what was before me," he says.
However, in his late teens and 20s, the Church no longer was central to his life. He says it was a time of personal challenge.
"And in that walk, you fall down a lot," he says. "So, I would always gravitate back to the Church, to liturgy, to the Mass, and fall down and come back."
At one point in those struggles, he began attending Mass more faithfully, even attending daily Mass. It was there that he received an invitation that changed his life.
"There was a gentleman there, who probably saw the difficulty that I was going through, and he proposed, 'How would you like to make your Cursillo?'"
A Cursillo is a weekend retreat focused on spiritual renewal.
"I think that changed everything for me. It made everything real. It was basically, 'Lord Jesus, I have come to believe, and I am now convinced,'" he says.
He began to get more involved in parish life and became director of youth ministry at the Nativity of the Blessed Virgin Mary Church in Presque Isle. He remembers, at one of the youth events, Father Bob Vaillancourt asking him whether he had ever considered being a deacon.
"That was probably the first time I heard the word deacon," he says.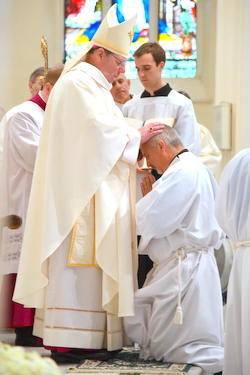 His first marriage ended in divorce and annulment, leaving him devastated and causing him to pull back from much of his church involvement.
Then, he met his second wife, Joy, who had a strong Pentecostal faith at that time but would later enter the Catholic Church. Deacon Deschaine credits Father William Carrig, then administrator of St. Denis Parish in Fort Fairfield and St. Louis Parish in Limestone, for enlivening their faith.
"While we were still young in our marriage and everything, he excited me. He excited us."
Father Carrig had encouraged him to continue to serve as much as possible. It led him to use his knowledge of computer electronics to teach at-risk youth at the Job Corps in Limestone.
"I worked with a lot of kids who were refugees and Muslim students, students from urban areas who were disadvantaged, whether though gang activities or whatever they were doing," he says. "That's probably where I started really feeling the joy of service and fulfilling a need for doing something worthwhile."
He says it was there that the idea of the diaconate surfaced again, from unlikely sources, some of his students.
"I remember, specifically, a young lady from Jamaica," he says. "I'm giving my instruction, just standing there, just looking at the students, and she says, 'Mr. Deschaine, why aren't you a priest or a deacon?'"
He says the sense of a call began pulling at him, until he finally mentioned it to Joy while they were out walking one day.
"I said, 'I really feel like I'm called to be a deacon.' And she, in her calm, composed way, said, 'I always knew that but for years never said anything.'"
Although still grappling with it, he decided to visit Father Raymond, whose response caught him by surprise.
"He jumps up with joy, clapping," Deacon Deschaine says. "It wasn't the type of response I was expecting, but that type of response really made an impression on me, that joy."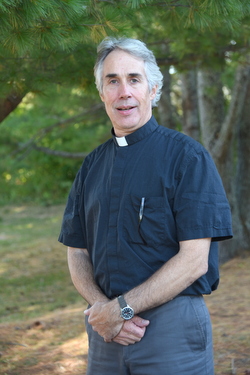 Deacon Gallagher says he received similar affirmation from Father Jean-Paul Labrie, then pastor of the Parish of the Precious Blood, Caribou.
"He said, 'It sounds like you have a real call here, so you can be confident those doors will just open up. You won't have to struggle with this. It will just happen.' And, sure enough, it just happened," Deacon Gallagher says.
As with Deacon Deschaine, people in Deacon Gallagher's life perceived his vocation before he did, beginning with his wife, Janis, shortly after they were married.
"She said to me once, 'You know, you would make a good deacon.' My response was, 'Really? What's a deacon?'"
Deacon Gallagher credits Janis with helping him reconnect with the faith of his childhood, which he had drifted away from during his college years.
"I decided I needed a more personal relationship with God, and I didn't think the Catholic Church would give it to me," he explains. "I fell away from the Church for probably 26 to 27 years."
After college, he became a Peace Corps volunteer, but it was short-lived due to the unrest in Liberia, where he was serving. When he returned home, he started a piano tuning business and did other various jobs, but in the early 1990s, an economic downturn left him with little work. During this period, he also experienced what he describes as a dramatic conversion experience.
"It was very Christian and Trinitarian in image and content," he says. "It led to Christianity and this idea of service. I was convinced that."
The need for work and the desire to serve led him to apply for a job at the Aroostook Mental Health Center, where he has been employed there for 25 years.
In 1994, he married Janis, who comes from a Polish Catholic family, and at her urging, he began attending Mass again.
"She convinced me that we support each other in a full return to our faith, so that's what we did, and we never looked back."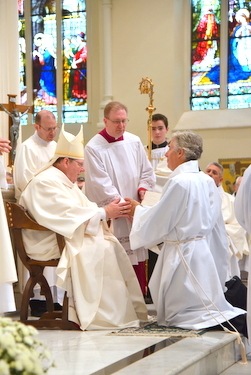 A musician and singer, Deacon Gallagher and Janis, who also likes to sing, joined the music ministry at Holy Rosary Church in Caribou.
"That was, for me, a great thing. I got a lot of encouragement from my peers in church, and here at Holy Rosary, the choir is right up there in the front, so I was watching what was going on at the altar."
Janis was also active in charismatic renewal and invited him to become involved as well. He describes it as "absolutely huge" because, there, he found acceptance of the Holy Spirit encounters he had experienced.
"It was the normalizing of it," he says.
Deacon Gallagher says it was the Holy Spirit who interrupted his life and pointed him toward the diaconate. It happened when he was chatting with Janet Beckwith, pastoral life coordinator at the Parish of the Precious Blood.
"She looked at me, and she goes, 'Carl, you would make a good deacon.' And something happened. It was like the room got brighter, and my heart started pounding. And I said, 'What was that?' And I went home, and I told my wife, and Janis said, 'Well, it sounds like the Holy Spirit to me.'"
He received other affirmation, which led to his conversation with Father Labrie.
"I explained the whole thing to him, and he did a surprising thing. He stood up, and he came over, and he shook my hand, and he said, 'Congratulations. Now, what's the most important thing for you to do?' I said, 'Father, I have no idea what the most important thing to do is.' He said, 'You need to obey.' That's what he said to me. So my effort now, for all these years, has been that I'm trying to obey."
The road to the diaconate wasn't easy for the northern Maine deacons. It meant a lot of study and a lot of travel for meetings in central and southern parts of the state. They credit their wives and families for making it possible.
"It's through their prayers," says Deacon Deschaine. "Without the family, without my wife, there is no way I could be here."
"Julie has been very, very supportive from the get go, and that is the only way that I am where I am," says Deacon Sanclemente.
The deacons all say they are looking forward to serving the people of northern Maine, balancing their Church ministry with their secular jobs and family life. Deacon Sanclemente is a credit union vice president; Deacon Deschaine is a special education teacher in Van Buren; and Deacon Gallagher is an alcohol and drug abuse counselor.
"Just serving in whatever way I can," says Deacon Gallagher. "I don't even know what sort of shape it's going to take. I'm just going to have to pray about things and let the Spirit guide me."
"The deacon will continue to be that bridge between the community and the priests, which embodies the sacred," says Deacon Sanclemente. "I am to bring the diaconate with me to all aspects of my life."