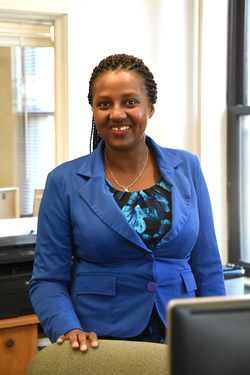 For Dancile Nshimirimana, being a member of the Catholic Church has always been like being part of a family.
"The parish is like another home," she says. "I choose to be part of the Church because of what I gain from being part of the Church. I gain true love. I gain true friendship."
Dancile says she has found a true sense of belonging in the Church, something she believes everyone should experience. That is why she sees her new position with Prince of Peace Parish in Lewiston as such a blessing. In October, Dancile was named the parish's outreach coordinator to the Catholic immigrant community
"This position is mostly to help the new immigrants to feel more welcome in the parish and to help them with the sacraments, help them to participate more in the spiritual life of the parish," she says.
Lisa Daigle, director of faith formation, says she recognized the need for outreach to the immigrant community when she started at the parish three years ago. Because she spoke French, a language spoken in some central African countries, members of the community would often come to her with questions or because they were seeking to baptize their children.
"It didn't take long for me to realize that we really needed to be doing something for these people," she says. "We wanted to make sure their needs were all being met, especially the spiritual part of it."
She says they tossed around different ideas, and then, Father Daniel Greenleaf, the pastor, suggested hiring someone familiar with the traditions of the community who could act as a liaison. Lisa says Dancile was an ideal fit.
"She exemplifies the position. She is already connected with the parishioners on other things she does in the parish," says Lisa. "She knows a lot of people already, and she was very enthusiastic about wanting to do something with what we were looking for as far as a liaison. She came already with ideas."
"When I saw that position open, I felt like, yes, we need someone there who can advocate for those people and get to know them and tell them what is going on with the parish, give them that welcome and tell them this is a family. We are here. We need to know you," Dancile says. "I think this position will help the parish get to know who they have in the community."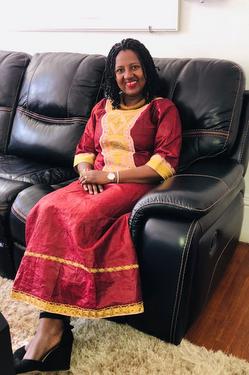 Dancile says she knows from personal experience how difficult it is to settle in an area where you don't know anyone. Arriving in 2015 with her one-year-old daughter, she remembers her excitement when she discovered her new home in Lewiston was within walking distance of the Basilica of Ss. Peter & Paul.
"That is the only thing I was looking for. Oh my gosh, it is near the church. That's fine. I should be able to go to church," she says.
Dancile's deep faith is one of the treasured possessions she brought with her from Burundi, which is a predominantly Catholic country. Dancile says she has been active in the Church since childhood. She was an altar server and a member of a group of girls who danced in the church at Christmas, Easter, and on other special feast days. She also participated in processions on the Feast of Corpus Christi, dropping flowers before the priest who was carrying the Blessed Sacrament.
"Our Catholic tradition is to dance when we are happy. When there is a good thing, we sing, we dance, we clap our hands. It's something we normally do, and that's even in church," she says.
Dancile's parents both died when she was young, but she says she stayed connected with the Church through Catholic schools and through prayer groups, which she found to be vital to growing in faith. She says members of the groups would get together to pray, reflect on the readings, and do service work, such as visiting the sick or helping people with household tasks they weren't able to do themselves.
"Yes, we go to church on Sundays, but that's not enough. To have that good connection with Jesus, you do need that extra time with Him. Doing it by yourself sometimes is harder, but being in a prayer group, sometimes, it does help," she says. "My truly good friends were the friends I found in church because we would work together as a team, and we were helping each other nicely without expecting anything else. We would do everything just for love. You know there is always someone there for you if you need them, without expecting anything else, because we get to know that love from Jesus. We get to have good times to pray together. You never feel alone. You never feel like you are left behind. You know God loves you, and you can see that with those people you are with."
Dancile says she found that same support when she arrived at the basilica. On her second Sunday attending Mass there, she says she was excited to learn they were seeking people to participate in eucharistic adoration. She says she wrote down her name only to be disappointed when she learned the chapel was at Holy Cross Church, which was too far for her to walk. She says the organizers, especially Connie Cabatingan, came to her aid.
"They offered to give me a ride any day that I wanted to go for adoration," she says. "If I wanted to go to adoration, all I had to do is let them know, and they would have someone come pick me up for adoration, until I got my car. Once I got my car, I was able to go whenever I wanted."
Dancile says she tries to participate in adoration regularly because it makes her feel like a new person.
"I like to get that time with Jesus. Everybody has things going on in their lives all the time, and they have a place where they go to find peace. My peace place is adoration. If I miss going to adoration at least once a week, I can feel that. I cannot live without it. Adoration helps me keep up with my faith, with my good relationship with everybody, with my relationship with God," she says. "I have time to talk to Jesus about everything. I want to say thank you for everything."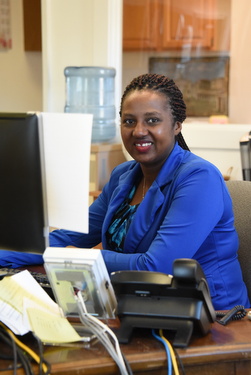 Dancile says she has a lot for which to be thankful, although it hasn't always been easy. Her husband remains in Burundi, still hoping to get the necessary paperwork to join her in the United States. A doctor back home, Dancile tried unsuccessfully to transfer her credits here, so instead, she took a position as a certified nursing assistant, then as a medical assistant, before studying to be a licensed practical nurse. She is now working towards becoming a registered nurse, with the eventual goal of earning a medical degree in this country.
"I like to work with the patients. It is a passion to do it," she says. "I am so thankful for what I'm doing for now. Even if I'm not practicing as a doctor, I am still so thankful to be able to help the patients with what I know."
Dancile says she has always enjoyed helping others, which is why she is grateful to be Prince of Peace Parish's outreach coordinator.
"There are so many people out there who were really active back in their country. Then, they get here, and they feel like a visitor. They are not involved in anything," she says. "I don't want people to feel like a visitor in the parish."
Dancile say while it has been the easiest for her to connect with people from Burundi because she knows many of them, she has also reached out to families from Angola, the Democratic Republic of the Congo, Ivory Coast, and Rwanda. She says she'll call them if she is able to get their contact information but also isn't shy about approaching families she sees at Mass.
Dancile's priorities as outreach coordinator include making sure people have received the sacraments of confirmation and Eucharist, which she says can sometimes get lost in the transition to life in the United States. She also wants to make sure children are enrolled in faith formation and says she has even visited homes to make sure families know how to access virtual programs.
In the future, Dancile says she would love to be able to have monthly Masses for the immigrant community, which include cultural traditions such as singing and dancing. She would also like to have days of recollection, retreats, and active prayer groups.
"Having this position will help to bring everyone in," she says. "I want them to know you need to be there. You need to be active and be involved."
"We just hope that they know that they're welcome here and that they have a place in our church and our faith community," says Lisa. "It's just beautiful to see the faith come alive through these people."