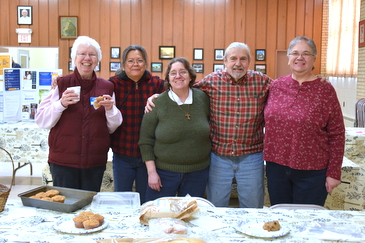 From Alzheimer's to autism and diabetes to disability services, the Cross Resource Café at St. Mary of the Visitation Parish in Houlton is a place to turn for those seeking information and assistance.
"Anyone can come in. Whether you're living in the crisis of poverty or have a million dollars, if you're looking for help, if you're looking to access services, we'll help you," says Lynette Dobbs, the café coordinator. "We try to connect people to what is out there."
The café is open every Tuesday and Thursday morning, the same hours as Mildred's Food Pantry and a nutrition education program, also located in the parish hall. It is a place where those picking up groceries or anyone else who stops by can enjoy a cup of coffee and some conversation, while learning about resources available in the area.
"Most people, if they're coming to get groceries, they fit the criteria to have some additional services, and I think a lot of people are not aware of that," says Dolores Crofton-Macdonald, a volunteer from Hodgdon.
In addition to tapping into the knowledge of the volunteers, those who visit the café can browse through dozens of brochures and pamphlets on an array of topics such as careers, finances, health, heating assistance, and housing.
"I find the elderly are looking for diabetes information, rides. They're not so interested in heat, food, whatever. They're more interested in medical. And the younger ones who come in are more interested in securing their home," says Judy Porter of Houlton, a volunteer.
The café is not intended to provide direct services but to serve as a central location where people can receive guidance.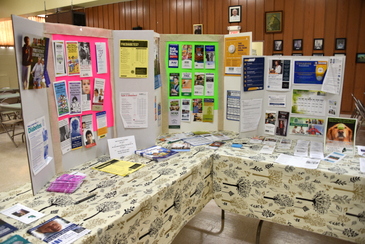 "It's hard. You don't know where to go. You don't know where to look. This puts a lot of resources in one place, whether we're looking at medical, educational, legal, housing, ACAP (Aroostook County Action Program), whatever. Somebody can come in and say, o.k., I'm looking for such and such, and they'll just browse. Sometimes, people don't even know what they're looking for, and they'll be browsing, and they'll go, 'Oh wow. Look at this. I could use that,'" says Lynette. "I think people are sometimes hesitant to try to find where they can get help. It can be scary for someone to walk into DHHS (Department of Health and Human Services) or some of the other places. Here is a safe place."
In addition to connecting people to resources, the volunteers say the café has another important mission.
"The other benefit is being seen as a person and just being accepted and loved and having a sense of belonging," says Lynette. "It's mostly building those relationships, getting to know people, filling that need that Pope Francis talks to us about. He told us to encounter people, meet their gaze, and embrace them."
She says she sees people, who once picked up food and left, starting to linger longer.
"They're more relaxed. They want to sit and talk a minute and sometimes share their stories. We all need someone to share our story with. It's part of human nature I think," Lynette says.
"When the men come in, I get a chance to talk with them. Basically, that is what I do – try to get a conversation going with the men. Sometimes, we talk for quite a while," says Ray Gladu, who drives about 40 miles from Sherman to volunteer. "What I find mostly is that they want to talk one on one. That's basically what I do, and then, it evolves."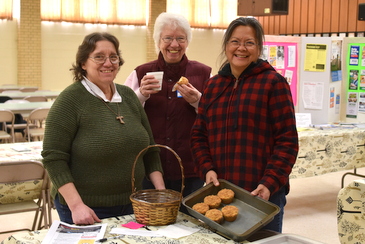 "It's not just the information. The people who come in to get food sometimes have a home that they are tied to, and this gives them a chance to get out," says Judy.
Mildred Madigan, who has been serving at the food pantry nearly since the day it opened 26 years ago, sees the café as a welcome addition.
"When I started, it was just a small, fly-by-night organization," she says. "And all of a sudden, here we are, well organized with lots of food and services for people. It's just a wonderful thing to see."
On average, Lynette says seven or eight people visit the café each day it is open, but they've served as many as 21 people in one day.
Patrons of the food pantry and cafe say they are thankful both are there.
"It's very welcoming. Everyone here is kind. There is coffee, and I have some friends here. It just feels like home," says Shelly Merritt, from Linneus.
"When people are coming in, they can see that they have this going on and that there are more resources out there, with all the pamphlets they have," says Karen Brewer from Monticello. "I love coming here, and I appreciate what they give, and I appreciate the café for giving coffee and snacks."
The café opened in October 2018 thanks in part to a $1,000 grant from the Catholic Campaign for Human Development (CCHD), which allowed Lynette and Clare Desrosiers, the parish catechetical leader, to receive training on combatting poverty. Lynette then was able to develop an instructional program for other volunteers.
"They have to go through four hours of training. Two hours are basically understanding poverty, dispelling a lot of myths and misperceptions that are out there. Then, the other two hours are on communications and interaction with people," she says.
In February, the parish was awarded another CCHD grant for $970, which it hopes will allow the program to expand. Among other things, the parish is seeking to engage more parishioners in the fight to alleviate poverty, to set up a semi-permanent café, because displays now have to be set up and taken down every Tuesday and Thursday, and to create an office, so patrons have privacy if they wish to make calls or explain an issue they're having.
"We've had people in before who would actually break down. If that happens, it's nice to be able to go somewhere a little bit more private," explains Lynette.
While they know they can't solve every problem, the volunteers say they are happy to give of their time because they believe they are making a difference.
"I want to help people, which is why I volunteer at the café," says Dolores.
"If there is any injustice anywhere, that is where you'll find me," says Ray. "I've always volunteered."
"All my life, God has called me towards people who are on the fringes of society, but especially the last 10 years as a Secular Franciscan. This gives me an opportunity to be there, to interact with people, to help if we can," says Lynette. "There is where I belong."