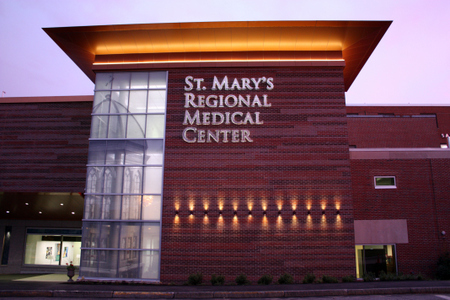 "St. Mary's is a wonderful place."
A nursing supervisor, Lena Theriault has worked at St. Mary's Regional Medical Center in Lewiston since 1979 when she graduated from St. Mary's Nursing School.*
"I can't see myself going anywhere else. I hope I do get to retire here," she says. "I think St. Mary's really cares about its employees."
Dr. Michael E. Kelley, director of Emergency Psychiatry, feels similarly. He has worked at the hospital for 15 years.
"We're all very proud of this hospital. It's one of those places that you love because of what it is, not just because it is a job," he says.
The difference, these employees say, is the mission.
"The spirit in this place is amazing," says Dr. Kelley. "The Catholic ethic is so amazing because you really feel that you're here for the right reasons. You're here to help people."
The oldest Catholic hospital in Maine, St. Mary's was founded 125 years ago by the Sisters of Charity of Saint-Hyacinthe, also known as the Grey Nuns.
The sisters, founded by St. Marguerite d'Youville in 1737, made a promise to God to never abandon the poorest of His children.**
Although much of the sisters' work in Quebec was focused on healthcare, they were asked to come to Lewiston to open a French-speaking school to serve the children of French-Canadian immigrants working in the mills.
It was not long, however, before the sisters realized there was a great need for healthcare because there was no hospital in the Lewiston-Auburn area at the time. The sisters purchased the Golder House, along with 36 acres of land, on Sabattus Street, then the outskirts of town. It is where the hospital campus still sits today.
Although much has changed in the past 125 years, St. Mary's Health System remains committed to the mission of the Sisters of Charity of Saint-Hyacinthe and to their foundress, St. Marguerite d'Youville, who once stated, "Let it never be said we refused to serve."
"The mission is so valued here. I've been on the board of directors either as a guest or as a member for years, and it's so cool that, for every decision, somebody is going to raise their hand and ask, 'How does this sit with the mission?'" says Dr. Kelley.
From the first, the sisters made it clear that all were welcome at what was then called the "Hospital of the Sisters of Charity."
"In January 1889, they accepted their first patient, and from the beginning, the sisters said you don't have to be Catholic and you don't have to be French. We will serve everyone, which is really the hallmark of Catholic healthcare, going back to the Good Samaritan story," says Elizabeth Keene, St. Mary's vice president of mission effectiveness. "It doesn't matter who you are: whether you're Catholic or religious or not, whether you can pay or not, what color your skin is, what language you speak. If you're in need, we will care for you."
In fact, although the hospital was established to serve French-Canadian immigrants, the first patient was an Irish woman, Nellie Hackett.
In those early days, the sisters took what they could for payment. Records, which St. Mary's Health System still has, show that reimbursement sometimes came in the form of loaves of bread, bushels of apples, and even chocolate and champagne.
During its tenth year, in 1898, the hospital cared for nearly 300 people. Today, there are an average of 6800 inpatient stays and more than 300,000 outpatient and physician visits each year.
One change reflected in those numbers is the increase in the number of surgeries and procedures that can now be done on an outpatient basis.
"Surgery has changed tremendously," says Denise Timberlake, patient care leader for Surgical Services. "You would have to be in the hospital flat on your back for seven days to get your gall bladder out. You couldn't move. And now we do minimally invasive laparoscopic surgery, and patients are home after a few hours."
Diagnostic technology is constantly improving as well. For instance, during its 2010 renovation and expansion, St. Mary's added a 64-slice CT scanner to go along with its 16-slice one. "The body is like a loaf of bread, and we do millimeters," says Cindy Brousseau, director of Diagnostic Services. "We can take objects like the kidneys, and millimeter-sized stones we can recognize in just one picture."
Gone, too, are the days of developing films. Now, all images are digital and computerized. "Everyone is networked now, so as soon as an image is taken, you can see it everywhere," says Brousseau. "Physicians can pick up the phone wherever they are, look at the study, and then contact the radiologist and have a one-on-one conversation immediately."
Brousseau says one of the most recent advances is interventional vascular radiology, an outpatient procedure which is helping patients with leg pain walk comfortably again and is, in some cases, saving limbs.
"Dr. Derek Mittleider has been doing some amazing work with angioplasty and stenting all the way to the feet," she says.
Another new technology is blue-light cystoscopy with Cysview®, which allows for earlier detection of bladder tumors.
"It kind of illuminates any bladder tumors that are there, so patients get treated a lot faster," says Timberlake.
There have also been advances in behavioral care including the 2010 addition of a behavioral emergency department.
"It's changed patient care dramatically. We don't have to restrain patients nearly as much. Actually, we avoid admissions because the providers in there know psych," says Dr. Kelley. "The behavioral emergency room is filled with staff that all know mental health. They all care about mental health."
With the opening of the behavioral emergency department, the number of patients treated each month has more than doubled, from 200 to 450. Dr. Kelley says he has seen patients from out of state and from as far away as Fort Kent.
"I think it's just because we care that much about it that we've grown," he says. "I think if it's something you value, it gets good. We've had some fantastic doctors who have contributed to that."
Again, Dr. Kelley says, it comes down to the mission.
"For 125 years, the core belief has been helping the underserved, the indigent, the people most in need, and I've got to say, mental health fits that bill pretty well."
As does serving the community beyond the hospital walls, according to Elizabeth Keene.
"In the Good Samaritan story, the man was beaten and robbed and left for dead along the road, so what Jim Cassidy [former President/CEO] says and what Lee Myles [current President/CEO] says as well is that it's not enough for us to wait for people to come to our emergency room. Part of our mission says we do preventive services. So we take that seriously in terms of things like screenings for public health concerns, but also, I could talk with you all day about the nutrition center and the emergency food pantry," says Keene.
St. Mary's Nutrition Center offers cooking and educational programs focused on healthy eating, including its Lots to Gardens community gardening project. St. Mary's also operates a health center in one of the poorest Lewiston neighborhoods, and it offers school-based healthcare.
"The healing ministry, especially for Catholic healthcare, is very holistic in its approach. We certainly want people to have fullness of life in their physical body, but it's also spiritual, emotional, and social well-being. The sisters took that seriously, and we continue to take that seriously."
These employees of St. Mary's say they strive every day to make a difference and to follow in the footsteps of St. Marguerite d'Youville.
"I'm really proud that we really support her efforts and do everything we possibly can for the community," says Lena Theriault. "We always try to find a way no matter what it is. We do what we can for our patients and the community."
And for one other.
"I find it more of a family than I do a job," says Brousseau.
"It's a culture of family, a culture of working together," agrees Timberlake.
"St. Mary's is my second home. I'm very passionate," says Theriault, with tears coming to her eyes. "We all believe that St. Mary's is a special place."
---
*St. Mary's Nursing School operated from 1908-1988.
**Source: St. Mary's Health System, A Ministry of Healing, A Lifetime of Caring, © 2011 St. Mary's Health System