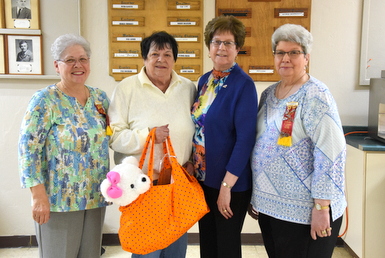 Unity, friendship, and charity. They are the principles at the heart of the Daughters of Isabella, an international Catholic women's organization, and they are words to live by for members of St. Thomas Circle 546 in Madawaska.
"At every meeting, if I ask for help for something that is coming up, the hands go up. I don't have any problem getting help," says Raymonde Corriveau, Circle 546 regent. "We are a group that is so busy."
The Daughters' service touches many lives, including those of some of the most vulnerable members of the community, children who are victims of domestic violence. For the past 15 years, the Daughters have put together Safe Bags for boys and girls being served by the Hope & Justice Project, an organization that provides support services, including emergency shelter, for people throughout Aroostook County who are affected by abuse. The bags are stuffed with love and filled with items intended to bring comfort.
"We put in this big stuffed toy," explains Tina Ouellette, chairperson of the project, pointing to a white teddy bear with a pink bow. "We have a quilt blanket. We have coloring books and crayons, two storybooks, a toothbrush, a pencil. Some of them have slippers."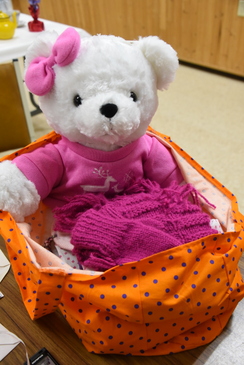 The bags, which are sewn by Diane Gervais, also often contain hats and mittens, which some of the ladies knit, and there is always a note tucked inside which reads: "You're safe. May this blanket bring you comfort as it warms your body, and may it also warm your heart knowing that we care, and we send our hugs through the stuffed animal."
The Safe Bags project was started by Martha Dufour, former regent of the circle and former state regent.
"I had heard of a family who had gone to the shelter, and I felt bad for the kids. So, I thought maybe they need something to let them know that people love them and something they could bring with them to wherever they're going," she says.
Tina had already been collecting items such as clothes and furnishings for the Hope & Justice Project before she joined the Daughters of Isabella and took over the Safe Bags project when she became a member. In fact, it was one of the reasons she joined.
"Can you imagine what it means when they get a bag like that? They had to leave everything that they love back home," she says. "They go there to save their lives. They don't even have a toothbrush."
Raymonde remembers the emotions she experienced when she and Martha dropped off some items one Christmas.
"We stop at the door. That's where they come and meet us. And we had something for the kids, and there were two or three little faces that came to the window. That broke my heart," she says.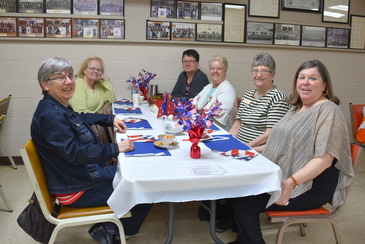 "When you see those little faces, you can't help but want to continue," adds Tina.
As with all the daughters' projects, Tina says if she needs something, all she has to do is ask.
"If I say I need toothbrushes, I'll find on my back porch a big bag of toothbrushes the next day. I don't even know who dropped it off," she says.
In addition to providing items for the children, the Daughters of Isabella also collect toiletries and household items for the women staying at the shelters or in transitional housing.
"We bring in toilet paper, paper towels, diapers, shampoo," says Tina. "Everyone comes in with a big bag of stuff."
Along with the toiletries and Safe Bags, the Daughters of Isabella also put together comfort bags for those battling cancer. That project, too, was started by Martha. The thought came to her after she brought a care package to her sister who was battling cancer at the time. She says she realized not everyone had such support and wanted to help.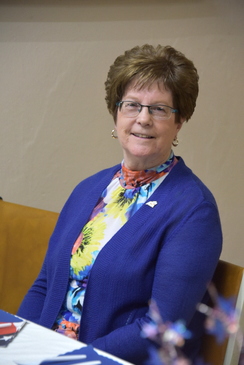 "I went online to see if they had such a thing, and they do, but they cost $75 at that time. So, I looked at what they had in there, and I said, 'We can do that ourselves,'" she recalls.
A friend who had cancer helped her select items, which have included lotion, green tea, a mug, information about cancer, a statue of Mary, rosary beads, and a joke book that Martha created herself.
"Some ladies make slippers. I now have one who is making the bags," says Rose Morin, who currently chairs the project. "It's really a whole community project. And I'm sure when they're making things they're praying for the people who are going to receive them." "We've received very touching cards. One woman in particular, she went item by item and told us what that meant to her," says Martha. "It was very heartwarming."
Martha says they have given out around 225 bags since the project started five years ago.
There are many other ways in which the Daughters of Isabella in Madawaska serve their community. Lorraine Morneault runs the Baby Closet out of her home, which the Daughters stock by holding a baby shower each April. The closet is filled with items for newborns to children age 5, all free for the taking.
"I bring the clothes home, and whoever needs it, they can come to my home and pick things out," Lorraine says. "Some that do come, I know they need it, and they appreciate it."
The circle also reaches out to seniors. In celebration of Mother's Day, they delivered carnations to mothers living at senior or long-term care facilities in Madawaska and Frenchville. For Christmas, they put together stockings for residents. This year, they were stuffed with nightgowns and pajamas.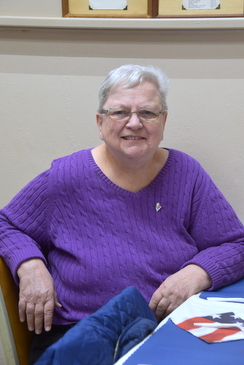 "We're a small town, and we know mostly everyone, or we get to know them," says Pauline Desjardins, a member of the circle for 49 years. "To me, it's heartwarming."
The Daughters of Isabella say they believe all their projects are worthwhile, which is why the number of them keeps growing.
"They're all valuable, so we don't dare give any up," says Tina.
Fortunately, they have many members happy to serve. Although not all are active, with 178 members, Circle 546 is the largest in the state.
"We have ladies who are so willing to help," says Raymonde. "The ladies are so generous."
---
Support the Daughters of Isabella.
If you would like to support the work of the Daughters of Isabella, checks made payable to Daughters of Isabella Circle 546, may be sent to Ms. Tina Ouellette, 114 19th Avenue, Madawaska, ME 04756