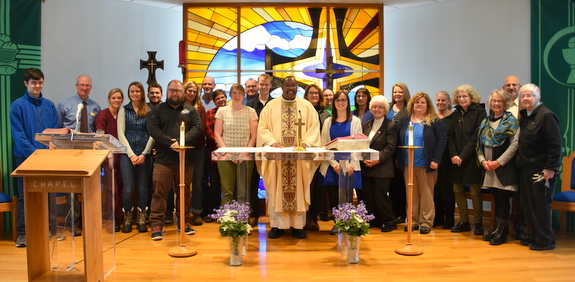 Father Gabriel Muteru cheerfully calls out to anyone he sees passing by his office at Saint Joseph's College of Maine in Standish.
"Hi! How are you?" he says.
He offers a similar greeting to every professor, staff member, or student he passes along the school's pathways, hallways, or stairways.
"Hi! How's it going today?" he says with a smile.
Father Gabriel says there is no secret to his cheerful demeanor. It comes from his love of God, his devotion to the Blessed Mother, and his joy in being a priest.
"For people walking by, he sees a priest. He sees the face of the Church. So, what does it look like? I don't know what the face of Jesus looks like, but if I smile at a person, I am inviting him. A smile attracts; a gloomy face dispels," he says. "I always wonder, if Jesus walked around, would He be showing His misery to people or His happiness to people?"
Father Gabriel was named chaplain at Saint Joseph's College in September 2018. He says he knows it is a big responsibility, especially since Saint Joseph's is the only Catholic college in Maine.
"At a college or a university, they can teach everything and anything, because the search for truth has no limits, but the presence of the Church, represented by the priest, or the campus ministry, or the chaplain, reminds us that we still have that Catholic identity," he says.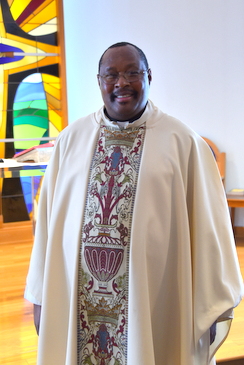 Originally from Kenya, Father Gabriel has been in the United States since 1994. He first came to this country to complete his doctorate but ended up remaining here to do mission work for his home diocese, the Archdiocese of Nyeri. He has also worked for other colleges, most recently serving as an adjunct faculty member at St. John's University in New York and, prior to that, serving as chaplain at Molloy College and as an adjunct assistant professor at Dowling College, both also in New York.
Father Gabriel says it has always been his goal to meet students wherever they're at. It is why, at Saint Joseph's College, you will find him sitting with them in the cafeteria and cheering them on at sporting events.
"The girls were playing softball, so I went there to watch, and they were saying, 'Father, try, try.' So, I did. Then, they were telling one another, 'You should have seen Father hitting the ball,'" he says, laughing.
Realizing not all students are able to attend daily Mass in the chapel due to class conflicts, he has even held Mass in dorms.
"The first time I did, it was towards the end of the semester. I thought two or three students would come, but the hall was packed," he says. "Now, they are lining up for me to say Mass for them in their dorms."
Father Gabriel says he wants the students to discover the same joy he has found through knowing Christ.
"I am so happy to be Catholic in the first place and to be a priest in the Catholic Church," he says. "This is a privilege given by God to bring hope to the people. I always feel a priest is like a mother or a father. When there is sadness at home, it is the mother or the father who consoles their children, who shows them this is nothing and move on. So, I am always conscious of that. Even if I have a toothache, I'm still going to smile to show them the joy of the Gospel."
Father Gabriel says that example of loving and caring for others came from his parents. Raised amid poverty, he says he and his siblings were also surrounded by generous love.
Although his parents were not Christians at that time, his father wanted his children to have the best education possible, so he sent them to a Catholic school, and that is where Father Gabriel was introduced to the faith.
"The teacher taught us to pray the Our Father, the Hail Mary, and the Glory Be in my classes, and he told us, 'When you go back home, pray that with your parents, with your family,'" Father Gabriel recalls.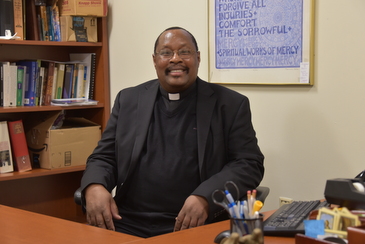 Even though he was just six years old, he did just that.
"My sister loved the prayers very much, and she decided we should be praying them every day," he says. "My sister made sure we always prayed before meals, and she would throw a tantrum if we didn't."
Father Gabriel says he and his older brother began to receive catechesis to prepare for baptism. While his brother was baptized soon after, Father Gabriel says he would end up having to study and wait for a total of nine years before he received the sacrament. He puts the blame on buffalos.
At the time, a missionary priest covered an area about 75 miles wide, and he would only celebrate baptisms in their parish church, located about 12 miles from Gabriel's home, every three years. When the day came for his baptism, Father Gabriel says buffalos had surrounded their home, making it impossible to leave.
"They would just come there for the whole day. Nobody would leave home, so I missed my baptism," he says.
It meant continuing with catechesis for three more years. Then, when the day for baptism came again, Father Gabriel says, unbelievably, this time it was elephants blocking his way.
"Elephants could move, but we have to wait because they're not in a hurry," he says.
By the time the elephants left, it was too late.
"I remember that I wanted so much to be baptized. I was crying and running, and we reached about three-quarters of the way, and we met people coming from church," he says.
Even though he feared the worse, he ran the remaining miles, only to find an empty church when he got there.
"There was not a single soul. I was so distraught. It meant three more years of preparation," he says.
He was finally baptized and received his first Communion at age 15. He was confirmed two months later.
The years of catechesis were not wasted, however. He was so familiar with the material that he started helping other students, so much so that many of them asked him to be their sponsor for confirmation. When in high school, he also began teaching faith formation with two friends
Despite his years of studying the faith, he says he had no desire to become a priest. In fact, when his friends brought up the idea after they attended a seminar on vocations, his answer was firm.
"'No, no. I told them. That's not my idea,'" he says.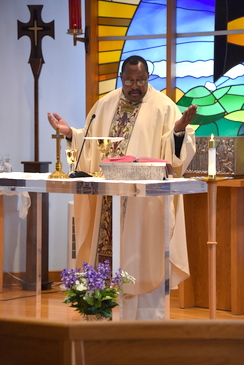 His friends, however, didn't want to take no for an answer, and when they applied for seminary, they sent Gabriel's name in as well. When they brought him a letter they received in response, he refused to open it.
"I looked at it. I felt something in myself, which was perplexing, but I did not want to accept it. So, I kept it on the table, and then, when they were gone, I threw it out the window," he says.
After graduating from high school, he applied for college, but when word came that he was accepted, he found that rather than being happy, he was profoundly sad. He realized what he really wanted and went to retrieve the letter he had thrown out a year earlier.
"It had gone into a flower bush and just stayed there, but it was so brown. I saw the letter. I opened it, and inside, it was as clean as if it had just been written," he says. "I sat on my bed. I'm shaking. My whole body is shaking. I don't know why. I take this letter and I read it."
His friends advised him to see the vocations director, so he traveled to the city, spotting the priest just as he was about to drive away.
"I knew him. I had seen him before. I was so excited. I went running to the car," he says.
The answer he received, however, was devastating. Father Gabriel says the vocations director, upset that Gabriel had not had the courtesy to respond to the previous letter, told him that seminary was not an option.
"I started crying," he says. "I didn't know what to do. He told me, 'Don't waste my time.'"
Convinced he was being called by God, Gabriel went to see his local, missionary priest who agreed to take his case to the bishop. Gabriel remembers traveling with the priest when he went to attend diocesan meetings and waiting for hours outside in the car, not wanting to leave, even to get something to eat, in case the priest came back with an answer.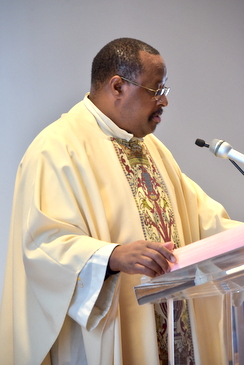 "I'm praying and praying that he convinces the bishop," he says.
The bishop agreed, and Gabriel entered seminary. Ironically, the two friends who had tried so hard to convince him to pursue the priesthood never showed up.
Although his father had initially opposed the idea of seminary, Father Gabriel says before he died he gave his blessing.
"When I was in seminary, my father got very sick and called me and blessed me, and told me, 'Gabriel, I am so glad you are in seminary. Go and never turn back.' Then, he died three days later. That became one of my greatest strengths," Father Gabriel says.
Ordained in 1987, his ministry in Kenya included serving as pastor of three parishes and vice rector, dean of students, and a professor at a newly built seminary.
"What I love about the priesthood is the Eucharist. The Eucharist is great. Mass is great. I cannot live without it," he says.
He now brings that love for the Eucharist to students and faculty at Saint Joseph's College. He says it is a joy to be serving there.
"This college is a small college. It is very homey, and everyone knows everybody," he says. "I love it here."