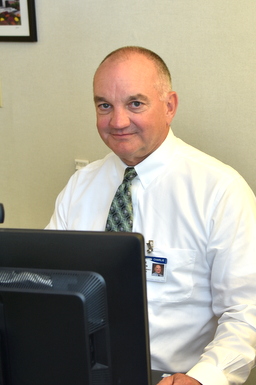 As president of Mercy Hospital and a senior vice president of the Eastern Maine Health System (EMHS), Charlie Therrien knows well the challenges facing the health-care industry. They include rising costs, staff burnout, and increasing regulations, just to name a few.
"Health care is broken in many ways. Health care is challenging, and it's not getting any easier," Therrien says.
But amid the obstacles, Therrien sees opportunities, which is why, one year after taking the top job at Mercy, he is looking to the future with optimism.
"This is fun. There are not enough hours or days in the week, but that is kind of the fun part of it," he says. "It's a pretty neat job."
What he finds so neat are the many facets of his job. He says, on any given day, you never know what is going to come up.
"There are so many different components of health care, so it gives you exposure to a lot of things," he says. "The most fun thing about being a hospital leader is the variety of things that you get into."
Therrien has many years of experience upon which to draw. His bachelor's degree is in finance and quantitative methods, which led to a job right out of college as a business manager for a behavioral health clinic.
"It was an opportunity. It happened to be health care, and 37 years later, I'm still in health care," he says. "It's just how some of those things happen, how they progress, which has been perfect."
Originally from Western Massachusetts, Therrien and his family lived in the Portland area about 25 years ago but moved when he got a job in Connecticut. He worked at Danbury Hospital and then Sharon Hospital, where he advanced to become president and CEO. Wanting to move back to Maine, he accepted a similar position at Maine Coast Memorial Hospital in Ellsworth, which is also an EMHS member.
"Our ties are to Western Mass. We spent time in Boston, but just, of all the New England places we've lived, Maine just felt right," he says. "We liked the feel, the people.
From his time living in the Portland area, he was familiar with Mercy Hospital, so when the president's position opened, he decided it was an opportunity he wanted to pursue.
"An opportunity for some personal development, growth, and challenges," he says. "Mercy has a strong history. We're going to be celebrating our 100th anniversary next year, which is going to be pretty neat, so the ability to come was also compelling, knowing there is a 100-year history here and then setting the stage for the next 100 years."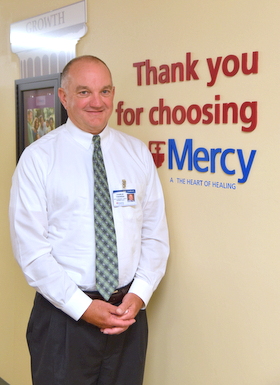 Despite financial struggles in recent years, Therrien says Mercy Hospital is now well positioned to move into its next century. That includes going forward with the second phase of its planned relocation from its longtime State Street campus to the one on the Fore River.
"It's a plan that will take the next 3 - 5 years to do. It's approximately a $100 million project, and we're actually in the silent phase of our capital campaign right now," he says.
Therrien says the hospital is doing traffic studies, will soon seek a certificate of need from the state, and is also working out the details on just what the project will look like. A lot has changed in the nine years that have passed since the first phase of the Fore River project opened.
"It's taking a look at the trends in health care. What are the hospitalization rates? How many beds are we going to need?" he explains.
Therrien points, for instance, to the shift to more community-based health care and to an increasing awareness of the advantages of imbedding more services, such as behavioral health, at primary care offices. He says the key is to not only excel at episodic care but to improve preventative care.
"How do we keep them from becoming sick again? How do we keep them from being readmitted to the hospital?"
He says Mercy Hospital has long been a leader in partnering with other organizations to address some of those questions, which may relate to housing, lack of access to healthy food, lack of transportation, or drug addiction.
"The home life may be problematic, which then impacts their health care, so how do you deal with those types of things in a supportive environment?" he says. "It goes back to Mercy's mission, because we have a special mission of taking care of the needy, but how do we do it differently?"
That special Mercy mission dates back to 1918, when Bishop Louis Walsh turned to the Sisters of Mercy for help during a flu pandemic. It led to the founding of Queen's Hospital, which would become Mercy Hospital in 1943.
Despite its merger four years ago with EMHS, which is not faith-based, Therrien says the hospital's Catholic identity is as strong as ever.
"That kind of feeling is there. Our people feel it. The Catholic ministry supported by the Sisters of Mercy is a very strong, compelling, supportive type of our environment," he says. "It's holistic care rooted in kindness. That's the feeling of Mercy."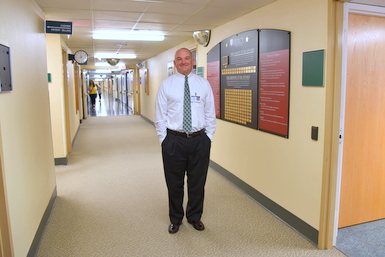 Sisters of Mercy still serve on the hospital's board and on committees and are still present to talk with patients. Therrien says, knowing that most patients are now treated on an outpatient basis, they also have a pilot program in which a Sister of Mercy travels to primary care practices to offer chaplaincy services.
"We want their presence as much as we can possibly get them involved," he says.
And he says that has included helping him, since this is his first time leading a Catholic institution.
"The sisters have been tremendous," he says.
Therrien describes his job as a balancing act between time spent in the community representing Mercy Hospital and time spent within its corridors. He tries to dedicate a certain amount of time each week to making rounds and visiting satellite offices so that he can visit with staff and get a sense of what is going on, but he says there is no longer one right way to stay in touch.
"We do everything from trying to have open forums; I go out to department meetings; I do walkarounds, emails, newsletters. These days, you have to do a little bit of everything," he says.
His work days are often long. A day that begins with a 6 a.m. meeting may conclude with an evening appointment. Still, he says, "It's a great job. I love my job."
He says if there is one thing he would like people to know about Mercy Hospital it is that it is the same caring, supportive organization it has always been.
"We're going to be launching the next 100 years with that same Mercy mission, feel, look," he says. "The Mercy ministry is going strong. I'm very passionate about that."