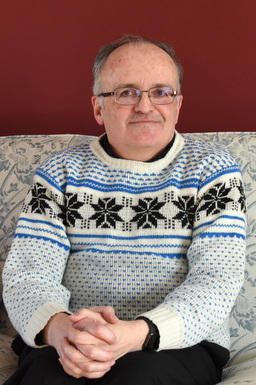 For people with autism, there can be a feeling of isolation, and that may include a sense of being isolated from God. Seeking to help them connect with Christ's salvific love, Father Mark Nolette, a priest/hermit of the Diocese of Portland, wrote reflections for the Stations of the Cross intended for autistic people as well as their family members and friends.
"When I began to put these together, my hope was that I would be able to connect the experiences of autistic people with the experiences of Jesus in a way that people could relate to," he explains.
Father Nolette, who is autistic, says that while people with autism share a common humanity with everyone else, he believes the story of Jesus' Passion and death can speak powerfully to them. He says he is hoping they will find parallels in their own lives and, as a result, draw closer to Christ.
"I am hoping that autistic people can look at these, and it will help them see: God understands me. God has chosen me. God has sent me. I am sharing God's suffering. God wants me as an autistic person,' he says.
Father Nolette decided to write the reflections through his role as spiritual director for the Mission of St. Thorlak, an apostolate dedicated to recognizing the gifts of all members of the Body of Christ, particularly those with autism. The apostolate is named for the patron saint of Iceland who lived in the 12th century and who, according to Father Nolette, displayed some of the personality traits common among those with autism.
"The idea is to look at St. Thorlak as a model and a guide as to how autistic people can love, and how they can show love, and how they can then share their love with others, and how they can be a sign of God's desire to love everyone," he says.
The apostolate was seeking some devotional materials for people with autism but was unable to find much available. It led Father Nolette to write the "Scriptural Stations of the Cross for Autistic People." The Stations of the Cross, which follow the steps Jesus took to His crucifixion, are a popular Lenten devotion.
Father Nolette based his reflections on the Scriptural Stations of the Cross first used by Pope Saint John Paul II on Good Friday in 1991.
"I found there were more Scriptural Stations that would dovetail with the needs and experiences of autistic people," he says.
The first station takes place in the Garden of Gethsemane, where Jesus, knowing the fate that awaits Him, turns to His Father in prayer.
"He feels anxiety and struggle, even as He is resolved to follow through with offering His life out of love for us," Father Nolette says.
Anxiety, Father Nolette says, is perhaps the number one challenge facing those with autism.
"We are wired in such a way that things will set us off. Very often, we know in our minds that the thing we're anxious about is not that big, bad of a thing, but we can't stop being anxious about it. We can't control the intensity of the anxiety. So, you look at Jesus and the intense emotions at Gethsemane as He is facing His Passion, and you can see, wow, for autistic people who are dealing with this anxiety, it is very much like that."
He shares in the reflection for that station: "When great anxieties beset you, turn to Jesus. He has been there. He will walk with you in love and compassion, no matter how frightening your inner storms may feel. He will not abandon you in your fears but will give you the courage to face them so that you can be faithful to what you need to do. Moreover, your great anxieties will help you understand the weakness of others and to reach out to them with your love and hard-earned wisdom."
For the second station, in which Judas betrays Jesus, Father Nolette reflects on the difficulty those with autism have choosing friends.
"How difficult it can be to find good friends! Though this is true for everyone, it is a particular challenge for those of us on the autism spectrum. We may miss subtle cues that would tell other people that someone does not mean well. We may trust someone too much and give them the keys to our whole lives before we know if they are trustworthy. We may feel that we are not likeable, and so, we too easily accept anything that seems like friendship and give our hearts too quickly," he writes.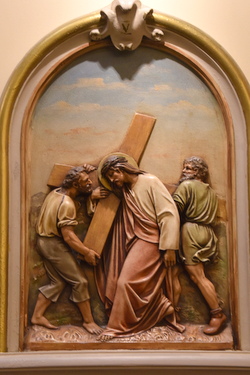 In other reflections, he shares the difficulties of finding a place in a faith community, just as members of the Sanhedrin were "at a loss as to what to do with Jesus." In Jesus' silence while standing before Pontius Pilate, Father Nolette points to the often misunderstood "reserved ways" of those who are autistic, assuring them that Jesus "already understands and loves you. Your silence will not put Him off." The eighth station, in which Simon from Cyrene helps carry the cross, connects well, he says, with how challenging it can be for autistic people when schedules don't go as planned, since Simon was likely on his way to celebrate Passover when pulled from the crowd.
"We hate to have our routines disrupted. We have a certain plan, and we want to do that," he says. "For a person with autism, it's harder to adjust than it is for the average person."
Still, Father Nolette uses the reflection to stress the importance of following where God leads.
"What can happen -- if we are blessed -- is that God taps us on the shoulder and leads us in a direction we would never have chosen on our own. This new direction may, at first, feel like a diversion -- unsettling, confusing, illogical. However, if we discern that it is truly from God, and then choose to trust God, we discover what looked like a 'diversion' becomes the calling, the service, and the experience of God's love that our hearts have desired all along."
Father Nolette says he hopes those who pray the "Scriptural Stations of the Cross for Autistic People" will find comfort in knowing God is with them on their journey.
"The main thing is to help autistic people see, no, you're not alone. The Lord can and does understand what it is you are facing," he says
While primarily intended for those with autism, he says he hopes the reflections will also prove valuable to their family members and friends.
"Both as a way of helping them to understand the experiences of autistic people but also realizing that these experiences are not necessarily different from the experiences of most people in general. It is just certain things are more intense with people with autism," he says.
He points to examples in his own life, for example, his heightened sensitivity to sounds.
"It might be the rustling of a piece of paper. It might be someone talking. It could be anything," he says.
He also finds it difficult to make eye contact with the congregation while delivering homilies and says while he enjoys celebrating Mass and sharing God's word, he also finds it exhausting. He says he must limit his schedule, so he doesn't feel overwhelmed.
"I only have so many dimes per week. Once they're gone; they're gone. So, I have to be very careful," he says. "It's funny because I'm probably better at ministry than I ever was, but it's more draining than it ever was."
He says he realized early on in his vocation that he seemed to tire more easily than other priests, a problem that has worsened with age, but it wasn't until he was diagnosed with Asperger's syndrome in 2014 that he really understood why.
"It clarified a lot of things that were never quite clear before," he says.
Despite the difficulties, he says God has given him gifts as well, including the ability to share his faith through writing. He writes a blog called The Anchorite and is currently writing a series of articles for Harvest on the Nicene Creed. He is also considering creating a guidebook for autistic people on the sacrament of reconciliation.
"I've been graced in many ways, too, and I'm ready to share that in whatever way God wants me to," he says.
While having autism may be perceived as a weakness, and he admits there are times he wishes it wasn't there, he says he also sees it as an opportunity to touch lives.
"When you're in this, you think you're the only one, and that there is something wrong with you, and you're not good enough. Then, you begin to realize, no, it's the other way around. God's power comes to us in weakness, not in strength," he says. "Trust. You learn it in weakness. You don't learn it in strength, because in strength, you deceive yourself, and you think it's you. But when it comes to you in weakness, you know it's God."
Here is a link to Scriptural Stations of the Cross for Autistic People/ A paperback copy may also be purchased on Amazon for a small fee.