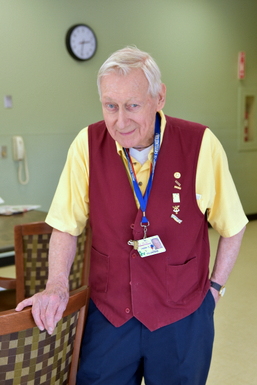 "Hi dear! How are you doing?"
Following a gentle knock on the door, Frank Steele cheerfully enters the room of a resident of St. Mary's d'Youville Pavilion in Lewiston.
"My name is Frank. It's nice to meet you," he says.
Frank has been going to see residents at the nursing home for 17 years, wanting to ensure that everyone living there has at least one visitor.
"This is the best way for me to spend my time," he says. "I can't think of a better, more productive, happier way to spend time."
Frank started going to the nursing home when his mother moved there in 1999 at the age of 103. At first, he just visited her, but when she passed away, he continued to meet with the woman who had been her roommate. He then befriended another woman who lived across the hall.
"When it began, I would do an hour or two each week, and that's what I thought I would ever do, an hour or two a week, but it got to be more than that," he says. "It blossomed into a full-time occupation."
Although he lived in Rumford at the time, about 40 miles away, he drove to the nursing home every weekday, arriving around 9 a.m. and staying until 3 or 3:30 p.m.
"An hour of driving in the morning was really something I looked forward to – put your mind in neutral and drive along – but driving home in the dark was a little different. In the wintertime, you had to leave by 3:30 if you wanted to get home by the time it was really dark," he says. "I came winter and summer. Oftentimes, the snowplow and I would be the only vehicles on the road coming down here."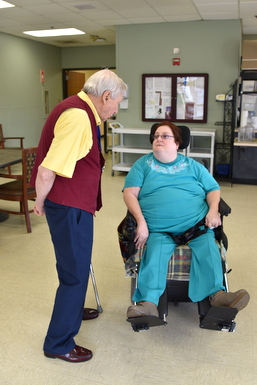 Frank became such a regular that St. Mary's approached him about joining their volunteer program. Pins on his lapel attest to the amount of time he has contributed, approximately 10,500 hours and counting.
"Mr. Steele is one of the kindest people I know. When I see him around our campus, it brightens my day. He has touched the lives of so many people and has brought joy and comfort to those who need it the most," says Jenny Cowie, manager of St. Mary's Volunteer & Interpreter Services.
"He has been a big help here for many, many years," says Kristen, the hair stylist. "Some of the more difficult residents, who don't want to leave their rooms, he has such a way with them."
Although Frank has high praise for the care residents receive, he says he can offer something that staff members can't.
"Time is the thing that nobody has enough of. So, people like me, who are retired, have got time," he says. "That's what they need – somebody who is going to make a personal connection with them and take time."
Frank, a decorated U.S. Navy veteran, who served in the Vietnam War, was already long retired when his mother moved into the nursing home. He was age 70 then and is 86 now.
He says once he started his visits, there was no doubt he was going to continue.
"When you're the only one visiting somebody, you quickly find it necessary to come here, because you know nobody is going to be here if you don't visit," he says. "Loneliness is loneliness."
He calls it's a shame that more people don't stop in to see residents.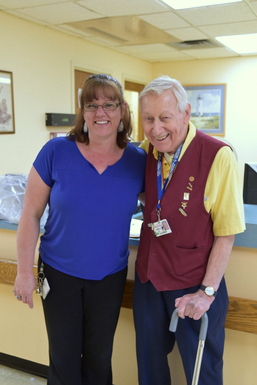 "I've heard people say that they don't have any talent for visiting. I don't understand what that is," he says.
Four years ago, Frank moved from Rumford into the St. Mary's Residences, an independent senior living facility, which adjoins St. Mary's d'Youville Pavilion. While he thought it would give him even more time for patient visits, he says it hasn't worked out that way, in part because he also now visits seniors living at a nearby group home. After someone whom he had gotten to know at d'Youville moved there, he went to visit her and never stopped.
"I kept going back the next day, and the next day, and the next day. I thought I would keep going until she got established, but it's coming up on four years now," he says, laughing. "I think of myself kind of as the mascot over there. I join in with whatever they're doing. They keep inviting me."
Frank says his visits have resulted in some dear friendships.
"I got to know some people, and they became some of the best friends that I ever had in my life," he says. "I would find out all about them, what their lives are all about. And it's amazing how close you get to people when you're doing all of that."
He says he hopes he has a made a difference in the seniors' lives; he knows that have made a difference in his.
"A big difference, just by knowing people that I wouldn't know if I hadn't done that, people who are so important in my life," he says. "Anybody who has volunteered for a while will tell you that you get more out of it than you put into it. That's what the attraction is. It helps everybody. It's a win-win situation, but I think the giver gets more out of it than the receiver does."