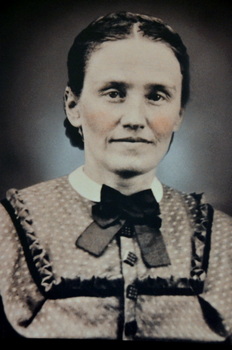 "It's such a joy!"
Sisters of Our Lady of the Holy Rosary gathered in Rimouski, Quebec, on Sunday, April 26, to celebrate the beatification of the congregation's foundress, Élisabeth Turgeon. It was a long awaited and long prayed for day.
"I never thought I would see it myself, but it's a wonderful joy," says Sister Juliette Michaud, RSR, who currently resides in Portland.
"We have been praying for her glorification, recognizing that she was an exceptional woman. I think the joy now is that we're not the only ones who know of her exception," says Sister Carole Jean Lappa, RSR, who lives in Old Orchard Beach.
"It is a joy to have achieved living to this day," says Sister Rita Bérube, RSR, the assistant postulator, who has been working towards the cause of canonization for 25 years.
The Rite of Beatification was celebrated at Saint Robert Bellarmine Church in Rimouski with papal legate Cardinal Angelo Amato, prefect of the Congregation for the Causes of Saints, presiding. Since the papacy of Pope Benedict XVI, beatification rites have been held in local dioceses rather than in Rome.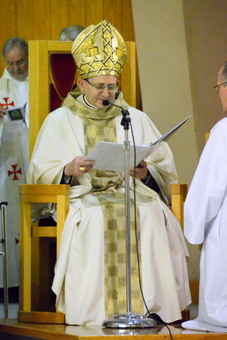 During the rite, Cardinal Amato read the apostolic letter with which Pope Francis declared that "the venerable servant of God, Élisabeth Turgeon, founder of the Sisters of Our Lady of the Holy Rosary, apostle of youth, witness of the charity of Christ, from now on will be called blessed."
A large portrait of the new blessed was then unveiled to the applause of all present, including Cardinal Amato and Cardinal Gérald Cyprien Lacroix of the neighboring Archdiocese of Quebec, who delivered the homily during the Mass.
"Our newly blessed, Élisabeth Turgeon, incarnates well the characteristics which lead to sainthood," he said. "We see the hand of God who has led her and prepared her for a great mission."
Blessed Élisabeth Turgeon was born Marie Élisabeth Turgeon in Beaumont, Quebec, in 1840. An intelligent child, she wanted to pursue her studies, but at the age of 15, her father died, forcing her to put her plans on hold so she could help her mother educate her four younger sisters. At age 20, Élisabeth received her teaching degree and, through her early years, held several different teaching positions. Her health, however, was always frail, and she was forced to leave due to illness. On one occasion, when seriously ill, she prayed for healing through the intervention of Saint Anne, promising that she would work for no salary at Saint Anne de Beaupré if cured. She became well enough to keep that promise.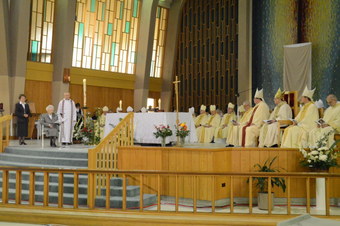 It was while there that Bishop Jean Langevin, Bishop of Saint-Germaine in Rimouski, asked Élisabeth to come to his diocese to help train a group of women to be teachers. The bishop recognized that there was a great need to educate the poor children of rural communities. Élisabeth declined twice because of her health, but after the bishop's third request, she saw in it the will of God.
"She saw Christ as a spouse to her soul and to whom she could refuse nothing. Her ambition was to give her life to follow the will of God as seen through the everyday events of life in the decisions of the authority and in the inspiration of the spirit," said Sister Rita, who related Mother Élisabeth's story during the Rite of Beatification.
Élisabeth arrived in Rimouski on April 3, 1875, and on September 12, 1879, she and 12 companions professed religious vows. Originally known as the Sisters of the Little Schools, because of their call to teach, they would later become the Sisters of Our Lady of the Holy Rosary. Mother Élisabeth worked to establish the congregation and became its first superior. She then sent sisters to teach in three poor parishes and also opened an independent school in Rimouski to prepare novices to become teachers.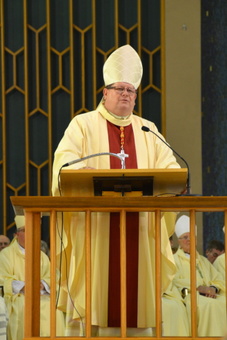 "She came in extreme poverty and with no commodities but with a lot of fire in her heart. And that's what changes the world. When you love God, you can love people, and you can do something good for them," says Cardinal Lacroix.
Blessed Élisabeth was known for her concern for the wellbeing of her fellow sisters and for how deeply she cared for the children.
"Charity was the unifying principle in Élisabeth's life," said Sister Rita, during the Mass. "She learned to love by letting herself be loved. She offered love to everyone."
Cardinal Amato says that self-giving is still needed in the world today, which is why he says it's important for people to learn of Blessed Élisabeth's gifts.
"Élisabeth was an apostle for the poor and for people marginalized by society. And now, we need such models of charity in the Church and in society. So, it's important that Sister Élisabeth Turgeon should be known by other people, by all the world, by the entire Church, because it's important that we should follow her example of Christian service," he says.
"We're not called to live on clouds outside the world. We're there to shine in the world, to bring light to the world, to bring Good News to the world, so Élisabeth Turgeon is a wonderful witnessing to that," says Cardinal Lacroix. "Some people are called to become saints in the family, others in education, others with the poor, others in hospitals. Every field needs good people with a heart that can love, with a heart that wants to serve. The Lord calls the people that He needs to that mission. She answered, 'Here I am Lord.' Jesus said to her, 'Give me your heart.' And she said, 'My heart is yours, Lord.' That says it all."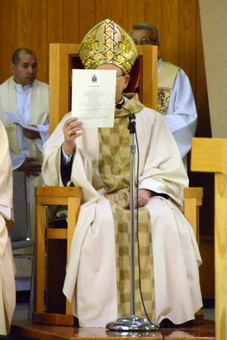 Although Blessed Élisabeth continued to battle illness throughout her life, she was known for her serenity, drawing strength from her closeness with God.
She wrote in an 1880 letter: "Say to Jesus: to be your Spouse forever, I must follow you along the road you have traveled. My thoughts will be lost in Jesus; my only ambition is to know Jesus."
"I was always captivated by her spousal relationship with God – how intimate a relationship she had with God," says Sister Maureen Bellerose, RSR, regional coordinator for the Sisters of Our Lady of the Holy Rosary. "She trusted Him so much. I think that was the energy she had. And I think that's been something that I really admired and that I've tried to follow."
Blessed Élisabeth Turgeon died on August 17, 1881 at the age of 41. Although it had only been six years since she arrived in Rimouski, the congregation she helped to found and lead continued to grow and flourish. Today, the sisters serve in eastern Quebec, Maine, Guatemala, Honduras, and Nicaragua.
"I think Élisabeth is an inspiration," says Sister Jeannette Roy, RSR. "She's an inspiration in the sense that she is an ordinary person who lived an ordinary life in an extraordinary way. And, to me, that is really an example that I try to follow."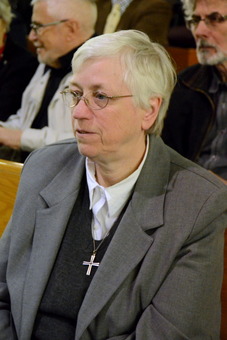 "She lived her life in such a way that she was affirming of children and of her sisters, of bringing out the best in people, of being gentle, and kind, and sensitive, solicitous towards other people, and that is still needed in our world," says Sister Rita-Mae Bissonnette, RSR, chancellor of the Diocese of Portland.
The Sisters of Our Lady of the Holy Rosary have served in Maine since 1899, when the first sisters crossed the Saint John River and arrived in Frenchville. Just a week later, on September 5, 1899, they began teaching. In 1938, they began teaching in Millinocket, and later, their ministry spread throughout Maine. Today, there are nine sisters serving here.
Sister Juliette, who had the sisters as teachers while growing up in Frenchville, remembers watching them walking outside the convent, praying the rosary.
"I used to say, 'They're so joyful and so loving to each other.' It really became a big interest for me, and that is what I try to be, too," she says.
Sister Carole Jean, who had the sisters as teachers in Millinocket, says she, too, was struck by their joy.
"They had a good sense of humor," she says. "Their caring for each other and caring for the students, that's what attracted me."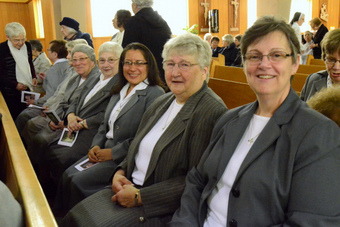 Sister Carole Jean says she still feels the presence of Mother Élisabeth today. She says, for example, the beatification brought back memories of her prayers to Mother Élisabeth after her mother suffered a debilitating stroke ten years ago.
"I would hold Mother Élisabeth's picture to my mother's throat, and I would say, 'Help Mom find her words. And, on four occasions, my mother was able to say, 'I love you,'" Sister Carole Jean recalls. "She said it to my sisters. She said it to me. She said it to my father. She said it to my father and me together. I attribute that to Mother Élisabeth."
Sister Ann Boyle, RSR, who professed first vows with the Sisters of Our Lady of the Holy Rosary in October 2012, says she turned to Mother Élisabeth while discerning her vocation.
"I just found Élisabeth to be such an amazing woman, and she is such a part of my life," she says. "I prayed so much to her in asking if it was meant for me to be one of her daughters, and she helped me through that."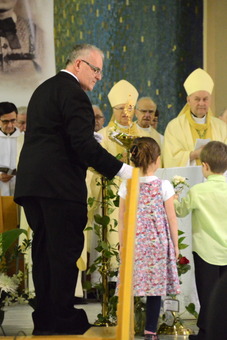 Mother Élisabeth was named venerable in 2013. On September 17, 2014, Pope Francis accepted a miracle attributed to her intercession, paving the way for her beatification. Michel Boucher from Trois-Pistoles, Quebec, was cured of terminal cancer after having sought Mother Élisabeth's intercession. Boucher attended the Mass during which the beatification was celebrated and was among those who carried relics of Blessed Élisabeth to the sanctuary.
In order for Blessed Élisabeth to be canonized, a second miracle, attributed to her intercession must be verified. That miracle must occur after her beatification. While the Sisters of Our Lady of the Holy Rosary will continue to pray for that day to come, there is already great cause for celebration.
"I think it is a validation of the life of Élisabeth," says Sister Rita-Mae. "It's an affirmation by the Church, beyond the recognition of the community, that she truly is someone to be emulated, a model to be followed."
"It's a real gift from God. She was such a humble woman, so it really means that the power of God is immense," says Sister Maureen. "It's like God is just speaking to us and saying, 'I loved this woman, and I love you people because you are continuing in her footsteps.' To me, it's an affirmation of the presence of God."