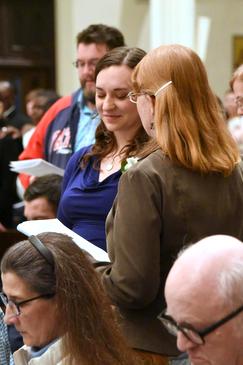 Four years ago, Megan Smith was a woman firm in her disbelief.
"I was adamant," she says.
She even remembers feeling sympathy for those who did believe.
"I thought, 'These poor, simple people.'"
But Megan is among 105 people around the Diocese of Portland participating in the Rite of Christian Initiation of Adults and preparing to be baptized and/or receive the other initiation sacraments and enter into full Communion of the Catholic Church.
"I am very grateful that I've found myself here, that I've been led here. I can't imagine being this happy," she says. "Life is always going to be hard. It's difficult. We live in a broken world, but I feel so incredibly grateful. I have amazing people in my life now, and I feel like I know the truth."
Now a member of Prince of Peace Parish in Lewiston, Megan says she was not raised with a connection to any faith. She says she tried a few Protestant churches but never felt they were the place for her.
Then, in 2018, she married Isaiah, whose parents, Don and Hollis Smith, are devout Catholics. Don is director of religious education at Immaculate Heart of Mary Parish in Auburn.
"So, in asking him, 'What do you do for work?' He said, 'I work in the Catholic Church.' And I said, 'Oh, really? You strike me as someone who is educated. Why would you be involved in the Catholic Church?'"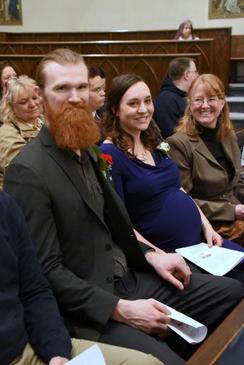 With what she describes as a very liberal education, she says things like science and democracy were what she viewed as most important. Faith didn't factor in. Looking back now, she says, "I was so arrogant."
One of Megan's passions is having deep discussions with people, so she readily engaged in one about Catholicism with Don and Hollis. It didn't turn out the way she expected.
"I got into these debates, these really serious philosophical, factual, historical debates, and I found out I was wrong. I had no idea what I knew. I would spout out things that I heard or things I thought I knew, and when I went back to try to research them to back them up, to say these are the real arguments, I discovered that I didn't know what I was talking about. All the things I knew to be true were not true," she says.
In addition, she says Don and Hollis proved to be beautiful Christian witnesses.
"I started talking with Don and Hollis and realized how incredibly sweet and kind and loving and educated and well-spoken they were," she says.
Over the next year and a half, she says she met others in the Catholic community and discovered Don and Hollis weren't the only ones who lived their faith.
"I found there are so many other people in the Catholic community who are loving, who are smart, who are kind, who are living the way that Christians should be living. I had never seen that before," she says.
She was also struck by the impression that an ACTS retreat had made on Isaiah. Baptized in a Protestant Church, he was already a believer in Jesus.
"I saw the impact that it was really having on him, that retreat, and how his relationship with Jesus was growing. It was shortly thereafter where it was like, OK, all the facts make sense to me," she says.
She read The Case for Christ by Lee Strobel and did research to find answers to her archaeological and philosophical questions. Hollis, who has a master's degree in biology, helped her with some of her questions as well.
"All the things kind of fell into place in order for me to say, 'Well, this really could be true,'" she says.
Not long after, she finally said, "All right God, you've got me.'"
Megan recalls, "It was a beautiful day. I remember lying on the grass, and there were ants crawling on me and stuff, but it didn't matter. I felt the sunshine on my face, and I just felt this overwhelming sense of love from God."
Looking back now, she says she knows it was God who guided her journey.
"It was only God. I kind of went into it always thinking that if I had to choose a god, if I had to say who my god was, who I worshipped, it would be love. Love is the most important thing on this planet. And I remember Isaiah kind of chuckled a little because he knew that God is Love, and so, I didn't know it at that time, but I was really worshipping Him."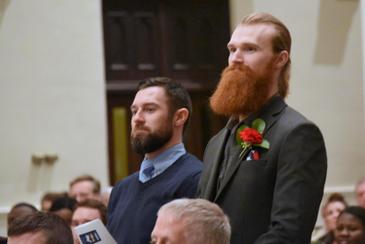 She says her passion for what she discovered also led Isaiah to join her on her journey to the Catholic faith.
"I was kind of like, 'Oh, my gosh, Sweetie, did you know this? Did you know that this is the case? And this is what Catholics believe and how this fits together? This is amazing how there are so many different layers. It's so magical,'" she says. "And he kind of took my hand, and we just ran with it together."
Megan says she is not the person she was four years ago.
"The journey has changed the way that I see my family. It's changed the way that I see strangers on the street," she says. "I look at people like they're creations of God, that they are so intimately loved as I am, and that I am called to love them the same way."
With a degree in medical biology, Megan says she was once driven by career aspirations. Now, having recently given birth to her first child, Maia, she is looking forward to being able to homeschool her.
"I never pictured myself in this situation, but that's exactly what I think is right for us and what I want for our kids," she says.
She says knowing that she is so deeply loved by God has given her a sense of peace.
"Even if no one else on this planet loved me, even if this community wasn't as amazing as it is and so loving and so kind and so heartwarming, even it wasn't, it would all o.k., because somebody loves me so intensely and so deeply, more than I could fathom," she says. "Looking at myself through that light has been beautiful. It's been really beautiful, and I am very grateful that I've found myself here."