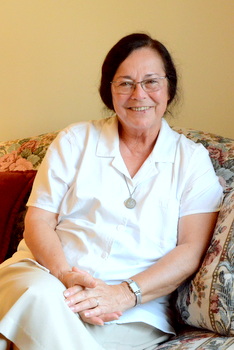 She's not a morning person, finds it challenging to stick to schedules, and doesn't like to feel boxed in, but for the past 50 years, Sister Aline St. James, S.C.I.M., has, nevertheless, thrived while serving the Lord as a Good Shepherd Sister of Quebec.
"I've done so much, and it's all been wonderful," she says. "They have been very happy and full and rewarding years."
Sister Aline says her approach to her vocation has always been to live one day at a time and to live each moment as fully as possible.
"The past is the past, and the future is the future. The only moment we have is today. So for me, it's lived fully," she says.
And it's lived with the conviction that God is always by her side.
"One of the things that is very clear for me is that my life is in God's hands," she says. "I know that providence will lead me to wherever I need to go. And I try to keep myself open to that."
She says she only asks one thing: "I said, 'You know, God, whatever you decide is fine with me. I just want you to let me know what you want.'"
Sister Aline has been a Good Shepherd Sister since she was age 19. She says she knew she had a religious vocation since age 10.
"When I really think about it and pray about it, it's very clear to me that, from the earliest time, God had reserved me for himself. There is no doubt about it."
She says the Good Shepherd Sisters of Quebec, who were her teachers while she was growing up in Lawrence, Mass., were always an inspiration. However, because she thought of them primarily as teachers, a field that didn't interest her, she explored other congregations. She sent out inquiries when she was just in the seventh grade.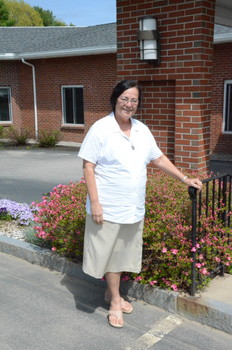 Although she could have started formation at that time, she decided to remain at home and attend high school, again with the Good Shepherd Sisters as teachers. It turned out to be an important period of discernment.
"There was one person who was always very special to me, Sister Marie Edna. Sister Marie Edna Fredette had been the provincial superior, and she used to visit us, and there was just something about her that made you feel so good about your life and yourself. And I used to think, 'I want to be like that,'" says Sister Aline. "She had a great devotion to baptism and inner dwelling. What gives you self-esteem is this deep relationship with God and the realization that we are special and important to Him. So, that is what really inspired me."
She also began working at Saint Ann's Orphanage in Methuen, Mass., during the summers, allowing her to see another face of the congregation. She discerned that that was where she belonged.
I said, 'I'm going to trust the Holy Spirit that I'm not going to end up as a teacher.'"
And, for the most part, she didn't, at least not in the classroom. Her first service was at Saint Ann's, which had become a residential treatment center for children, and then, after a brief time at Saint André Home in Biddeford and as a piano teacher, she served at Saint André Home in Lewiston, which was then a group home for teens.
"I really loved working there. I learned a lot from the kids," she says. "I learned acceptance. I think we always have great plans for people, but I learned it's the little things in life that count, the little growths that are important."
Although she enjoyed the work, she says she didn't want to wait to fall out of love with it, and when a good friend went to Brazil, it caught Sister Aline's eye.
"I felt a great attraction to Latin America," she says. "When the first mission opened in Haiti, I said, 'Oh, that's interesting.' And then, we opened one in Brazil, and I said, 'Oh, that's really interesting!'"
After spending time in vocations work and earning a master's degree in theology, she began her missionary work in Brazil, arriving in the coastal community of Natal in 1985. She says it was a tough transition.
"You have to learn the language. You have to learn everything," she says. "Even coffee was made differently."
The sisters offered both pastoral ministry and social programs in Natal, with a focus on helping women and children. She recalls, in particular, one malnourished three-year-old for whom they cared.
"Her mother brought her because she knew if she stayed with her, she would die like some of the other children she had had. So, she brought her to us, and we raised her. We still follow her. She graduated from college this year. So, we accompanied people like that, people who were sick, people who needed service, people whose lives were on the road to disaster, and we helped women to get a good education."
Sister Aline also provided catechesis to women in formation there.
After three years, Sister Aline moved inland to Jardim de Piranhas, a community she describes as being in "the middle of nowhere," where temperatures routinely hit 120 degrees. Describing herself as a "city girl," she wondered if she could adapt. She says it would end up becoming the happiest experience of her missionary life.
"We lived very close to the people, simple people, very welcoming," she says. "We influenced one another, and we grew together."
The sisters operated a social center and also were responsible for catechesis and pastoral ministry since priests would only travel there every two weeks for Masses.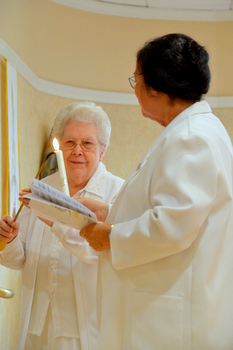 "We oversaw all the pastoral needs, the construction, everything under the sun you could think of," she says.
Sister Aline says every day 200 children would come to the social center before or after school.
"It was development for the kids, and it kept them out of work. Jardim de Piranhas is textile, it's looms, and there was an issue for a while with children working, but as long as we had the center, the kids would go there and would not be in the factories," she says. "The young people were with us all the time."
After six years, she returned to Natal, where she continues to serve.
Sister Aline says her 50 years of service have flown by. She says what she holds most dear are the relationships she has, "first of all with God, and with people, and with my congregation."
She says she has always tried to follow the guidance of the Holy Spirit.
"When I entered the congregation, I said, 'I'm going to trust the Spirit,' and I'm still trusting in the Spirit."
A trust, she says, she's never lost, even during difficult times.
"Whatever comes about, I know He is going to take good care of me. I have absolutely no fears. We've been through a lot together."
She reflects back upon something she felt in heart on the day of her first profession.
"God whispered something from Saint Paul, Romans 8:28: 'For those who love God, all things work to the good.' His word was, 'It will be my pleasure to bring about your good.' And He has done that. He has been very faithful