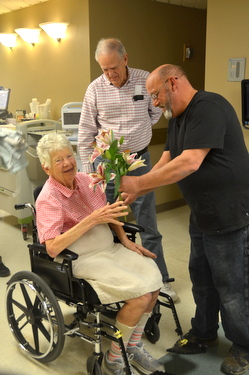 New Year's Eve 1954 was the beginning of a wonderful life together for Barbara and Eugene Fetteroll. They met on a blind date, married two and a half years later, and have been together ever since.
It made the decision they made last March an especially difficult one.
"It was a wicked tough thing to do, but when all else fails in life, when you can do the right thing, then you've done something. And we did what we thought was the right thing to do," says Gene.
The right thing for Barbara was moving into Saint Joseph's Rehabilitation and Residence in Portland. Barbara had fallen or nearly fallen on several occasions, the result of weakness on her right side caused by a ruptured cerebral aneurysm 20 years ago that left her in a coma for 11 days. Recent surgery to increase blood flow in her right leg, along with blockages in her left leg further compromised her stability.
"So, I would prevent probably one fall a week. Then, every other week, there would be a fall that I could cushion. Then, one fall a month, for some reason, I was looking over there, and Barbara just fell over," says Gene.
The couple decided that Barbara needed to be in a place where she would be safe. They chose Saint Joseph's because Barbara had stayed there while recovering from surgery several years ago and liked it.
Saint Joseph's Rehabilitation and Residence, which opened in 1975, offers long-term nursing and residential care, rehabilitation services, and care for those suffering from advanced memory loss. There is also a hospice suite with a private room and space for family. The residence is owned by the Diocese of Portland and managed by Covenant Health.
"When she came here, she was prepared, and I was prepared that this was going to be Barbara's new home. I call it her home away from home," says Gene.
Barbara's first 11 months at Saint Joseph's have done nothing to change their minds.
"It's more peaceful here, and if I had to move, I would be sad," says Barbara.
They say there are a number of reasons why Barbara has become comfortable in her new home.
"Compassionate care is at the top of the list," says Gene. "When you're asking for help, asking for something, you're always greeted warmly."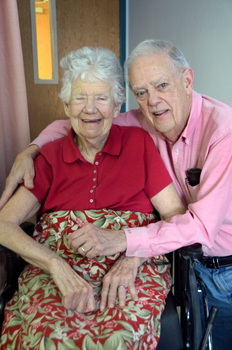 Barbara and Gene say the staff is attentive, something they appreciate since Barbara, a former nurse, hesitates to ring her call button. They say the rooms and floors are clean. Barbara enjoys the food. And, they're pleased that Mass is regularly celebrated.
"The Catholic presence here is one of the things that Barbara loves, and I do, too," says Gene.
Barbara and Gene say they are also touched by the many small acts of kindness on the part of the staff.
"A nurse or nursing assistant might give Barbara a hug or something like that," says Gene. "The woman who runs the food operation, Christina (Gooldrup), came over and said, 'I know you like milkshakes. Would you like a milkshake with your supper tonight? What flavor would you like?' Those things are above and beyond."
Gene says Christina even gave her personal DVD player to Barbara because she was no longer using it, and Barbara wanted to be able to watch movies.
Staff members at Saint Joseph's Rehabilitation and Residence say it comes down to one thing: living their mission, which is to "fulfill the mission of the Catholic Church to care for the sick, and to uphold and respect the dignity of all living persons."
"We care for and about our people, who happen to be sick. Obviously, we manage and treat their illnesses, but all our staff cares about and for the individual and who they are," says Rachel Loubier, director of social services.
"The heart is felt here," says Peggy Farrington, the administrator. "It's not work; it's caring for people."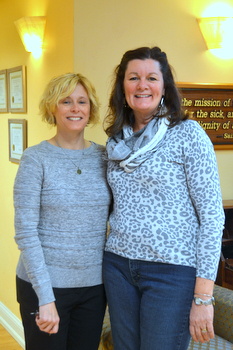 Farrington, who became administrator in July after previously serving on an interim basis, acknowledges that the residence has gone through some troubles in the past, but she says she has worked to establish an environment where the needs of the residents always come first.
"We make decisions for the right reasons," she says. "We don't do things perfectly all the time, but the decisions that we make are based on what is best for the residents."
That includes welcoming people who may have complex medical problems or limited financial resources.
"We are the place that takes care of the sick that no one else wants to take care of. We take care of people who can't afford to pay us. We take people who have some mental health issues that other places would say, 'Oh, no, we can't meet their needs.' But, because we live our mission, that's what we do," says Bonnie Smith, director of clinical services.
At the same time, they say Saint Joseph's is becoming more competitive in the marketplace and becoming more and more the place people choose when seeking long-term care.
"By actively competing and getting those residents here, that allows us to take more of the folks that aren't as affluent but need the care," says Bonnie.
"I meet with families on a regular basis who are looking to place their loved ones, and they admit to me that they originally think, 'Really, Saint Joe's?' And when they come in, and they meet with me, and they see the staff interaction, they leave the building, going, 'Wow,' this is where I want my mom to go.' It's palpable the care that is given here," says Sonya Thibeau, director of admissions and dementia education.
They say they work hard to find employees who embrace that mission.
"We don't lower our standards for anything," says Bonnie.
"I don't like it when someone comes in, and they're applying just because it's a job and a paycheck," says Jon Dahms, director of human resources.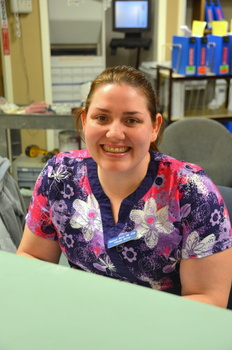 He says he looks to hire people who not only have experience but who enjoy being with the older population, employees like Vanessa Baird, a charge nurse who has been with Saint Joseph's for about two years.
"My mom used to be a CNA, so I used to go with her to the nursing home where she worked, and I fell in love with geriatric care. They are just so great with the stories that they tell and the things that they say."
Vanessa says she has noticed a difference at Saint Joseph's.
"The CNAs go above and beyond to get anything the residents need, and they really care. It's not just they're coming to work. It's, 'I'm going to see my residents today.' It's a home. It's a family."
And it's a feeling that extends through every department.
"Things happen here that make you stop and look and think, 'Wow, that's really great.' It could be the maintenance department taking a resident on a ride, taking them to the bank, or playing Yahtzee. It's not a place that's, 'Well, that's not my job,'" says Peggy.
The management team also strives to support the staff. There are educational opportunities including a Virtual Dementia Tour, which helps employees understand what it's like to experience memory loss.
"Education is big for us because that is where, for example, the aha moments come for people, guiding them in the right direction," says Peggy.
There are fun activities such as potluck dinners and the burger truck and s'mores cart that were brought in to celebrate a successful state and federal survey.
There is also a snow days program that allows staff to bring their school-aged children to work when school is canceled.
"We have a whole curriculum for them. We have a whole host of activities," says Bonnie.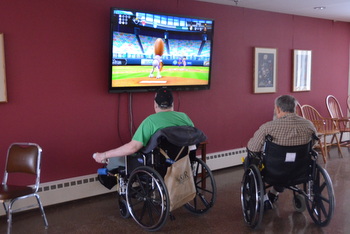 There are plenty of activities for residents, too, including arts and crafts, a Wii videogame system, and a puzzle always in the process of being pieced together.
"Just because someone moves in here doesn't mean they're still not interested in things," says Bonnie.
At Christmas, there was a party during which everyone got a gift. On birthdays, residents can request their favorite meal from their favorite restaurant. There is a knitting class led by a volunteer. Another comes in and plays the flute.
Then, there is nature's entertainment. Despite being in the city, Saint Joseph's is surrounded by wooded grounds, and it's not uncommon for deer to wander by.
Barbara and Gene enjoy sitting outside on warm days.
"The grounds are beautiful," Gene says.
In the courtyard, there is a memorial tree where residents gather to honor those who have passed away, adorning it with ornaments edible by birds and squirrels.
Although Saint Joseph's may not be the newest facility around, those who work there say it has something more important.
"Saint Joseph's has a heart. If a place doesn't have a heart, then no matter how pretty it is, how new the furniture is, or how aesthetically pleasing it is, you're not going to have a home-like atmosphere," says Peggy.
Something that hasn't gone unnoticed by residents like Barbara.
"If I had to move, I would ask, 'Why do I have to move?'" she says. "I love it."