Archbishop Peter Leo Gerety 1912-2016
Archbishop Peter Leo Gerety, who served as the eighth Bishop of Portland before being appointed Archbishop of Newark, died on September 20, 2016. He was 104 years old at the time of his passing, the oldest Catholic bishop in the world. While his age and still acute mind set him apart in his advancing years, what distinguished him as a priest and a bishop was his progressive leadership and his deep love for God.
"He loved his priesthood. He loved his Church. He loved his people. And he loved the Lord who made it all possible," says Father Stephen Concannon, who served as Bishop Gerety's secretary for five years.
There have been four bishops since Bishop Gerety was named Bishop of Portland on September 15, 1969, and many people may have little or no memory of his eight years of service here. But, a look around the Diocese of Portland reveals the great impact that he had.
"The diocese he left was very different than the one to which he had come," says Father Concannon.
Bishop Gerety was born in Shelton, Conn., on July 19, 1912. He was the oldest of the nine sons of Peter Leo and Charlotte Ursula Gerety.
After working for the U.S. Department of Agriculture and the New Jersey Transportation Department, he entered Saint Thomas Seminary in Bloomfield, Conn., and then was chosen to continue his studies at Saint Sulpice in Issy, France. He was ordained a priest at the Cathedral of Notre Dame in Paris on June 29, 1939.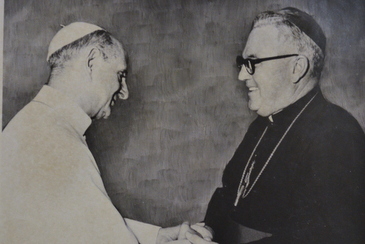 Father Gerety's first assignments were at churches in New Haven where he established an interracial social and religious center, the Saint Martin de Porres Center, which later became a parish with Father Gerety as pastor. He also founded the New Haven chapter of the Urban League and was a member of the Connecticut State Committee on Race and Religion and the National Catholic Conference on Interracial Justice.
Bishop Gerety brought his strong sense of social justice with him to the Diocese of Portland in March 1966, when Pope Paul VI appointed him coadjutor bishop with the right of succession to Bishop Daniel Feeney. He was ordained to the episcopacy on June 1, 1966, named apostolic administrator in 1967, and became the eighth Bishop of Portland in 1969 when Bishop Feeney died.
The Second Vatican Council had recently concluded when his Portland episcopacy began, and he approached the resulting changes with vigor.
Years later, he would remark, "To me, it was never a burden. We were bringing about the Vatican II vision of the Church as the people of God on a pilgrimage, with all us, laity and clergy, working together as brothers and sisters.
Building on initiatives begun by Bishop Feeney, Bishop Gerety worked to increase the involvement of clergy, religious, and laity in the leadership of the Church. He established the Diocesan Pastoral Council and the Priests' Personnel Board. He pushed parishes to establish parish councils and school boards. He established the Council for Women Religious. The Newman Center of Our Lady of Wisdom Parish came into being at the University of Maine.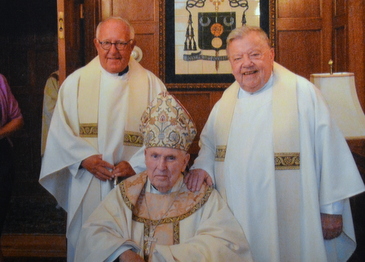 "He was a man who had a large vision for the Church," says Monsignor Charles Murphy, who was appointed director of education by Bishop Gerety. "Social issues were the hallmark of his episcopate."
While still coadjutor bishop, Bishop Gerety began studying the social needs of the diocese. It led to Diocesan Human Relations Services (DHRS), the forerunner to Catholic Charities Maine (CCM), becoming a statewide agency.
"During his time in our diocese, he devoted himself in a special way to the social teaching of the Church, particularly as it relates to the vulnerable and marginalized," Bishop Robert Deeley says.
Through DHRS, the Church began serving children, families, and the elderly around the state. The expanded role, however, did not come without controversy, according to Neil Michaud, the founding director of DHRS.
"I would be disheartened because of complaints that CCME/DHRS was growing too fast. He or I would receive letters to that effect from respected members of the faith, or we both heard it from various sources. In one session I had with him, he said, and I paraphrase, 'The Church is a divine institution, but it is also a social institution. It is our obligation to wield its power to do good,'" recalls Michaud.
In 1973, in his first pastoral letter, "The Day of Peace Restored," Bishop Gerety wrote, "The Gospel tells us who we are, who our neighbor is, by what norms we are to act, and with what service we must meet our neighbors needs."
During his episcopacy, the diocese built Deering Pavilion in Portland and Seton Village in Waterville, two senior housing complexes. It also opened Saint Joseph Manor, a nursing facility in Portland.
Those who worked with Bishop Gerety say his leadership style helped propel the diocese forward.
"He wasn't a micro manager. He gave you a job. He expected you to do it," says Father Concannon.
"He would give you a load of things to do, but his desk was clean, and he had a motto, 'Qui facit per alium ipse facit,' in Latin, whose translation was, 'Who does something through someone else, does it himself," says Monsignor Murphy, laughing. "That was his style of administration, and he was brilliant at it."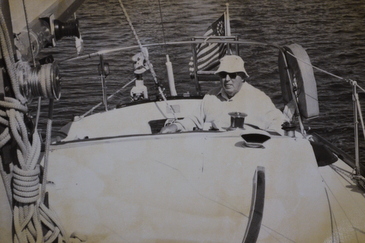 Nationally, Bishop Gerety chaired the American Catholic Bishops Ad Hoc Committee for Liaison with the National Office of Black Catholics. He also was one of five Americans who participated in an international gathering on racial discrimination.
While Christ and the Church were Bishop Gerety's great loves. He had two other passions: reading and sailing. He once wrote in The Church World, "As long as I can climb aboard, I'll continue to sail."
Even after being appointed Archbishop of Newark, he would return to Maine to sail the waters of Casco Bay and to visit friends. Although a naturally shy person, he treasured his friendships.
"For all my significant anniversaries -- when I retired from Holy Martyrs Parish, when I was 50 years a priest -- he came to Maine to be part of those celebrations," says Monsignor Murphy.
In 1974, Pope Paul VI appointed Bishop Gerety the Third Archbishop of Newark He was installed on June 28, 1974.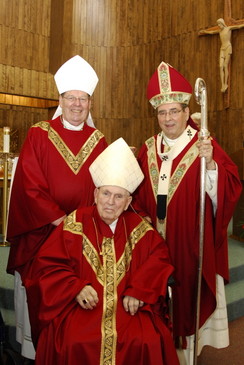 When he went to Newark, the archbishop found a diocese in financial trouble, and his first years there were challenging ones. During his 12 years as Archbishop of Newark, he oversaw a physical reconfiguration of the diocese and eliminated millions of dollars in debt. He also continued his social outreach, supporting Catholic Charities' initiatives, campus ministry, youth ministry, and outreach to the Latin American and Black Catholic communities.
"Peter Gerety was blessed by God with many gifts. He shared those gifts generously in his service to Jesus Christ and His church," says Father Concannon, who spoke at the vigil Mass following Archbishop Gerety's death.
"Archbishop Gerety was filled with love for the people he served," Bishop Deeley says. "He loved Maine: its priests, its people, and its beauty, especially the waters of Casco Bay where he loved to sail, and Maine truly loved him."