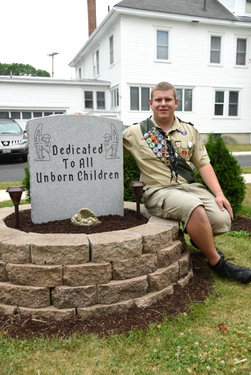 The grounds outside Holy Family Church in Sanford have been transformed into a memorial garden dedicated to the unborn thanks to the commitment of a 17-year-old, Joshua Guillemette.
"I wanted to make it a nice, peaceful place for people to come and relax," says Joshua. "You could go over and pray with Mary for a while because there is a bench in front of Mary, and then, you could come over and spend a couple minutes praying for unborn children."
When Joshua was looking for something to do for his Eagle Scout project, his attention turned first to his parish. In addition to being a Boy Scout with Troop 320 in Shapleigh, Joshua is active in youth ministry at Saint Thérèse of Lisieux, as well as being a member of the Catholic Youth Leadership Team (CYLT) for the Diocese of Portland.
Joshua says he has always felt strongly about the pro-life movement, but a youth ministry trip to the March for Life in Washington, D.C., really set his heart on fire.
"It was the most amazing experience of my life, seeing that many people there, united for one cause to stop an evil from happening. It was very empowering, and so, I wanted to bring that back to my parish," he says.
The idea for the memorial site came to him after he overheard Frank Pease, a parishioner, talking about moving a pro-life memorial to the church from Saint Ignatius Cemetery. Frank and his wife, Jean, are the Knights of Columbus pro-life couple from Maine.
"I was kind of, like, 'Why can't we have both, one in Saint Ignatius Cemetery and one at Holy Family Church?'" Joshua recalls.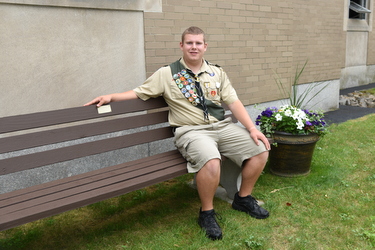 Joshua says he wasn't sure if the project would be accepted by the Eagle Board of Review but says it was warmly received.
"I was surprised because I thought it was going to be rejected because it was about this cause," he says.
Creating the memorial site involved months of planning. Joshua had to figure out exactly where it would go, what it would look like, what materials would be needed, and how to raise money and get help to make it happen.
He says Father Phil Tracy, pastor, provided valuable input, and he received a lot of support from his family and from fellow youth ministry members.
"They were a huge asset to me in this project. They helped me out tremendously," he says.
The memorial site includes a granite memorial to the unborn, two benches, four planters with flowers, seven emerald green arborvitaes, and two rhododendrons.
After getting the go ahead, Joshua's first step was to make room for the memorial, which meant removing an existing bush and digging up a stone, embedded garden and shifting it by three feet. He then had to dig a hole and put in a layer of crushed rock to provide for drainage around the memorial.
He says Springvale Nurseries gave him a discount on some shrubbery. Genest Concrete in Sanford gave him just about all the stone material for free, and Heritage Memorials of Sanford, where he purchased the headstone, donated engraving and gave him a discount on the monument itself, cutting the cost just about in half.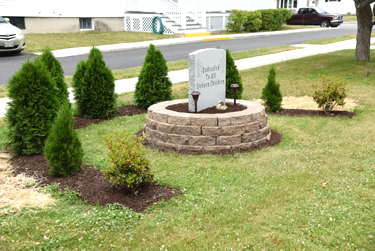 "I knew what I wanted it to say. I wanted it to be dedicated to all unborn children," Joshua recalls. "I picked out an angel that I liked. I brought it back to Father Phil because I wanted to make sure he liked it. I got his approval and then went back and told them what I wanted."
Heritage did the installation with Joshua looking on.
The site also includes two benches, one previously there, which was given a new coat of paint, and another taken out of storage.
"It was just sitting in a garage, pieces everywhere, so I took it home, painted it, and then installed it," he says. "It is in a shady spot most of the day, so it's a nice place for people to sit and just be able to reflect upon what this is truly meaning."
Joshua says he hopes the memorial garden will bring people some peace.
"I wanted to make this a good spot for people to have closure. I wanted it to be a comforting place where people know that we are praying for people who have died before birth because they have a soul just like we all do, and they all need to be prayed for."
"A wonderful benefit of this project is that it raises awareness of the injustice of abortion. This unfair treatment of innocent human life goes on all around us and is almost unseen and out of mind," says Frank Pease. "We are so happy he succeeded in this project."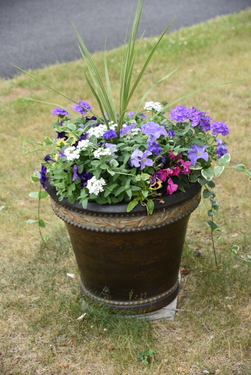 Joshua says it is his hope to have a memorial service at the site on September 10, the National Day of Remembrance for Aborted Children.
Joshua says he is discerning whether God is calling him to the priesthood. He says it's always been in the back of his mind, but he believes he was given a gift two years ago while participating in Eucharistic adoration. He says when he looked up at the crucifix above the tabernacle, it was almost as if Jesus had come to life for him.
"He was looking down at me, and we made eye contact for just a couple of seconds. I was frightened, so I turned away. And I ended up looking back, and we made eye contact again, and out of fear again, I looked away. And then, for the third time, I turned back and looked and Jesus had passed away on the cross, and then, I saw the spear go into his side. And I followed the spear down. I looked at the guard's face, and the guard was me who had pierced him in the side. And I turned away and looked back again, and it was the regular cross again. Everything had turned back to normal. So, ever since that happened, it's been a very strong calling to the priesthood."
Joshua says he intends to apply to enter the seminary after he completes his final year of high school. In the meantime, he plans to stay active in youth ministry, including serving again on CYLT. He also vows to continue to promote the pro-life cause.
"Something needs to be done because God is trying to work through people to create new life, but people are trying to put themselves in God's place," he says. "Everyone should have the life that God has given them."