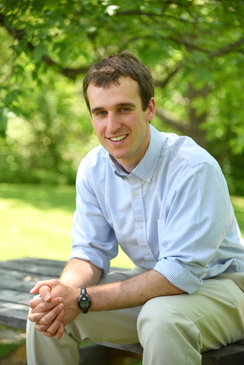 "It's nice to have you here."
It's a phrase that may not seem out of the ordinary. Yet, it was those words of welcome spoken by a priest, along the presence of campus ministry, which helped a young man reconnect with his faith.
Now, Matthew Valles, who is working on his graduate degree in physics at the University of Maine in Orono, is also discerning the priesthood. He has been accepted as seminarian for the Diocese of Portland.
"I think God is calling me to seminary and to try to be the best seminarian that I can possibly be: pastorally, academically, in human formation, and in spiritual formation," says Matthew.
Originally from Barrington, Rhode Island, Matthew came to Maine in 2009 to study physics at Bates College.
He grew up Catholic and especially remembers the joy he felt from participating in community service projects when he was a teenager preparing for the sacrament of confirmation and just afterwards. They included doing yardwork at a Carmelite monastery and a mission trip to Jamaica.
"I was able to see Jesus more clearly in the people around me and in the poor. Despite having very few things, they exuded a kind of joy that was certainly contagious," he says of the Jamaica trip.
Ironically, however, while embracing Christ's call to serve, he says he started to question the teachings of the Church.
"I thought they were too rigid in some ways. And I wasn't really taking time to explore the reasons behind the teachings," he says.
It led him to fall away from the faith during his high school and early college years. Then, while at Bates, he participated in an engineering internship in Boston. When four members of the group discovered that being Catholic was something they had in common. They decided to attend Mass together.
"That was how, I think, I came back to the Church," Matthew says. "I felt something really powerful and life-giving."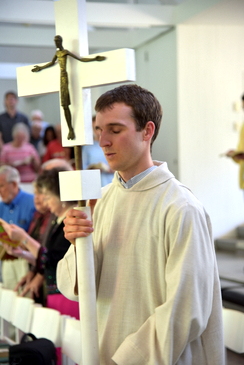 It led him to begin going to weekend Mass at the churches of Prince of Peace Parish in Lewiston and, each time, Monsignor Marc Caron was the celebrant. It was after the third Mass that Monsignor Caron greeted Matthew.
"He asked me about who I was and things like this, and then, 'It's nice to have you here.' I can hear him saying it to me now," says Matthew. "God speaks to us in a way that we'll understand, and those were the right words he spoke to me at that time."
Matthew says he started to walk away but then turned back and inquired about opportunities to serve at the church.
"The overwhelming feeling I had was that of peace, and that I had really found something that I didn't want to have to find again from a distance," he says.
Matthew became an altar server at the Basilica of Saints Peter & Paul and, later, would also serve when Mass was celebrated at Bates. He also began to go to confession again.
"I started to go every few months, and my grades got better. I was still struggling with things, but I do remember things were getting better at the time," he says. "I had a renewed sense of purpose."
He says he started to feel some sort of calling, although he wasn't sure what it was.
"At the time, I was really afraid. I didn't know what it meant," he says. "I'm starting to go to Mass more, wondering about the seminary but, at the same time, thinking maybe God is calling me to be an engineer but very involved in the parish. I really wasn't sure.
After receiving his bachelor's degree from Bates, he decided to pursue a graduate degree in physics. Although not his first choice, he opted to go to the University of Maine because of an opportunity to be a teaching assistant. It turned out to not only be the right decision academically but also spiritually.
"I didn't realize it until I got there, but I was seeking a Catholic community," he says.
Matthew became active in all aspects of campus ministry. He attended the Wednesday night dinners, participated in eucharistic adoration, began altar serving, and joined, and later led, a Bible study group.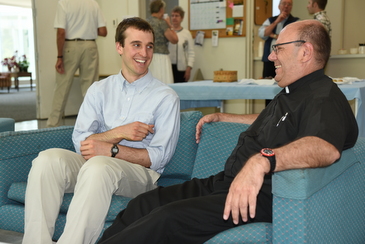 Matthew credits the guidance of Father Bill Labbe, campus chaplain and the diocesan coordinator of the Office of Campus Ministry, and the arrival of FOCUS missionaries. FOCUS, an acronym for the Fellowship of Catholic University Students, is a nationwide program that has been placing young adult missionaries on campuses since 1998.
"From talking with them and spending time with them, I started to become more intentional about seeking Jesus in the Catholic Church, not just the Catholic Church but Jesus in the Catholic Church, such that my faith has grown immensely since the time they came to the university," he says. "I'm very grateful that they are present."
Since the FOCUS missionaries arrived in the fall of 2015, Matthew says he has become increasingly devoted to prayer and to communicating with God. He also developed an increased devotion to the Blessed Mother.
"The FOCUS missionaries going to the university, under the guidance of Father Bill and this diocese, I think, led to an increase in devotions, and students turning inward into looking for guidance from the Holy Spirit and acting on campuses as disciples of Christ. This came in the form of more students, including myself, leading Bible studies, service projects at the University of Maine, a willingness, I think, to share Jesus with other people, and a greater love for Jesus and the Eucharist."
Father Bill says that Matthew became a mentor to many of the younger students.
"Matthew has been a leader in this community, just quietly a leader, very generous with his time and his talents. He is very pastoral, gentle," says Father Bill. "The way I describe Mathew is that he is just very kind, and he's kind in a way that's not ordinary."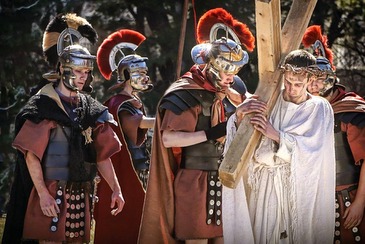 One of Matthew's most memorable experiences was taking on the role of Jesus in Saint Paul the Apostle Parish's annual Palm Sunday Way of the Cross Community Procession, which begins at Saint Joseph Church in Brewer and concludes at Saint John Church in Bangor, 1.6 miles away.
"It was really powerful but, also, very simple," he says. "What made it really amazing was the crowd that came out and the prayer with which everyone did the things they did. I was really blessed to be a part of it. It was a really great honor."
He says one of the most moving parts for him was when the weeping women came to be by the cross.
"One of them was really crying. She was really crying. It was hard for me to see. I felt so bad," he says. "Just in that moment, it was very raw."
Another difficult moment was when he fell for the third time, and the cross bounced and landed on his hand.
"I was slowly pulling my hand back and just crying. There was nothing else I could do."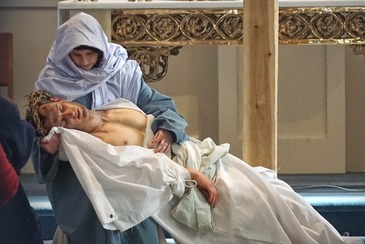 He says he was thankful that one of the men playing a legionnaire helped him up.
"I picked up this cross, and I said, 'I can do this.' Then I walked inside (Saint John Church) and saw the stained-glass window of Jesus with Mary and John," he recalls. "I saw Jesus, and as I looked up, He was smiling at me, and I was smiling at Him. And I walked the rest of the way down and then finished all of it."
Reflecting back on the experience, he says, "I will never look at a crucifix the same way again."
When he participated in the Way of the Cross, Matthew had already started the application process for seminary. He says, although he liked research and teaching, he did not feel he was making use of his gifts in the way God had intended. He says it came down to what he could and couldn't live without.
"If I don't have spirituality, I have nothing. I have absolutely nothing. I guess this was affirmed by the Way of the Cross procession. I wouldn't have been able to get through it if I didn't have the means by which I've been able to communicate with God on this journey," he says. "My prayer life feeds everything I do."
While Matthew believes his path may lead to seminary, he says he knows it's really up to God.
"I think I should let God decide more about this," he says. "And, I should let the Holy Spirit guide me."