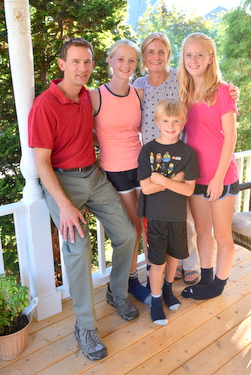 Ask 8-year-old Henry More what stands out the most from the years he attended Saint Elizabeth's Child Development Center in Portland, and he'll give you a definitive answer: "John's shepherd's pies!"
His older sisters, Isabella & Annika, remember John Capizzo's cooking, too.
"I loved the food. The food was really good," says Annika, age 14.
The family-style meals were just one of the many touches that made Saint Elizabeth, operated by Catholic Charities Maine, so special to the More family.
"It was just, overall, a comforting place," says Abigail More.
Abigail and Brooks More moved to Portland when their twin girls were just six months old. With no family in the area to help them out, they looked for child care.
"He was working, and I was working, but I was also in school part-time," says Abigail.
The girls started at Saint Elizabeth's when they were 18 months old. The Mores say they were fortunate because, at that time, they qualified for subsidized care.
"It was in my first job out of graduate school, so I wasn't making a lot ," says Brooks.
"It allowed me to be able to go back to school, as well, and be able to start and complete a graduate degree," says Abby.
The couple say they wanted a place for the girls that wasn't overly institutional. Nor did they want an in-home day care. Saint Elizabeth's was a perfect fit.
"There was a very homey feel to it. It's an older building, so it feels like a home. It feels well-worn, but in a good way, not like you're dropping them off in an office building," says Brooks. "So, initially, it felt very comfortable and very safe, and then, as they got older, when they got to their final years, it really felt like they were getting a great early education."
The Mores remember how emotional it was when one of the teachers held a goodbye ceremony when it was time for their girls to leave and move on to kindergarten.
"Both Abby and I just broke down in tears," says Brooks. "It was just such an amazing place."
So much so that when it was time to look for day care for Henry, there was no doubt where they would turn, even though they no longer needed financial assistance.
"That was the natural place to put him," says Abby.
The Mores are among hundreds of thousands of people who have benefited through the years from the services of Catholic Charities Maine, which is celebrating its 50th anniversary. From the beginning, the agency has been dedicated to helping individuals and families wherever there has been a need, embracing Christ's call to serve others.
"I feel that Catholic Charities has really been the light of Christ for people, even if they don't ever set foot in a church. Maybe they would never even have an encounter with Jesus if it weren't for our programs," says Stephen Letourneau, Catholic Charities Maine CEO. "Well before Pope Francis ever said that he wanted a Church that 'has been out on the streets,' the reality is that we have been in the streets, working with people who are in need."
Catholic Charities Maine was established in August 1966 as the Diocesan Bureau of Human Relations Services (DHRS), but its roots go back about a decade earlier. In the mid-1950s, the Diocese of Portland had a variety of social programs across the state. Among them were six orphanages, three summer camps, a home for pregnant women, two homes for the elderly, and two Bureaus of Catholic Social Services, one in Lewiston and one in Bangor. Some were run by religious communities, some by independent boards, some by pastors, and others through the bishop's office.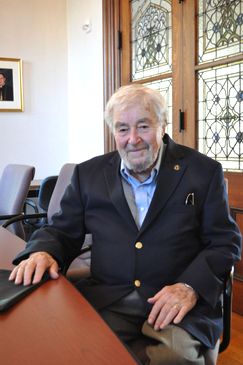 Neil Michaud, the founding director of DHRS, first worked at the Bangor bureau, where he tried to bring cohesion to the programs in that area. He then moved to the Lewiston bureau, where he worked with and later succeeded Father Jean Paul Cossette, O.P., as director.
Michaud says both he and Father Cossette strongly believed in the need for a diocesan-wide program, a sentiment they shared during meetings with Bishop Daniel Feeney.
"How do we get that sleeping giant, that social and divine institution, which was part of our beloved state of Maine, moving forward and walking with other people to meet human needs?" says Michaud. "Isn't that what Christ demanded?"
While the bishop didn't disagree, there was an obstacle. The diocese had to borrow deeply from banks during the Great Depression, and parishes had been heavily taxed to eliminate that debt. Although it had been recently paid off, Bishop Feeney didn't want to immediately fund a new effort.
"He said, 'I want to give the pastors relief from those years that they've had to deliver money.' So, he said, 'I'll file this, and your agency will be the model upon which we build, whenever we're ready,'" recalls Michaud.
Michaud says there was some opposition to a statewide agency. Because of lingering anti-Catholic sentiment, some believed it was best to keep the Church's work low-key. Others doubted the need, saying the diocese would just be duplicating services already offered by secular agencies.
The turning point came in 1965 when Michaud says two things occurred. First, there was a decline in contributions to a greater Portland Catholic appeal that had been established in the 1930s to support Queen's Hospital, Holy Innocents Home, and other Portland area institutions. Michaud says the perception was that there was nothing new going on. In addition, a study of human services in the region conducted by the Greater Portland United Way criticized some of the diocese's programs for being outdated.
"This was Bishop Feeney's hometown, so he was chagrined about all this," says Michaud. "Monsignor (Vincent Tatarczuk) came to me … and he said, 'The bishop is ready, and he wants you to start it.' I said, 'Start what?' He said, 'What you've been talking about for years.'"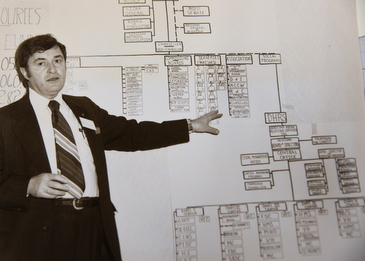 It was Bishop Feeney's wish that DHRS first be set up as a Portland agency. Its offices were located in Guild Hall at the Cathedral of the Immaculate Conception. The agency's original budget was $50,000. The first services offered were individual and family counseling. Katherine Cronin, a full-time caseworker, was hired. As word spread, requests flooded in, and the staff grew to four.
It was Bishop Peter Gerety, who had been named coadjutor bishop in March 1966, who pushed forward the statewide expansion. He instructed Michaud to undertake a survey of all the diocese's social and health programs. Given three months to do it, Michaud set up task forces around the state.
"This is post Vatican II. I never had problems recruiting the laity, the priests, the nuns in the process because they were part of the spirit of the renewal. They just came forward," says Michaud. "The Decree on the Apostolate of the Laity, the decree on respect for other religious denominations (Nostra Aetate), and the Decree on Ecumenism were really ammunition to build up social ministry."
Michaud submitted his report in January 1967, and within months, district offices opened in Caribou, Bangor, Waterville, Lewiston, Portland, and Biddeford. Michaud says each district was responsible for developing its own bylaws and board. Each individual program also had its own board.
"I wasn't going to build Catholic Charities from a bureaucratic point of view. I wanted to build it from a community point of view, at the grassroots level. They were the ones who had to decide how to shape it," explains Michaud.
He says that only partially worked because it was the central DHRS office which would end up negotiating for grants and contracts. He says, from the start, the agency worked in close partnership with the local, county, state, and federal governments.
"In those days, the government looked at us as grassroots folks who had entered into partnerships with them," he says. "It was an integrated endeavor."
He says every dollar given to DHRS by the diocese was matched with three from the state.
"The bishop would give me the dollars; I would give them to the state. They would come back with $4 as a contract. Now, that's what they call the multiplication of the loaves. That's the way most of our programs grew, be it daycare, homemaker services, foster homes," he says.
In five short years, the budget grew from $50,000 to $2.5 million.
At times, the government approached Catholic Charities about setting up programs. That was the case with Educational Services for Blind and Visually Impaired Children, which Catholic Charities has been offering for more than 40 years.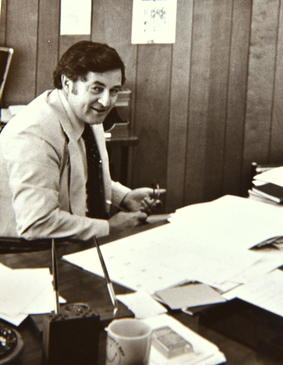 "They needed a qualified, efficiently run and trusted agency to take over this state service because they didn't have the capacity to do it, so we accepted that call," says Letourneau. "A lot of it is community need, being a good partner with the state, federal government, and local governments in addressing needs that are at the community level. As long as it fits our mission, if there is a need, and we have the capacity to do it, then we are going to take a serious look at it."
It is because of those partnerships and the direct connection to community need that Catholic Charities' work is so diversified and why programs offered in one part of the state may not be offered in another.
In those first years, many of the diocese's existing social programs began to evolve. Saint Elizabeth's Orphanage became Saint Elizabeth's Child Development Center. Holy Innocents Home, which provided care for orphaned infants, transformed into homemaker services, taking advantage of money from the Model Cities Program, an element of President Lyndon Johnson's War on Poverty.
"To receive a homemaker, you had to have a child, or children, be low income," explains Michaud. "Mom has to go to the hospital. Who is going to take care of the kids? Dad can take care of them at night, when he comes home from work, but who is going to take care of them during the day? A homemaker comes in."
The homemaker program was the first to expand to other areas of the state and remains one of Catholic Charities' largest programs, although its focus now is to heling seniors and people with disabilities.
Other programs would soon follow in the late '60s and early '70s. They included outreach to Native Americans; the Jesse Albert Memorial Dental Center in Bath; the Saint Louis Child Development Center, which was formerly an orphanage; Refugee & Immigration Services; the Saint Francis Recovery Center; the S.E.A.R.CH. program, which provides companions for seniors; and many others.
"It was like awaking a sleeping giant," says Michaud.
Eventually, those original six districts of DHRS were pared down to three regions. In 1993, the name was changed to Catholic Charities.
From that first staff of four, Catholic Charities Maine has grown to an agency with nearly 700 full-time and part-time employees. It now has more than 20 programs, which served more than 55,000 people last year alone. Letourneau says while the numbers are significant, what is most important are the outcomes.
"How many people did we actually help resolve what led them into poverty or whatever problem they are experiencing? That, to me, shows an effective agency that is actually changing lives," he says.
Invaluable in Catholic Charities' work are nearly 600 volunteers who, this past year, gave more than 46,000 hours of their time last year. Larry Lachance of Lewiston is among them. He has been volunteering with the S.E.A.R.C.H. program for 38 years and has the difference it makes.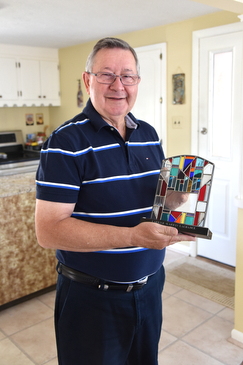 "There are elderly who are isolated without family. Or, if they have family, they may not pay attention to them, and sometimes, we're the only source of outside contact," he says. "It's very much needed."
Lachance began with S.E.A.R.C.H. when the program was just getting started. He says he was looking for a volunteer opportunity when a priest mentioned it in his homily. Lachance's first client, whom he assisted for 17 years, was an immigrant from Lithuania.
"He was somewhat agoraphobic, never left his apartment. He had no relatives, a few friends, but they lived out of town mostly," says Lachance
Before he started helping out, Lachance says the man used to knock on his window to alert passersby, with whom he was acquainted, when he needed something from the store such as milk or bread.
Lachance did grocery shopping for him, occasionally took him to medical appointments, and spent time with him
"We had many chats about his role in the war," says Lachance. "He was an Underground fighter in WWII. He was actually in a concentration camp for a while."
"Once, he wanted a butter dish for two sticks of butter. It could not be decorated in any way. It had to be pure glass, no plastics," says Lachance. "He wanted a blanket. It had to be pure wool."
Lachance says, it was worth it.
"I knew there was a need there. There was no one else."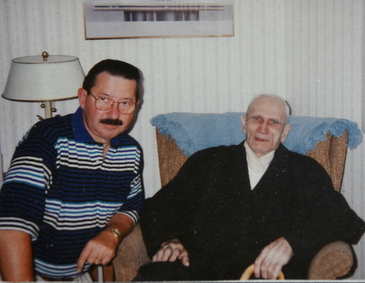 He says the man became like a member of his family.
"Thanksgiving, we would bring him a nice plate of turkey with all the fixings. I would usually bring a daughter or two, maybe all three. He loved seeing them," says Lachance. "On Christmas, we would always buy him a gift or two."
Lachance remained active in the S.E.A.R.C.H. program after the man died. He has served as chairman of its advisory board, and now, he has a new client.
"The man is blind, lives alone in his apartment, and I take him to Walmart for groceries and other things. He's a very nice man."
Lachance says while it is a commitment, it is also extremely fulfilling.
"It makes you appreciate what you have," he says. "It's helping your fellow man, literally and physically."
While the programs of Catholic Charities are varied, that is one thing they share in common.
"Our mission is centered around the Gospel of Matthew 25. It comes down to basic needs. We're helping people by feeding them and clothing them. We're welcoming the stranger," says Letourneau.
As Catholic Charities grew, so did, unfortunately, the distance between it and the people in the pews. Letourneau says a legacy he would like to leave is to bring them together again.
"I want Catholic Charities and the Catholic Church to be seen as one," he says.
It is one of the reasons why he launched the Parish Social Ministry program, through which Catholic Charities works with parishes to help them identify and meet the needs of their own communities.
"We wanted partnerships with parishes because if someone from Fort Kent called Catholic Charities in Portland, Maine, and they are down and out, there is only so much we can do to help from Portland," he says.
Letourneau says the mission of Catholic Charities is one we all share.
"It's really the work of the Catholic Church that Jesus has called us to."
He says he is pleased with what Catholic Charities Maine has been able to accomplish since it began in 1966.
"I think, over the past 50 years, Catholic Charities has been a strong voice for the poor. We have been strong in advocating for programs that really, truly can help change lives. We've been a voice for people who, oftentimes, can't speak for themselves or can't stand up for themselves," says Letourneau. "We have been a transformative agency for thousands of people that were kind of beyond hope."