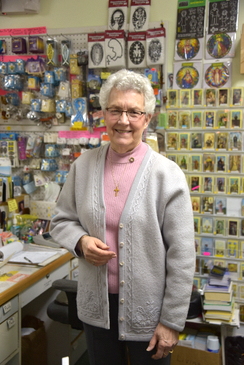 Enter the St. Thomas Aquinas Gift Shop in Madawaska and you will be surrounded by faith-inspired treasures filling every shelf and tucked into every corner.
"You could spend a week in here and not see everything," says Lee St. Onge, who manages the shop.
There are crucifixes in many sizes and styles.
"I have some beautiful crucifixes," says Lee. "I don't know how far you would have to go to see that many."
There are cards for just about every religious occasion.
"I have priest appreciation and ministry appreciation cards, ordination cards for deacons and priests, ordination anniversary cards, priest birthday cards, wedding anniversary cards, baptism cards," Lee says.
There are Nativity scenes and nightlights, plaques and puzzles, statues and stuffed animals.
"I love my little bears," says Lee. "They say, 'Bless this child, godchild, goddaughter, and godson. The guardian angel one has wings. I have the pink, the blue, and the white.
And there are CDs and books with all ages in mind.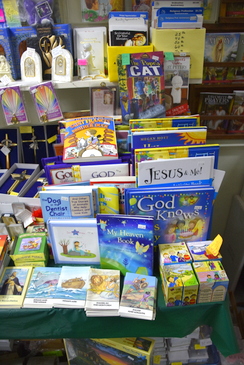 "I have beautiful books about the saints. I have Bibles for toddlers to adults," says Lee. "There are nice stories for kids, like this one, The Look and Find Book of Bible Stories. You look in there, and you have to find different pictures, the kids have to find different pictures."
The gift store first opened in 1993 under the leadership of Janet Brown. In 1997, Muriel Raymond, another parishioner, took over, but when she passed away, the parish needed someone else to step forward. Lee, who had recently retired after 41 years at the Fraser Paper Mill, saw a notice in the parish bulletin in 2004 and decided to give it a try.
"I always aspired to have a little business or something, so I said, 'Hey, I would be working for the Lord. This would be great.'"
Lee faced an immediate setback. Water in the basement of St. Thomas Aquinas Church sent her searching for a new location. She turned to a neighbor who let her use space in a building he owned. Seven months later, when that building was sold, the store moved back to the basement but to a larger room. Lee painted the walls, and a friend, Eileen Madore, helped her set up shelves and move items. Lee also built carts for books, so they could be wheeled out from under counters for easy viewing.
Lee says operating the gift store is a labor of love.
"Love is an understatement," she says. "I spend weeks in catalogs going through things, and then hearing what people would want and what their interests are."
As she flips through catalogs looking for things to buy for the store, she says she has one goal in mind.
"I look for something that will catch my eye, something that I hope will bring people deeper into their faith. I keep hoping to bring people back to church," she says. "People don't realize what they're missing. They don't realize the love and everything that Jesus did and does for us every day. What we all have to recognize is all the miracles that happen in our lives every day."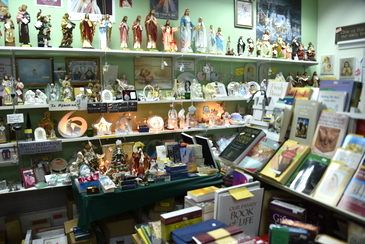 Lee says she wants others to know the presence of God in their lives because He has made such a difference to her. She says she has received many blessings but has also had her share of struggles, and the Lord has been by her side for both.
"I've been through quite a few trials, and I've survived them through His graces, through His mercy, and through His help," she says.
Lee's faith is rooted in her upbringing. With a packed household at her grandparents' house in Canada, where both her family and an uncle's family lived, she went to stay with an aunt and uncle in Madawaska who didn't have children. Eventually, it became her primary home.
Lee says her aunt was a woman of deep religious belief.
"She was very faithful to the Church, a very firm believer. She went to church every Sunday for sure. Back then for midnight Mass, the churches were packed, and the little kids weren't supposed to go because they wanted to keep the places for adults, but she always brought me to Mass," recalls Lee. "I loved to go to midnight Mass. I always liked the church. I was always close."
Lee's uncle passed away when she was just six years old. Then, when Lee was 24, her aunt died as well. That, and a battle with breast cancer at age 37 brought her even closer to the Lord.
"Through God's mercy and love, I made it through," she says.
Lee says she was fortunate to have the support of two close friends.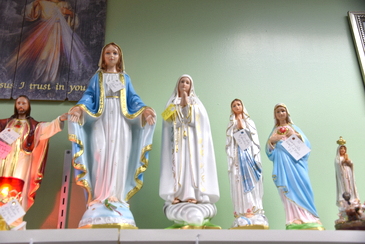 "We were there for each other, whether it was good times or bad times. They lost family members. I lost family members, and we knew we could count on each other," she says. "We prayed together. We traveled together. We laughed together."
Then, in April 2000, as they were returning home from an outing, Lee lost them both. The car she was driving collided with a tanker truck, killing one of her friends instantly. The other died two weeks later.
"The cancer was something. Losing my aunt was something, but that accident was the straw that broke the camel's back," she says. "They were like sisters to me."
Nearly 20 years later, tears still come to her eyes when she shares the story.
"It's hard. It's very hard," she says. "I'm blessed because I still have very good friends, but those two were something else."
She says she could not have gotten through the ordeal if it hadn't been for Jesus.
"Had He not been there, I don't know what I would have done, but I had faith before, and I knew that He would there for me, and He was," she says. "I was close to Him before, but that really nailed it."
She says God was present in the many people who supported her, including her friends' family members and a priest who visited her daily and brought her Communion.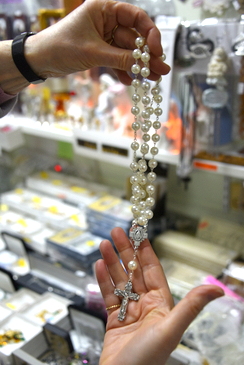 "You just have to recognize He is there," she says. "I know there are a lot of people hurting out there. There are a lot of people who need the Lord in their life, and unfortunately, a lot of them don't know that He is there for them. It's sad."
She says the accident brought her closer to her parents and to her church community.
"They say when God closes a door, He opens a window," she says. "That's when I became a eucharistic minister. I was already in the choir, but I got involved in the Church as much as I possibly could."
In addition to running the gift store, Lee continues to serve as an extraordinary minister of holy Communion, sings in the choir at funeral Masses, prepares meals for funeral gatherings, and serves on the parish's Church and Grounds Committee. She is also a member of the Daughters of Isabella.
"Lee's own spirituality is reflected in her service to others and her long dedication to the gift shop," says Father James Plourde, pastor. "We are so grateful to her."
Lee's generous spirit has led others to volunteer as well.
"It's very hard to refuse her, but it's giving back," says Terry Ouellette, who has volunteered for two years. "It's almost selfish to say that I am volunteering, because you come here, you relax, you get customers, you talk with them. It fills your morning."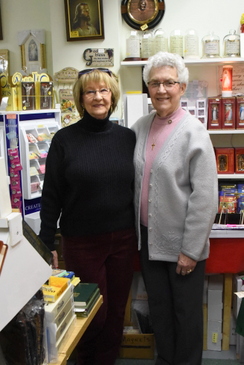 "The first reason I started to volunteer here is because of Lee," says Anne Ouellette, who has worked at the store for more than a decade. "It brings me closer to God. I love what I'm doing. I feel that I have to try to return some of the things that He did for me."
There are 16 volunteers who operate the shop Mondays through Thursdays 9 a.m. to 3 p.m. and Fridays 10 a.m. to 3 p.m. The store is open from September through June. If you happen to visit at a time when it is closed, Lee emphasizes that she is just a phone call away.
"I put my name and phone number on the door and in the bulletin, and if anyone wants to shop for anything, they give me a call, and I come down," she says.
In fact, she points to the gift store as the primary reason for her new smartphone. It allows her to be reached more readily, plus it makes it easier to promote the store on Facebook.
Profits from the gift store support St. Thomas Aquinas Church, which is undergoing repairs, including getting new stone steps.
"Anything we can do to help in this cause is our reward for the efforts put in," Lee says.
Lee, however, remains focused on a more far-reaching goal.
"I keep hoping that we're going to fill the churches again, like it used to be," she says.
So, if you're looking for something to enhance your own faith life or to help a loved one, stop by and let Lee or one of the other volunteers be your guide.
"I think I've got the most beautiful collection of rosaries," she says. "I have the miraculous medal rosary, where all the beads are miraculous medals. These are the tears of Mary. Each bead is made like a tear. I have it in pink and amethyst. Here, we have bracelets. …"
If you would like to visit or learn more about the store, give Lee a call at 207.728.4346.