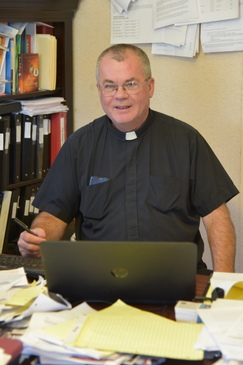 Stacks of paperwork surround Deacon Al Burleigh as he sits at his desk at Saint Mary of the Visitation Parish in Houlton. On the sheets, are the stories of people he has helped or those he hopes he can.
"I have a small territory to cover. It's Aroostook, Washington, Penobscot, Piscataquis, and Somerset counties," he says.
Deacon Al is an outreach specialist for Catholic Charities Maine's Parish Social Ministry. His job, simply put, is to serve others.
"I have a beautiful job," he says. "I am so blessed. There is no question about it."
Deacon Al visits parishes from Madawaska to Machias offering them support and guidance with their social ministry programs. He has worked with parishes on nearly 30 direct service ministries and has started five new ministries, training more than 900 parishioners.
"I just encourage them," he says. "Catholic Charities has a lot of programs where we can go into a place and do a little workshop for whatever ministry they want to try or change."
He also handles requests for emergency assistance that come in from northern and central Maine residents.
"When someone calls in, and they have a true emergency, and they have already tried all the other avenues, all the other nonprofits and the state, then we'll work with them and see if we can provide some financial assistance to get them out of the situation they're in," he says.
The requests vary, but often, they are from someone needing help paying the rent or electric bill.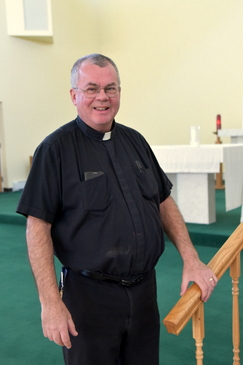 "Last winter, they ran out of fuel, so they turned on electric heaters to stay warm, and they can't pay back what they owe, so the electric is going to be shut off," he explains.
Sometimes, requests are for other necessities. For instance, a Millinocket area family's refrigerator stopped working. A Bangor man needed a new bed after his dog poked a hole in the air mattress he had been using.
"(Deacon Al) got me really enthused about getting a bed to sleep on, and he got me a box spring and mattress, and I have them in my bedroom on the floor right now and am enjoying it," says Albert Walker, age 71. "When he said he was going to get it, within a week, he had it. And he delivered it himself! He was a very, very kind person."
Catholic Charities' Parish Social Ministry is supported through the annual Catholic Appeal, but finances are limited, so Deacon Al knows he has to use them wisely. Even when he has no money to give, he says he can still listen and pray.
"Some days, sadly, the phone will ring off the hook, and I'll say, 'I'm sorry. I can't help you, but I will pray for you.' I say, 'Call back. Maybe next week, I'll have a donation, and I'll be able to help,'" he says. "I tell people, 'Tuesday nights, I'm at charismatic prayer at church, and we're going to pray for your situation.' Believe it or not, I'll get calls back, and they'll say, 'Thank you for praying. You wouldn't believe what happened.'"
Deacon Al also offers prayers and Masses for the many community members who support his work.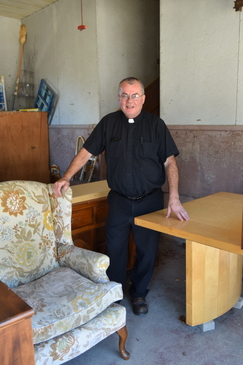 "People are so good. I have a gentleman that, every now and then, he cleans out his piggy bank, and every time he gets $100, he says, 'O.k., go help somebody with this money.' And other people are like that, too."
Deacon Al has the church garage stuffed with items from desks to dolls that people have donated and which he sells to raise money.
And when it comes to providing something like Mr. Walker's bed or the Millinocket family's refrigerator, he always seems to be able to make a connection.
"God works in wonderful ways. I put out the word that I'm looking for a refrigerator, and somebody says, 'Hey, I just updated mine, and you can have mine,'" he says. "At a motel, I got a double bed, box spring, top mattress, and they gave me this nice, foam cushion that would fit over the top of it."
Deacon Al stresses, however, that it's not just about giving out money or materials goods. It's about improving someone's situation. That is why Catholic Charities, working with KeyBank, has developed a financial mentoring program, which is offered at Saint Mary of the Visitation and elsewhere.
"We say that we will agree to help you, but you have a mentor journey with you and your family, for whatever length of time it takes for you get out of maybe some bad spending habits," he explains.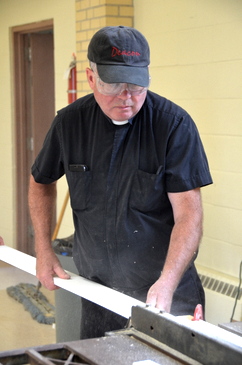 Deacon Al has also worked with people to make insulating window inserts, which reduce heating costs. A group of teens from Massachusetts comes up each summer to work on the inserts with him, and he has even helped youths from the nearby Unitarian church make them.
"We made enough of those windows to do that whole church. I tell you, they were some happy," he says.
Deacon Al is happiest when he is serving others.
"He is genuine in what he does," says Sonja, Deacon Al's wife. "He's just open to people. I don't think there is a judgmental bone in his body."
In recognition of his contributions, Deacon Al was presented with the 2016 Monsignor Charles Murphy Deacon of the Year Award by Bishop Robert Deeley.
"His dedication to the social mission of the Church, through his service in Catholic Charities and its Parish Social Ministry program, is a true living out of the deacon vocation to a ministry of service," says the bishop.
"His ministry is one that embodies the meaning of charity, as he strives to champion the cause of the poor, the marginalized, the elderly, while making Christ present to all those he encounters," says Deacon Peter Bernier, the diocese's director of the diaconate.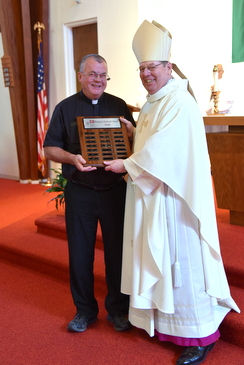 Deacon Al says winning the award took him by surprise.
"I think there are a lot of wonderful deacons out there who are doing much more than I am and who really deserve it much more than I do," he says.
Sonya says that is just keeping with his character.
"He does not understand what people see in him," she says. "He doesn't get it."
But others certainly do.
"I think it couldn't have gone to a better person, a better servant of the diaconate. He truly exemplifies the charism of a deacon. It's obvious by the way he lives his life. It's obvious by the way he prays his life," says Father Dave Raymond, pastor of Saint Mary of the Visitation.
Deacon Al was raised in Houlton. His parents regularly attended Mass and adoration at Saint Mary of the Visitation. They prayed the rosary and taught him to do the same.
Despite that foundation, he fell away from his faith during his college years. He got married and had a good job but still felt like something was missing from his life. He passed a church, realized that confession was being offered, and decided to go inside. He told a young priest his story.
"It took a while, and finally, he gave me absolution, and then I sat there. He said, 'What are you waiting for?' And I said, 'Are you going to give me penance?' He said, 'For you penance, I want you to just try to be a better person.' And I'm still doing that penance today. I shook his hand, and when I stood up, my head hit the ceiling. A weight had been lifted off my shoulders. As I got to the door, the tears were just coming down my cheeks."
He says it got him on the right track, and he never looked back.
It was while working in youth ministry in the parish years later that Father Philip Cyr, then pastor, approached him about the permanent diaconate.
"I had no interest in becoming a permanent deacon, but because a priest asked me, I said, 'Well, I'll consider it,'" he says.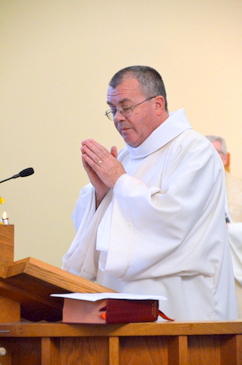 He says the studies were a struggle, but he stuck with it.
"I realized the Holy Spirit has a role for me," he says.
Sonja says the permanent diaconate is a perfect fit for her husband, so much so that she encouraged him to give up his teaching job and devote his full-time efforts to his ministry.
"I said, 'This is where you need to be.' And I was teaching at the time, and we were doing fine," she says.
He began visiting shut-ins and those in jail. He baptized children and blessed marriages. The weeks were long, the pay was minimal, but he was loving every minute of it.
"What a blessing!" he says.
In 2013, Father Raymond recommended him for the parish social ministry position. Already in his 60s, he hesitated but then applied and got the job. He hasn't slowed down since.
"He loves what he's doing. He loves working with people. He loves meeting with people. I don't know if I'm ever going to get him to stop," says Sonja. "He is just so content and so at peace."
"I realize that I could retire, but then what the heck would I do?" Deacon Al says. "As long as I can still do the job, I'll do it."