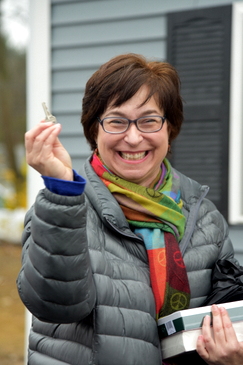 "I'm overwhelmed!"
A smile spread across Michelle Kessler's face as she was handed the key to her new home by Father Frank Murray, pastor of Saint Paul the Apostle Parish in Bangor.
"Today is one of the best blessings that anybody could have," she says. "To be talking outside my home, the word surreal keeps coming to mind. I'm looking at this, and I know it's ours, but it's almost, like, pinch me."
"It means that I get to have my own space to myself!" says Dellana, age 11, her daughter.
The Kessler family's home was built through a partnership between Habitat for Humanity of Greater Bangor and Saint Paul the Apostle Parish. It was the first time in the Habitat chapter's history that a single entity has provided all the needed funding for a home. The parish and Mt. Pleasant Catholic Cemetery in Bangor also donated the land.
"I think they were surprised that one group would do it themselves," says Father Timothy Nadeau, former pastor, who approached Habitat for Humanity about three years ago. "I thought we were big enough, and strong enough, and generous enough to do that.' The parish raised more than $140,000 for the project, and last spring, Habitat began taking applications from prospective homeowners. Being a parishioner was not among the criteria, but Kessler happens to be one. She applied after spotting a notice in the parish bulletin. She says she had been exploring the possibility of buying a home for her and Dellana but realized that, as a single parent, it would be difficult.
"I would really have to have a better strategizing goal in order to be able to maintain a down payment," she says. "There are a lot of hoops to jump through for folks."
Kessler says she was "blown away" when she learned she was selected for the soon-to-be-built home.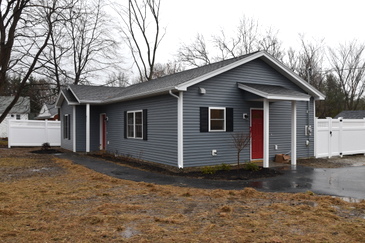 Habitat for Humanity seeks families who are living in less than ideal conditions. They must meet income guidelines, must be able to make a $500 down payment, and must have the ability to pay a low-cost mortgage. In addition, each adult must complete 200 hours of "sweat equity," helping with the construction.
Kessler admits she had initial concerns about that but soon changed her mind.
"It's a wonderful feeling," she says. "You're paying yourself in time, and ou know, it's such an incredible value that gets added to the property from that. Sweat equity is the perfect term."
Kessler says the people with whom she worked made it an awesome experience. Not only did Saint Paul the Apostle Parish provide the money and land for the home, parishioners provided much of the labor.
"There are a lot of great people in the world," says Kessler. "To see them come out and donate time week after week, I was just blown away by that because they are giving of their time, and you can't put a price on that."
Ground was broken for the project in July, and construction began in August. Work that required professional expertise was done during the week by contractors, with parishioners volunteering on weekends. Nicole Behr, a parishioner who agreed to be volunteer coordinator, says she never had problems getting people to sign up.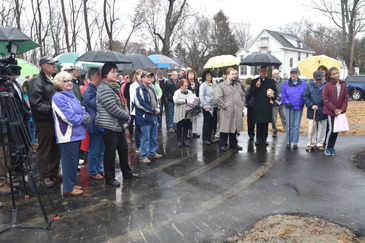 "I had some people who came every Saturday. It was amazing, just amazing," she says.
Jim Allen was among those who went to the site week after week.
"The church is always making an effort to help the community, and this is just one more opportunity to help somebody in the community to have a better quality of life. This lady is going to have a very nice house," he says. "We've had a really good work crew, so every week has gone well."
"When I retired, I made a promise to myself that I would never work for a wage again, so going back into the community and repaying forward is what I believe in," says Jim Larson, another regular volunteer. "I think it speaks a lot for the parishioners. Right now, there is an awful lot of giving out there."
"It's just to do something nice for somebody else, you know, neighbor helping neighbor," says Brenda Salvato.
"I like to do volunteer work and help out where I can. It's a good cause," says Mike, her husband.
Some of the contractors were also parishioners who donated their time. They included one of the project managers, Walter Shannon, who works in facilities management at the University of Maine.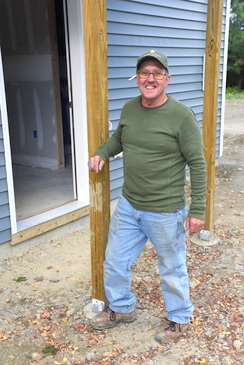 "There are a lot of good people in the parish, and there are a lot of people who have knowledge," he says. "I've managed construction from digging the hole to closing the door after you do the locks, so I'm used to the whole thing."
Mark Toomey, a parishioner who works at Mainely Vinyl, Inc., in Ellsworth, handled the installation of vinyl siding.
"I wanted to volunteer because I feel like I've been blessed with a lot of things in life. So I said, 'Why can't I give back?'" he says. "I love to do that for people."
Toomey and Shannon were among the volunteers who attended a blessing and dedication ceremony on November 20. With the home finished ahead of schedule, the ceremony was fittingly held on the final day of the Church's celebration of the Year of Mercy.
"We complete the Year of Mercy on the day we are completing this act of mercy, which will be here for a long, long, long time, to remind us that it's not just about one year. It's about the fact that we're called to be people of mercy," says Father Murray. "We can do a lot more than we think we can do when we do it together."
During the dedication ceremony, those gathered joined in extending their right hands. Father Murray then blessed the home, praying that Christ would always be present there and that it would, before all else, be a dwelling place of love.
After sprinkling the home with holy water, Father Murray then presented Michelle with a crucifix, a Bible, and a key, which she proudly held up for all to see. She and Dellana then cut a ribbon and stepped across the threshold, ready to welcome the first visitors.
"Just being able to enter your own house and have people volunteer, it just makes me feel so wonderful," says Dellana.
The dedication ceremony included the presentation of awards to some of the volunteers by Lynn Hempen, the executive director of Habitat for Humanity of Greater Bangor.
"Everyone in the parish, I think, has been touched by this project in some way," she told them. "As a faith community, you have so much to be proud of."
Michelle expressed her thanks as well, saying, "You are all an inspiration for me and my daughter, I hope, of what generosity looks like, and I'm a better person for knowing all of you."
For the volunteers, seeing Michelle's smile and the result of their work were thanks enough.
"It's just exciting to help out people like that, and I think we're all feeling that same way," says Jim Allen.
"It's a good way to help a family that is in need," says Mike Salvato. "I think what the Catholic faith is all about is helping others."