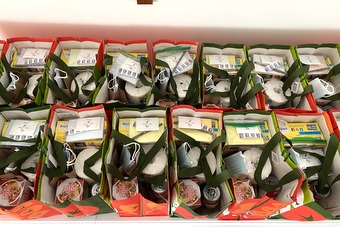 A fleece blanket and some friendly banter. Those were among the items delivered by members of Knights of Columbus Council 2368 in Greenville to some residents in the community.
The Knights put together Covid Comfort Bags containing items from soup to stamps and brought them to the homes of about 20 residents. The aim was to reconnect with some members of the Holy Family Parish who have not yet felt comfortable returning to Mass. The idea took shape during a meeting of the parish's Catholic Leadership Institute Council (CLI), which Father Aaron Damboise, pastor, established as a result of CLI training, a three-year, mission-based program offered in the diocese beginning in 2016.
"At one of our meetings, we were trying to think of a way that we could just reach out to parishioners about coming back to church because some seem hesitant," says Joe DiAngelo, Grand Knight of the council. "We wanted to find out if there was a way to kind of reach out and see if there is anything anybody needed that we could help with."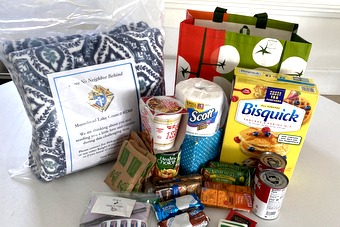 Along with the snacks and staples contained in the bags, DiAngelo included a note with his cell phone number, inviting the parishioners to call him or one of the other Knights if there was something with which they needed help.
The money for the Covid Comfort Bags came from a Knight, who donated the first economic impact payment he received from the government.
"One of the Knights had made a very nice donation, so that was kind of our seed money," says DiAngelo.
DiAngelo says the Knights also received community support. For instance, the Indian Hill Trading Post in Greenville donated recyclable bags, and some parishioners who own a shop in town donated some of the lip balm they make and sell.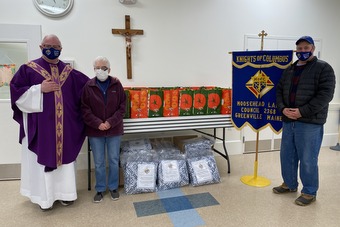 DiAngelo says the project has been a rewarding one for the Knights, who have had some of their activities curtailed by the pandemic.
"It's been really hard for us to get together as a council," he says. "A lot of our Knights are older, and they haven't wanted to physically be near each other, and I understand it. So, this was nice to be able to do something again as a council."
He says the Knights have helped out in other ways when possible. For instance, they purchased a hand-sanitizing station for the narthex of Holy Family Church.