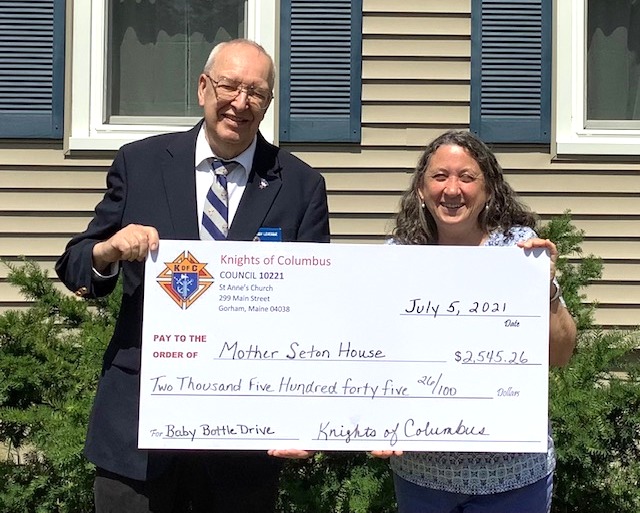 A Baby Bottle Drive organized by Knights of Columbus Council 10221 in Gorham resulted in a donation of more than $2,500 to the Mother Seton House in Fryeburg, a nonprofit that serves pregnant women, women who have recently given birth, and infants facing difficult circumstances.
From Father's Day through the end of June, the council placed empty baby bottles at St. Anne Church in Gorham for parishioners to take home and fill with donations, which parishioners did in record-breaking fashion.
"We were elated to see the level of support this year," said Andy Levesque, Council 10221's life director. "Many bottles contained large bills and even checks making this year's collection the best on record."
Thanks to the generosity of parishioners, Levesque presented Cyndi Broyer, director of the Mother Seton House, with a check for $2,545.26.
"Mother Seton House provides a critical function helping pregnant women in need, I only wish we could do more for them," Levesque said.
The Mother Seton House provides education and counseling to women and to gives them a safe place as they prepare to give birth and then begin to care for their newborns.
"This safe, secure environment provides women with a chance to build confidence and acquire the skills needed to break the cycle of poverty," said Broyer. "We help moms learn about cooking, nutrition, baby care, child development, budgeting, and housekeeping."
For more information about the Mother Seton House and its available services, call (207) 935-1066 or email [email protected].