Christ is risen! He is truly risen!
When we hear this joyful greeting of Easter, we know that spring has arrived. Though we have experienced some snow and cold even into April, spring, for us as Christians, is more than good weather. Spring and Easter for us in the northern hemisphere are connected. The new life we see in the growing things around us reminds us of the new life that Jesus won for us in His death on the cross. Easter is His rising to new life, and His invitation for us to share in that new life, today and in life eternal. It is in the sacraments that we share that life. We begin our journey with Christ at baptism. Our relationship with the Church is strengthened in confirmation with the gift of the Holy Spirit, and we gather at the altar, the table of the Lord, for the Eucharist. There, we receive the Body and Blood of Christ. During Holy Week, the sacred oils were blessed at the Chrism Mass, and in this season of new life which continues right into June, we now use these oils to celebrate these sacraments welcoming adults into the Church and initiating our children into fuller life in the Church. It is, indeed, a joyful time of year.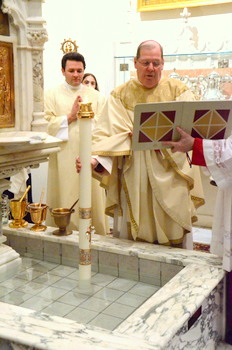 It has been a rich opportunity over these past months to listen to some of the people who were among those baptized and received into the full communion of the Church at Easter. I have found it valuable to reflect with these new Catholics on how they have come to this place in their lives that they want to be part of the Church. We have talked about how they have come to faith, how they have come to know Jesus, and why they want to join their own journey of life with His.
Their stories are contained, in one way or another, in one account I heard as I visited different churches. It was the story of a woman and her young son who were baptized this Easter. A little over a year ago, this woman lost her husband and her older son in a tragic car accident. She was not a Catholic but her husband was. So, his funeral, and that of their son, was celebrated in a Catholic Church. What she told me when I talked with her is her story, and the story of almost every new Catholic I meet. She wants to be a part of the Church because it was in her parish community that she found people who wanted to walk with her in her sorrow, to help her in the upheaval of her life, and to support her as she moved forward. What is she saying but that, in those she encountered, she met Jesus?
Her experience is not much different from the many stories I hear. An encounter with Jesus often begins with an experience of Jesus' presence in the life of someone who shows another kindness, love and care. The stories people tell me about their journey to the Church almost always begin with an experience of faith being shared by another person who is living out his/her own relationship with Christ by trying to be helpful to someone else. Very often, the persons sharing their faith through the kindness they show are not even aware of the fact that they are witnessing to their faith. They are just being helpful.
I share this with you because I think it is good for all of us to be reminded that we are called to witness to our faith, in word and in deed. Each time we gather for Eucharist, we remember together what Jesus has told us, and we do together what Jesus has told us to do; we remember Him and share His life in the Eucharist. In so doing, we are renewed in our relationship with Him and with one another. We are reminded, then, that we are part of a community and that our community does not end at the doors of the church, but extends to the people whom we encounter each day.
And we put flesh on the witness we are called to give within the community by the way in which we serve each other. This Year of Mercy, we are conscious of our call to live the acts of mercy – to feed the hungry, to welcome the stranger, to clothe the naked, and other such deeds. But the acts of mercy also involve the spirit as well as the body: we are called to console the afflicted, to counsel the doubtful, to help inform those who have not heard of Christ. By so doing, we become evangelists, disciples of the Lord Jesus, bringing His message of Easter joy to others by the lives we live. In this season of new life, which is spring and Easter, let us be mindful that, as disciples, we are missioned to serve one another.
Most Rev. Robert P. Deeley, J.C.D.
12th Bishop of Portland