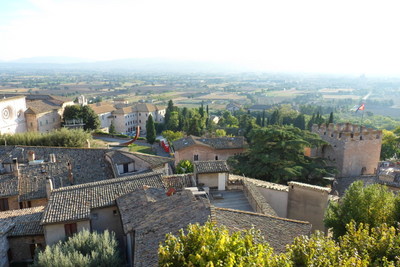 Pilgrimage to Assisi
Saint Francis of Assisi and Pope Francis
By: Monsignor Charles Murphy
As I sit here in Assisi, Italy, I want to share with you an incredible and enlightening experience I have had in the past few days. What better place to speak to you of Saint Francis and Pope Francis than Assisi.
Our pilgrimage group arrived in Florence on October 2. From there, we traveled by bus to Assisi where we would spend the next three days taking in the hills and valleys of Umbria and absorbing the spirituality of the one whose identity was shaped there: Saint Francis of Assisi. We made our plans long ago, not anticipating the great surprise that Pope Francis would decide to spend October 4, the Feast of Saint Francis, in Assisi as well.
It was appropriate that we began our journey in Florence, the city of the Medicis, known for international banking and military exploits. In the Piazza of the Signoria, where the Medici palaces are located, trophies from ancient Rome stand beside modern sculptures by Michelangelo and other masters cultivated by the Medicis. One of these sculptures depicts Neptune, the sea god, symbol and constant reminder of Florence's control of the nearby port of Pisa. Today, Florence remains famous for its luxury fabrics, gold jewelry, and exquisite leather products. It was from just such a world that Saint Francis fled to embrace the Gospel way of life. "Uscii questo mondo" ("I have left this kind of world"), he said, shedding the expensive garments given him by his merchant father.
Between Florence and Assisi is the mountain region of La Verna. It was to this place that Saint Francis asked to be carried just two years before his death, his feet being so badly damaged from walking without sandals because Jesus had said his disciples should not wear them (cf. Luke 10:4). There, he would spend 40 days fasting and praying, and there, he would become the first person in history to bear upon his body the five wounds of Jesus, the stigmata. His stay at La Verna ended upon the Feast of Saint Michael. Before entering Assisi, we spent the day at La Verna, re-living the life of Saint Francis from the end backwards so as to be able to grasp where it all was heading.
Pope Francis arrived in a white helicopter from Rome 10 minutes before the announced time of 7:45 a.m. Assisi's winding medieval streets were filled with people, and waving above the streets were gold and white banners, symbolizing the papacy, along with red and blue banners, signifying Assisi. Large television screens were in place in the major town squares so that everyone could follow the pope as he spent the next 12 hours visiting with the sick, with people with disabilities, dining with the poor, addressing the local clergy, religious and lay ministers, as well as praying and offering Mass at the Franciscan shrines.
Pope Francis's address that day to the priests, religious, and laity in the Cathedral of San Ruffino was typically brief and contained his usual three points. He began by referring to the fact that it was precisely in this church that both Saint Francis and Saint Clare were baptized, the beginning of their Christian journey leading to eternal life. Receiving baptism is both a privilege and a demand: the demand to be the Holy Spirit's instruments of harmony and peace. We build up the Church not by being proselytizers, he reminded us, but by being witnesses in the way we live.
Pope Francis' first point was that God's word will sustain our faith and advance our conversion within the community of believers. "Be rich in God's word, not your own," he warned. He admonished preachers to not give interminable homilies that are just full of noise, full of themselves, that the people do not understand. This brought from the crowd vigorous applause! Likewise, he said, parents should be hearers of this Word rather than followers of what they learn from television. Catechists should allow Jesus to speak through them by living God's Word themselves.
His second point was that the Christian life is walking the journey together. Priests should walk with the people, knowing their names and even the names of their pets. Priests should walk ahead, in the middle, and behind the people so that they can encourage those struggling to keep up. Married couples may argue all they want, but they should never end a single day separated. Restart your relationship every day, he advised.
Finally, it is important that we listen to one another instead of just talking all the time. "Notice those on the fringes, like the children I met in Buenos Aires," he said, "who could not even make the sign of the cross. Let Saint Francis teach you the joy of being a Christian!"
What struck me most about these encounters between Pope Francis and the people was the way he sought them out one-on-one eliminating one by one the barriers that separate: touching, kissing, whispering, joking, and sharing. "My task," he said, "is not to speak new things but the essential ones."
---
Read: Focus on Francis, part one