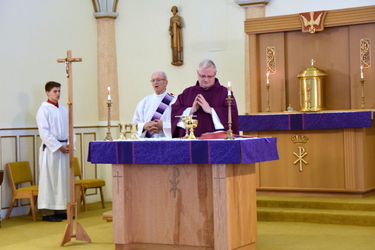 "I'm going to miss the memories attached to this building."
It was with mixed emotions that parishioners like Jeri-Ann Gilbert gathered one final time on Sunday, March 19, to celebrate Mass at Holy Family Church in Greenville.
"It's kind of bittersweet that we're losing this beautiful, old parish with a lot of history, a lot of memories. However, we know that, moving forward, we can build on that history," said Gilbert, a lifelong parishioner.
Next month, the church will be demolished and a new church, along with a parish hall and offices, will be built on the same site.
"It's bittersweet for me, because I made my first Communion here, but I'm so into the new church," said Colleen Taylor, the pianist at the final Mass.
"It is bittersweet, but we know that we need to make this move, and we're looking forward to it," agreed her husband, David, a cantor and reader.
"The real Church is in our heart, I know that, but we're fortunate to have this building, and I'm going to miss the architecture," said Deacon John Guerin. "But, we all know things pass, and then, they come anew again, so we're grateful."
Parishioners made the difficult decision to tear down the current church, which was built in 1928, because it was in need of costly repairs. A roof is covered with a tarp, the foundation leaks, and the towers are leaning.
In addition, the building is poorly insulated, so it is costly to heat, and there are steep stairs leading into the nave of the church, making it difficult for some elderly parishioners to attend Mass.
"I take Communion to the homebound, and we have a few who are really, really interested in coming back, because they can't do the stairs," said Debbie Lynne Baker, the sacristan. "They're really looking forward to a flat surface to come back in."
Wanting to ensure that their parish community thrives for another 100 years and beyond, the parish launched the "Beginning a New Century of Faith" campaign last year, introducing parishioners and the greater community to plans for a new church and raising money for it. Although there are only about 100 registered, year-round parishioners, more than $1.5 million of the $2 million needed has already been received or pledged.
"We've had dinners. We've had auctions. For Valentine's Day, we had a candy sale," said Elizabeth Foote, a member of the Building Committee. "All summer, I was selling tickets for items we were auctioning off. There was 100 gallons of fuel oil. There was a lady's ring."
"It's bottles. It's cans. It's dances. It's very generous people," said Joe DiAngelo, a member of both the Building Committee and the Development Committee. "It's been a good effort by a lot of people."
"We've had an incredible outpouring of generosity," said Steve Bilodeau, chair of the Building Committee. "God has really blessed the whole project."
Although there is still more fundraising to be done, the project is actually ahead of schedule, allowing the final Mass to, appropriately, be celebrated on the Feast Day of Saint Joseph, chosen by God as protector of the Holy Family.
"It's bittersweet because we are preparing ourselves for something that is beautiful, preparing ourselves for a beautiful new facility that our future generations will be able to worship in, but at the same time, we're saying goodbye to a place that we have called home spiritually for the last, almost 100 years," said Father Aaron Damboise, pastor.
"I thought it was going to be heart-wrenching, but I thought, 'This is good. Let's do this,'" said John Morrell, who joined the Catholic faith seven years ago at Holy Family. "We're ready."
The new church will incorporate many elements of the old one, including all eighteen stained-glass windows in the nave and sanctuary, as well as the original confessional, woodworking, tabernacle, and baptismal font. The original Holy Family statue will be placed on the façade of a covered entrance. The church bell will be installed in the belfry. There will also be a cupola and steeple which, along with the windows, will be able to be lit at night.
While having a tall steeple added to the cost, members of the Dutil family, founders of the Canam Group, located over the border in Canada, generously donated the steel for it. The Dutils have long attended Holy Family's mission church in Rockwood during the summer months.
The final Mass at Holy Family Church concluded with a procession of sacred objects from the church to the rectory next door, where a room was converted into a chapel, which will be used while the new church is being built. Beginning Saturday, March 25, weekend Masses will be celebrated at the Union Evangelical Church in Greenville.
"The Union Church has been so nice," said Foote. "They've been very welcoming."
Asbestos abatement and the careful removal of the stained-glass windows are set to begin April 10. By April 22, it is anticipated the old church will be demolished, with site preparation for the new one expected to begin just two days later.
"We're looking forward to the new church and, hopefully, getting some new parishioners in," said Bette DiAngelo, parish administrative assistant and a lifelong parishioner. "I think everybody believes in 'Beginning a New Century of Faith.'"
If individuals or businesses would like to make a contribution to the "Beginning a New Century of Faith" campaign, please contact the parish at (207) 695-2262 or the Diocese of Portland's Office of Development at (207) 321-7835. Donations can be made in memory of a relative or friend, or in honor of a birthday or anniversary.