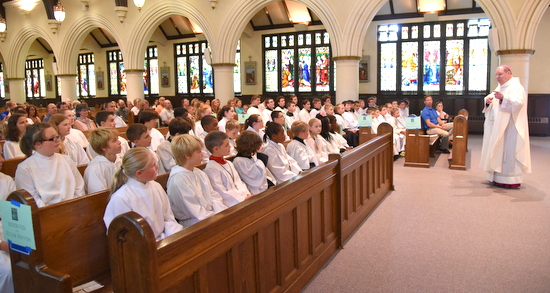 "It's pretty amazing."
That is how Israel Gombojav, age 15, of Corpus Christi Parish, Waterville, describes what it's like to be an altar server at Mass.
"I feel so joyful while I'm doing it, and afterwards, I'm just so happy," he said. "it's serving the Mass, being so close to the Eucharist, being blessed."
Israel isn't alone. Hallie Pike, age 16, of St. Rose of Lima Parish, Jay, has been an altar server for seven or eight years, and she said that she loves it.
"I love being in the Mass and just getting to work with the priest and just getting to do the jobs that you always saw as a kid."
Israel and Hallie were among approximately 75 altar servers who gathered with family members, priests, and Bishop Robert Deeley at St. Mary of the Assumption Church in Augusta on Sunday, August 6, for the second annual Altar Server Festival. The altar servers came from parishes throughout the Diocese of Portland to attend the festival, which is an opportunity to thank and bless them for their ministry.
"We bring you here together today because we want to thank you for all that you do to help us to be able to make Jesus present to everyone," Bishop Deeley told them during a Mass celebrated at the beginning of the festival. "While we're serving at Mass, we're helping everyone in the church to realize what a special moment this is, what a precious moment this is, what a grace it is to be in the presence of God. What a wonderful thing that is."
The Mass began with a procession of the altar servers, who were dressed in either cassocks and surplices or albs. The front pews of the church were reserved for them. As the bishop pointed out, it's a different view for most of them, since they're usually behind him and the priests, not in front of them during Mass.
The bishop asked the altar servers what they most enjoyed about their ministry. Among the answers: "I like helping the priest'; "You get to worship God'; "It makes the Mass 'funner,' and it makes it go more quickly."
"I think yours was probably the reason I became an altar server," the bishop said with a smile, in response to the last answer. But, he then went on to share how special his own years as an altar server were.
"Over all those years that I served Mass, about 10 years when I was your age, I learned that it did bring me closer to the priest, and it did bring me closer to God, because you were right there when the priest is doing those things that he does to make Jesus present on our altar," the bishop said.
Bishop Deeley blessed the altar servers during the Mass, which was concelebrated by priests from the servers' home parishes.
Following the Mass, the festival continued with a barbecue and with altar server games, during which the children and teenagers competed as teams divided by region. The games included a vesting drill to see who could don cassocks and surplices the fastest. There was also a form of hopscotch, during which competitors had to follow directions on each square, which told them whether to genuflect, bow, or partially bow. They then competed in a relay race while carrying crackers and juice, substituting for bread and wine. Any crackers dropped had to be retrieved. Any wine spilled meant disqualification. Finally, there was a bell ringing competition, with Bishop Deeley, Father Frank Morin, Father Brad Morin, and Father Matthew Gregory serving as judges. Following the competition, the bishop accepted a friendly challenge to try his own hand at ringing the bells, although he admitted that he was a bit out of practice.
The altar servers said they enjoyed getting together and having a day set aside to thank them.
"You get to get together with a bunch of people who do the same thing as you, and you get to see all the different ages, seeing that it's not just your age, or not just 9-year-olds," said Hallie. "And it looks so amazing, just seeing everyone in their cassock and surplice, or in their alb, walking down the aisle in the procession, sitting together. It's really cool. I find it very cool."
"I think it's really nice," said David Leclair, age 13, from Prince of Peace Parish, Lewiston. "I think it's nice because you're appreciating what we do."
Some of the children and teenagers said they first got involved in the ministry because it looked like fun. Others were influenced by their parents or friends. All of them said they were glad they made the choice.
"It's my parents who recommended it," said Joanna Korasadowicc, age 13, from St. Kateri Tekakwitha Parish, Calais. "I think it's fun. I like doing it with other people, and I like being able to help the priest and serve God."
"I wanted to altar serve to serve God, and I like it because it's fun," said Immaculata Liwanga, age 9, from the Cathedral of the Immaculate Conception, Portland, who added that her favorite part is ringing the bells.
"I like just serving in general, just everything about it," said Abril Linares Mendoza, age 11, from St. Brendan the Navigator Parish, Camden. "I feel like I did a good deed at church after I serve, and it makes me feel happy."
"I like doing it because I know that I'm helping out the parish," said David, whose favorite part is helping the priest prepare the altar.
"It's fun to serve Christ," says Aiden Ouellette, age 8, from St. Paul the Apostle Parish, Bangor, who carries the cross at Mass. "I like it all."
The festival was organized by the Office of Vocations. Father Seamus Griesbach, vocations director, led most of the activities, with seminarians and priests serving as judges and keeping the games on track.