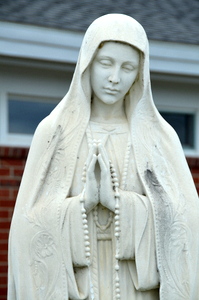 On May 13, 1917, three shepherd children named Lucia, Jacinta, and Francisco saw a vision of the Blessed Mother in Fatima, Portugal. The three children had taken their flocks out to a pasture known as the Cova da Iria when they suddenly saw a bright flash of light, followed by another flash. They looked up to see, in Lucia's words, "A lady, clothed in white, brighter than the sun." The woman was holding a rosary and said to the children, "Do not be afraid, I will not harm you. I come from heaven."
Mary appeared to the children monthly, a total of six times, bringing a message of prayer, penance, and reparation. She urged them to pray the rosary every day to bring peace to the world and an end to war. The children were also told a three-part secret, which included a vision of hell, a request for a devotion to her Immaculate Heart and for the consecration of Russia to the Immaculate Heart of Mary, and a foretelling of the Second World War and of persecutions that humanity would suffer.
The visits culminated with the so-called "Miracle of the Sun," which occurred on Sunday, October 13, 1917. The miracle was foretold by the Blessed Mother, and thousands turned out to see what they described as the sun appearing to dance in the sky.
The apparitions were declared of "supernatural character" by the Catholic Church in 1930, and a shrine was erected near the original apparition site in Fatima. Each year, thousands of pilgrims make journeys to Fatima. They have included Pope Paul VI, Pope Saint John Paul II, and Pope Benedict XVI. Pope Francis will visit Fatima on May 12 & 13, 2017, during which he will canonize two of the Fatima visionaries, Francisco and Jacinta Marto.
Francisco and Jacinta died during an influenza epidemic just two years after the apparitions. Lucia made her profession as a Discalced Carmelite in 1949, taking the name of Sister Maria Lucia of Jesus and the Immaculate Heart. She wrote two books about the apparitions. She died in 2005 at age 97.
Click here to view a timeline of events related to the apparitions of Our Lady of Fatima.
Anniversary Celebrations in the Diocese of Portland
Thursday, May 11, 2017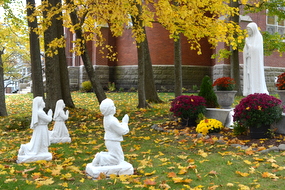 Portland - Father Kyle Doustou will present "In the End, My Immaculate Heart Will Triumph: The Story and Message of Our Lady of Fatima," during the next "Theology on Tap," gathering at 7 p.m. at Pat's Pizza, located at 30 Market Street in Portland. [more]
Friday, May 12, 2017
Auburn - The movie The 13th Day, which dramatizes the story of the shepherd children to whom Our Lady appeared, will be shown at St. Philip Church, 2365 Turner Road in Auburn, on Friday, May 12 at 6:30 p.m.
Caribou - The Parish of the Precious Blood will hold an Our Lady of Fatima 100th Anniversary Celebration at Holy Rosary Church, 34 Vaughn Street in Caribou, on Friday, May 12 at 7 p.m.
Saturday, May 13, 2017
Auburn - A special Mass will be celebrated at Sacred Heart Church, 8 Sacred Heart Place in Auburn, beginning at 10 a.m. The Mass will conclude with a procession to statues of Our Lady of Fatima and the three children to whom she appeared.
Augusta - A public square rosary will be prayed outside St. Mary of the Assumption Church, 41 Western Avenue in Augusta, at noon. [more]
Bath - "Mary's Day" celebration, including Mass and a Crowning of Mary procession, beginning at 9 a.m. at St. Mary Church on 144 Lincoln Street in Bath [more]
Gorham - Rosary rally outside St. Anne Church, 299 Main Street in Gorham, at noon. [more]
Kennebunk - "Fatima: The 100th Anniversary Conference" will be held at St. Anthony Monastery, located on 28 Beach Avenue in Kennebunk, on Saturday, May 13, and Sunday, May 14. [more]
Pittsfield - The children of St. Agnes Parish and the Ladies Guild will lead the recitation of the rosary at 3:15 p.m. at St. Agnes Church, 238 Detroit Street in Pittsfield. There will also be Fatima Novena prayer cards at the entrances to the church.
Rockland - St. Brendan the Navigator Parish will hold an outdoor Mass at 9 a.m., near the Our Lady of Fatima statues at St. Bernard Church, 150 Broadway in Rockland. [more]
Sanford - Public praying of the rosary at the gazebo in Gowen Park in Sanford, beginning at noon. [more]
Van Buren - The rosary will be recited and prayers offered for America at 3 p.m. at St. Bruno - St. Remi Church, 174 Main Street in Van Buren [more]
Waterville - Join members of Corpus Christi Parish in praying an outdoor rosary and litany to the Blessed Mother at 9 a.m. at the Fatima statue at Sacred Heart Church, 72 Pleasant Street in Waterville. In the event of rain, the rosary and litany will be prayed inside the church. The rosary will also be led by a representative of "America Needs Fatima" at noon at the Old Post Office in Waterville.