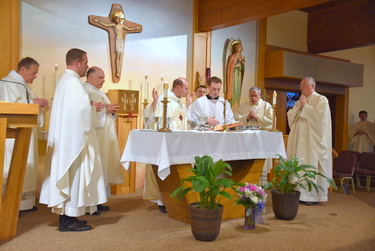 Just hours after being ordained by Bishop Robert Deeley, Father Kevin Upham celebrated his first Mass as a priest of the Diocese of Portland at Holy Martyrs of North America Church in Falmouth.
"It has been quite the journey getting to this point," he expressed in his homily. "This Mass is appropriately called a Mass of Thanksgiving, and there is much to be thankful for."
Father Upham said it was difficult to put in words what it was like celebrating the Mass, saying that, at one point, he felt almost a sense of disbelief.
"I was thinking, 'I can't believe I'm doing this right now. This is actually happening. I am in this role.' It was just amazing," he said. "It feels like I'm a different person, yet I'm not."
Father Upham said the Mass, celebrated on the Solemnity of the Most Holy Trinity, was kept simple by design. One of the only additional touches was the inclusion of the hymn "Immaculate Mary," sung after Communion.
"To thank Mary for getting me through, because it was not easy," he said. "I'm very grateful to her, and I pray to her often."
For the Mass, he wore a beautiful vestment depicting the Sacred Heart of Jesus, which was an ordination gift from a childhood friend Ben Mathew and his parents. Ben traveled from Houston, Texas, to attend the Masses.
"I saw it and I said, 'I have to use this as my first Mass vestment.' I love the Sacred Heart," Father Upham said. "It kind of goes with my chalice, too, so it's really very nice. It was really very special."
Father Upham said it was also very meaningful to him to be able to offer the Mass for the intention of his beloved cousin, Erin Rodriques, who was killed in a car accident in 2013 at the age of 23, a particularly difficult time in his life.
"To be able to say the first Mass for my cousin was very special," he said. "I was very happy I was able to do that, and her parents were here. They were the gift bearers. So that was very special. And my uncle was the second reader at my ordination."
During his homily, Father Upham spoke of our call to share in Christ's suffering if we wish to be in relationship with him.
"Paul tells us that when we do this, we share in the suffering but, ultimately, we share in the glory of Jesus. It is often difficult to accept the suffering, and we are impatient waiting for the glory," he said. "If we fix him in our hearts and fix each other to our hearts, we will live in the dwelling of God forever. This is what he promises, to live in eternal happiness with the Triune God. There will be no past or future to worry about, just being present with God who loves us."
In words of thanks offered at the end of Mass, Father Upham expressed gratitude to his family members, especially his parents and grandmother, for helping him come to know that loving God at an early age.
"It was easier for me to believe in an almighty, a loving God, because of your example, your unconditional love," he told them.
He also expressed his appreciation to the diocesan seminarians for their support and to several priests, some of whom concelebrated the Mass. They included Msgr. John McLaughlin and Msgr. Marc Caron from St. John's Seminary in Brighton, Mass.; Father Bob Vaillancourt, former director of the Office of Vocations and his spiritual director; Fr. Daniel Greenleaf, director of the Office of Seminarians and pastor of the Parish of the Holy Eucharist, of which Holy Martyrs is a part; and in a special way Father Greg Dube, rector of the Cathedral of the Immaculate Conception and pastor of the other Portland Peninsula & Island Parishes, who helped Father Upham at a time when he was struggling with his relationship with God, following his cousin's death.
"Jesus is our Savior, obviously, but you saved me in a lot of ways. So, thank you for all you did for me," he told Father Dube.
Following the Mass, Father Upham was greeted with many congratulatory hugs and gave blessings to those who requested it.
Although he does not yet know to which parish Bishop Deeley will assign him, Father Upham will be leaving shortly for Mexico City, where he will be participating in a Spanish immersion program. Father Upham said he has long felt called to Hispanic ministry, and that was only enhanced when he had an opportunity to serve the Latino community as part of his pastoral assignment at the Portland Peninsula & Island Parishes this past year.