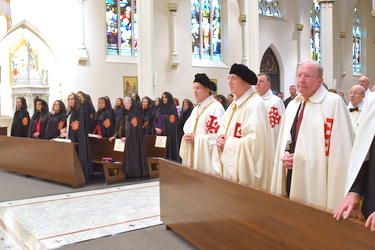 A group dedicated to helping Christians in the Holy Land and to keeping the Catholic faith alive there is celebrating a surge in members from the Diocese of Portland. This November, 27 men and women from Maine will be invested into the Northeastern Lieutenancy of the Equestrian Order of the Holy Sepulchre of Jerusalem by Cardinal Séan O'Malley, OFM Cap.
Although the Equestrian Order is not widely known, its roots go back centuries. A worldwide organization with around 30,000 members, its mission is to propagate the faith, defend the weak, and extend charity towards others. It supports the work of the Latin patriarch, the Catholic archbishop responsible for Roman Catholics living in Cyprus, Israel, Jordan, and Palestine. That work includes providing funding for schools in the Holy Land, which are currently educating more than 18,000 students, both Christian and Muslim.
On Saturday, September 8, dozens of Equestrian Order members from the Diocese of Portland gathered for their annual Mass in Maine, which was celebrated by Bishop Robert Deeley at the Cathedral of the Immaculate Conception in Portland.
"We have a special group of people joining us," the bishop said, "the Equestrian Order of the Holy Sepulchre, an organization of the Church which dedicates itself to caring for the people and shrines of those places in the Holy Land made sacred by the presence of the Lord Jesus in his earthly life."
The bishop noted that, in addition to the valuable works it performs, the order also provides an important function by bringing together, in community, people from different parishes throughout the state.
"It gathers them together as people of faith and gives them opportunities to grow in faith with one another and to appreciate the value of faith and the strength of community in the living of daily life. Like so many organizations of the Church, its purpose, then, is to strengthen its members in the appreciation of the gift of faith as it strives to help them live it," the bishop said.
Members of the Equestrian Order include priests, deacons, and laypeople. Members are referred to as knights and ladies, reflecting the order's long history.
The Northeastern Lieutenancy of the Equestrian Order, which encompasses eight dioceses from five New England states, will welcome 97 new members during investiture ceremonies on November 2-4. That will bring membership in the lieutenancy to 968, 157 of them from Maine. According to Dolores Foster, a Lady from the Cathedral of the Immaculate Conception, the group from the Diocese of Portland is the fastest growing in the Northeastern Lieutenancy.
The Mass at the cathedral also celebrated two other special occasions -- the Nativity of the Blessed Virgin Mary and the anniversary of the cathedral's dedication in honor of Mary, under the title of the Immaculate Conception.
During his homily, the bishop recalled the words of Father Isaac Hecker from that dedication day in 1869, saying what the Paulist priest told parishioners then, still holds true today.
"Your life, he told them, 'must be in accordance with divine grace; your hearts must become God's altar; you must become living temples consecrated to God's glory, as this temple has been consecrated today.' Those were good words 149 years ago, and they still challenge us today," the bishop said. "They call us to become what we worship, to become more and more the followers of Jesus."