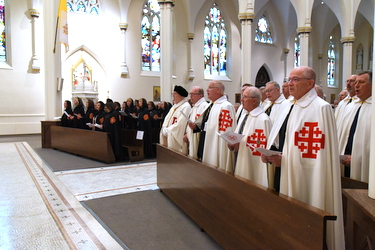 More than 50 members of the Equestrian Order of the Holy Sepulchre of Jerusalem held their annual reception at the Cathedral of the Immaculate Conception in Portland, beginning with Mass celebrated by Bishop Robert Deeley.
The Equestrian Order is a worldwide charitable organization dedicated to supporting Christians in the Holy Land, most especially Christian schools. Dozens of priests, deacons, and laypeople from Maine belong to the Order's Northeastern Lieutenancy.
Bishop Deeley, in his homily, spoke about the Equestrian Order's valuable mission.
"It is particularly devoted to the care and preservation of the Church in the Holy Land, the lands of the Bible, the places which Jesus called home. It is not only, however, the buildings -- the churches, schools, hospitals, etc. -- that are concern to the Order. It is also the people of these lands," Bishop Deeley said.
The bishop said it is important to remember that the number of Christians in the land where Jesus once walked is diminishing because of the persecution they face.
"They are thwarted in their efforts to provide for their families or live a life of peace among their neighbors. And despite the hardship of leaving home behind, they are doing so when they can in the hope of giving a better future to themselves and their children," he said.
Last March, the bishop took part in a pilgrimage to the Holy Land with members of the Equestrian Order of the Holy Sepulchre. The journey included a visit to the School of the Latin Patriarch of Beit Jala, which the organization supports. The bishop said they delivered school supplies, along with financial support, but also carried with them a special gift for the children there.
"We brought them cards from the children here in Portland, who gathered for our Epiphany celebration last January and made these cards for the children in Bethlehem. Amid the difficulties of the lives of these Palestinian families, we carried to them messages of hope. The cards really communicated to them that they are not forgotten. We are with them in prayer, in advocacy, and in support. It is the message of the Gospel being lived between Christian and Catholic people in different parts of the world but united in a commitment to bring the message of peace to Bethlehem, to Jerusalem, to Portland, and to Maine," the bishop said.
Bishop Deeley stressed that Jesus calls us as a community, and our responsibility to be part of the community and to care for others extends to the Holy Land, as well as to those around us in the state of Maine.
"The hope and love we share elsewhere is also needed here," he said.
During the Mass, prayers were offered for the work of the Equestrian Order of the Holy Sepulchre of Jerusalem, for Christians in the Holy Land, for peace in the Middle East, and also for those suffering as a result of Hurricane Harvey and Hurricane Irma.