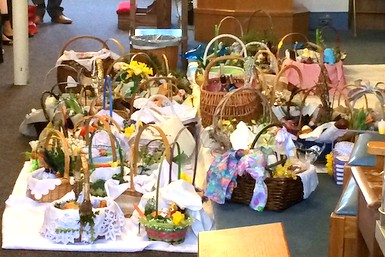 Święconka, the blessing of Easter baskets, a beloved Easter tradition for Polish Catholics, was held at St. Louis Church in Portland on Holy Saturday.
Dozens of people, including many children, filled the church for the prayer service, which was led by Father Gregory Dube, pastor of Saint Louis Parish, and Father Kyle Doustou, parochial vicar, who incensed the baskets, which had been placed in front of the altar.
The baskets were filled with items that will be used in Easter meals, including bread, eggs, kielbasa, ham, fish, and chocolate. Many of the items hold symbolic meanings, which Father Dube shared during the service. Bread is a sign of Jesus, who is the Bread of Life; salt represents prosperity and justice and reminds people that they are the flavor of the earth; eggs indicate new life and Christ's resurrection from the tomb; ham symbolizes great joy and abundance; kielbasa is a sign of generosity; sweets, such as chocolate, suggest the promise of eternal life and the sweetness of things to come; and horseradish is symbolic of the passion of Christ but is sweetened with sugar representing the resurrection.
The baskets were carefully prepared and decorated by parishioners. Many were adorned with ribbons and flowers, and as is tradition, most were lined or covered with a white linen cloths, often crocheted or embroidered.
The blessing of Easter baskets is a custom that dates back centuries in Poland and other Eastern European countries. St. Louis Church was built by Polish immigrants in 1924, and it is the only Polish Catholic church in Maine.