Fourth Bishop of Portland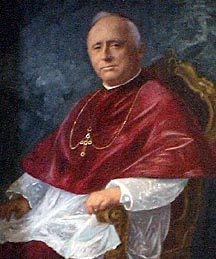 Bishop Louis Walsh was appointed the fourth bishop of the Diocese of Portland and consecrated at the Cathedral of the Immaculate Conception, October 18, 1906.
Louis S. Walsh, a native of Salem, Massachusetts, attended Holy Cross College for one year before furthering his studies in seminaries in Montreal, Paris and Rome. His first assignment as a priest was St. Joseph's Church in Boston's West End. In 1884, he was appointed Professor of Church History and Canon Law at the newly opened St. John's Seminary in Brighton.
In 1887, he became the first supervisor of Catholic schools for the Archdiocese of Boston, a post he held until his election as the fourth Bishop of Portland.
One important priority for Bishop Walsh was increasing Catholic education for young people. The Cathedral Girl's High School-based at the former Kavanagh School and the Catholic Institute for boys-located at 100 Free Street, were newly opened in 1909.
During the years 1918-1920, Bishop Walsh purchased land on State and Winter Streets, including the Judge Putnam house, which he opened as the King's Academy for Girls. Finally in 1921, Bishop Walsh purchased land on Locust Street for the construction of a grammar school.
The Cathedral (see Cathedral) and its chapel underwent extensive renovations during Bishop Walsh's tenure. The chapel's cellar was enlarged, a small chapel organ was installed and new stained glass windows were fitted. Stations of the Cross, as well as a baptismal font sculptured of Italian marble with bronze trim were added during this time. The Bishop also enhanced the beauty of the Cathedral's interior with the installation of the unique Munich stained glass windows. The Cathedral's Golden Jubilee in 1919 instituted additional refurbishing and redecorating in preparation for the October 12th celebration.
In February 1924, Bishop Walsh went on a canonical visit to Rome and France. He returned to Portland exhausted from his trip and died a few days later on May 12th. Internment was in the Cathedral crypt