Sixth Bishop of Portland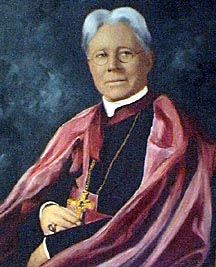 Joseph Edward McCarthy was appointed in May 1932 to become the Diocese of Portland's sixth Bishop. Bishop McCarthy's consecration was held at the Cathedral of the Immaculate Conception, August 24, 1932. His consecration was the first to be broadcast, by radio, in the history of the Catholic Church in America.
Bishop McCarthy was, as former Bishop Murray before him, from Waterbury, Connecticut. Both had known each other since boyhood, had attended Holy Cross College at the same time, as well as teaching at St. Thomas Seminary in Bloomfield. Bishop McCarthy became an accomplished linguist and teacher of both Greek and French that would be helpful to him in serving the rural parishes of Maine.
Maine was in the midst of the Great Depression with mass unemployment, which made life very difficult for its people. The diocese was having difficulty in meeting its financial obligations. There was even a threat of foreclosure on certain church properties. All church property was and still is held in the name of the Bishop. If a parish had financial difficulties, the Bishop was ultimately responsible. Bishop McCarthy used his power as a corporation sole to remove the burden of debt by offering the property holdings as security for a successful bond issue.
In 1938, Bishop McCarthy purchased a home at 199 Western Promenade, formerly owned by Morris McDonald. This home became his official residence, where his future successors would be able to reside. As for the former residence on Congress Street, it became the Cathedral's rectory.
In 1942, Bishop McCarthy invited the Jesuits to take over the administrative and teaching duties at Cheverus High School, which was formerly carried out by diocesan priests. This marked a return to Maine for the Jesuits, after an absence for more than eighty years. A new school was built on a 32-acre property on Ocean Avenue that the bishop acquired. Its Doors opened in 1952.
After failing health, Bishop Joseph McCarthy died September 8, 1955. For three days, hundreds of Catholics filed through the rectory paying their last respects to their Bishop. His body was returned to his home city of Waterbury, Connecticut, for burial.